Kidney Transplant
Nationally ranked by U.S. News & World Report
Children's Mercy operates the largest pediatric kidney transplant program in Missouri and Kansas. The transplant program complements the nationally recognized pediatric dialysis program and is a key component of the Division of Nephrology, which ranks as one of the top programs in the country by U. S. News and World Report.

Our multidisciplinary team works with referring physicians before, during and after a transplant to ensure effective continuity of care for pediatric transplant recipients and their families. We have established an outstanding national reputation for patient care and outcomes.
Kidney transplant survival rates above the national average
Children's Mercy is a national leader in pediatric kidney transplant outcomes. According to data from the Scientific Registry of Transplant Recipients (SRTR), pediatric patient and graft (transplanted organ) outcomes at Children's Mercy are among the nation's best.
Although we see the most serious cases, the latest SRTR data shows that our 3 year hazard ratio—a figure that characterizes the risk of a transplant failing within 3 years of receiving a transplant—is the best nationally. With a hazard ratio value of 0.45 and 100% 3-year graft survival, this equates to an estimated 55% lower risk of a transplant failing at Children's Mercy compared to a program with outcomes that meet the average of all pediatric kidney transplant programs in the country.
Our transplant team is happy to discuss this data and our expertise with you as you are selecting a care team for your child.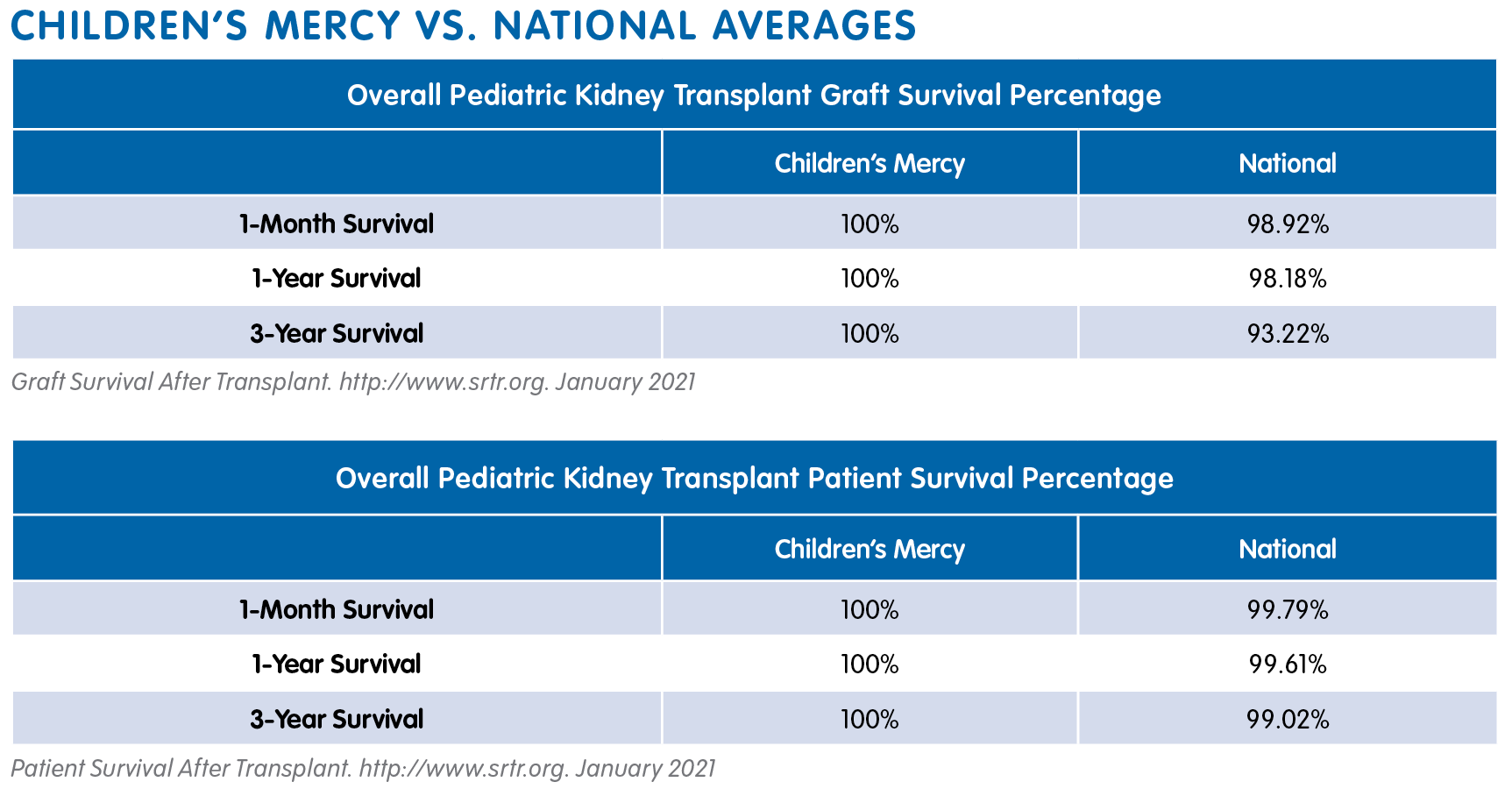 Children's Mercy Transplant Center
At Children's Mercy, one of our greatest achievements is helping critically-ill children avoid transplant. Still, some children require a transplant to survive, and when that's the case, our expert clinicians are able to meet that need.
Services
Nationally ranked by U.S. News & World Report
Multidisciplinary transplant team including pediatric specialists in Nephrology, Transplant Surgery, Urology and Anesthesiology

Availability of transplant coordinator, physician and surgeon 24 hours per day, seven days a week

Pharmacokinetic modeling of immunosuppressive medications

Laparoscopic kidney donation

Opportunity to participate in research protocols of new therapies for transplant recipients

Transition program for transplant recipients

Medically-supervised summer camp experience for dialysis and transplant patients

Ronald McDonald House or the Ronald McDonald Family Room accommodations for patient families
Stories
Inside Pediatrics: Jack's story
Two-year-old Jack needs daily dialysis, care from the region's top pediatric nephrologists and a kidney transplant to survive. While some kids wait months for a kidney, Jack already has a donor: his dad.
Kidney transplant: Julio's story
At the age of six, Julio, was living with focal segmental glomerulosclerosis (FSGS). The disorder does not respond well to medications and Julio received a kidney transplant and care after from Children's Mercy. Thanks to the care Julio has received, he can enjoy his favorite hobbies like going to the park, riding his bike and playing soccer.
Kidney transplant: Isaac's and Colin's stories
Isaac Schroeder, a 2 ½-year-old patient from Omaha, Neb., and his mother celebrate the one-year anniversary of Isaac's lifesaving kidney transplant at Children's Mercy. Meanwhile 18-year-old Colin Martin recovers from a kidney transplant made possible by his brother, William. This was the first brother-to-brother transplant performed at Children's Mercy, and both young men are doing well.
Advancing kidney transplant care through research
Evaluation of immunosuppressive dosing regimens as part of our quality improvement activities has resulted in modification of medication administration schedules and more prompt achievement of therapeutic drug levels.

We are working with colleagues in the Center for Personalized Medicine and Therapeutic Innovation to explore the influence of genomic-based variations in patient drug metabolism characteristics on individualized treatment regimens.

Our program is a regular participant in national industry-sponsored pharmaceutical studies. Current protocols are addressing the use of erythropoietic stimulating agents, vitamin D and anti-viral agents in transplant recipients.

We are one of a select group of pediatric transplant programs in the country participating in a study sponsored by the National Institutes of Health of antihypertensive therapy in pediatric transplant patients.

The transplant, dialysis and general nephrology programs are active members of the North American Pediatric Renal Trials and Collaborative Studies (NAPRTCS). Activities include data entry into the transplant, dialysis and chronic kidney disease registries, participation in the benchmarking project, and frequent patient entry into prospective clinical trials.


Visit the Donate Life organization to learn more about organ donation, registration, news, and events.