Kidney Transplant
Nationally ranked by U.S. News & World Report
Children's Mercy operates the largest pediatric kidney transplant program in Missouri and Kansas. The transplant program complements the nationally recognized pediatric dialysis program and is a key component of the Division of Nephrology, which ranks as one of the top programs in the country by U. S. News and World Report.
Our multidisciplinary team works with referring physicians before, during and after a transplant to ensure effective continuity of care for pediatric transplant recipients and their families. We have established an outstanding national reputation for patient care and outcomes.
Kidney failure

Having kidney failure means that your kidneys are not working well enough to keep you healthy. End-stage kidney disease (ESKD) is also sometimes called kidney failure.
Causes of kidney failure in children:
Infections
Congenital conditions (abnormalities of the kidneys you are born with)
Genetic conditions (abnormalities of the kidneys that you inherit)
Autoimmune diseases
High blood pressure
Medication
Traumatic injury to the kidney
Inflammation
Kidney blockage
Unknown reasons
Treatment of kidney failure

There is no for cure for kidney failure, but there is treatment:
Dialysis

Hemodialysis (HD)
Peritoneal dialysis (PD)

Diet
Medications
Kidney Transplant

Living donation
Deceased donation
A kidney transplant is a treatment for kidney failure. It is not a cure.
A kidney transplant requires a surgery in which a person with kidney failure gets one new, healthy kidney from a donor.
There are two types of kidney transplant donors:

Living donor = Person voluntarily donates kidney to recipient.
Deceased donor = Donor has died, and family approves donation of loved one's kidneys.

You/your child can live a healthy life with just one kidney.
On average, a kidney transplant will last about 15 years.
You/your child will need to take transplant medications for as long as the kidney is working.
You/your child will likely need more than one transplant in his/her lifetime.
The Kidney Transplant Team

For a transplant to be successful, many people work together. The most important members of the Kidney Transplant Team are you/you as a parent and your children. The members of the transplant team are listed below. Many others work with the team as well, such as urologists, transplant unit nurses (5 Sutherland Tower and Intensive Care), clinic nurses in the Kidney Center and dialysis nurses. Your transplant team wants you to be involved as much as possible in your/your child's care. It is important for you to ask the team any questions you may have and to report any changes in how you/your child is feeling before and after the transplant.
Nephrologists (kidney doctors)
Transplant surgeons
Nurse practitioners
Dialysis nurses
Dialysis technicians
Transport coordinators
Psychologists
Social workers
Dieticians
Financial coordinators
Child life specialists
Pharmacists
Chaplains
Hospital-based school teachers
What to expect

Before getting a kidney transplant, you/your child must have a complete evaluation, to make sure you/your child are healthy enough to be transplanted. The results of the evaluation will be included in the decision to transplant.
Below are the components of our kidney transplant evaluations:
Kidney Transplant Team meeting with recipient (you/your child) and family.
Clinic visit with transplant doctor.
Blood tests:

ABO blood typing, HLA typing and antibody screen.
Crossmatch with a living donor, if living donor is an option.
Hepatitis panel and viral studies to determine existing and previous infections.

Education with a clinical transplant coordinator.
Urologic (kidney and bladder) evaluation, if indicated.

Renal (kidney) ultrasound, if native or transplant kidney(s) present.
Voiding cystourethrogram (VCUG), if indicated.
Urodynamics, if indicated.
Urology consult, if indicated.

Immunizations.
Pulmonary (lung) evaluation.

Chest X-ray.
Pulmonary function tests, if indicated.
Pulmonology consult, if indicated.

Cardiology (heart) evaluation.

Echocardiogram.
Electrocardiogram (EKG).
Cardiology consult, if indicated.

Psychological evaluation performed by a psychologist and a social worker.
Vascular (blood vessel) evaluation.

Bilateral upper extremity ultrasound.
Inferior vena cava, iliac and aorta ultrasound.
Hematology consult, if indicated.

Dental evaluation—all required dental work must be completed prior to transplant.
Gynecological (GYN/female reproductive system) evaluation, if applicable.
Surgery evaluation Pre-admission testing with anesthesia.
Dietary evaluation.
Pharmacist evaluation and education.
Financial Coordinator.
Additional consults-obtained per the transplant physician or transplant surgeon's recommendations.
Once the evaluation is complete, the Kidney Transplant Team will meet and discuss the results of your/your child's assessment. The results of the evaluation will be used to decide if transplant is the best option for you/your child at this time.
Pediatric Kidney Transplant Education Book
Our Pediatric Kidney Transplant Education Book: A Guide for Patients and Families was created to help you and your family throughout the entire transplant process and includes detailed instructions about your/your child's transplant. Read the guidebook here or download a copy.
Kidney transplant survival rates above the national average
Children's Mercy is a national leader in pediatric kidney transplant outcomes. According to data from the Scientific Registry of Transplant Recipients (SRTR), pediatric patient and graft (transplanted organ) outcomes at Children's Mercy are among the nation's best.
Although we see the most serious cases, the latest SRTR data shows that our 3 year hazard ratio—a figure that characterizes the risk of a transplant failing within 3 years of receiving a transplant—is the best nationally. With a hazard ratio value of 0.41 and 100% 3-year graft survival, this equates to an estimated 59% lower risk of a transplant failing at Children's Mercy compared to a program with outcomes that meet the average of all pediatric kidney transplant programs in the country.
Our transplant team is happy to discuss this data and our expertise with you as you are selecting a care team for your child.
Children's Mercy Transplant Center
At Children's Mercy, one of our greatest achievements is helping critically-ill children avoid transplant. Still, some children require a transplant to survive, and when that's the case, our expert clinicians are able to meet that need.
Nationally ranked by U.S. News & World Report
Nationally ranked by U.S. News & World Report
When your child comes to Children's Mercy for care, they're getting a nationally recognized team of experts and an entire system of support.
Multidisciplinary transplant team including pediatric specialists in nephrology, transplant surgery, urology and anesthesiology.

Availability of transplant coordinator, physician and surgeon 24 hours per day, seven days a week

Pharmacokinetic modeling of immunosuppressive medications.

Laparoscopic kidney donation.

Opportunity to participate in research protocols of new therapies for transplant recipients.

Transition program for transplant recipients.

Medically-supervised summer camp experience for dialysis and transplant patients.

Ronald McDonald House or the Ronald McDonald Family Room accommodations for patient families.
Stories
En bloc Liver/Kidney Transplant: Trevion's Story
When you see 13-year-old Trevion goofing around with his dad and sisters and playing basketball with his friends, you would never know that he recently had a double organ transplant to replace his liver and kidney. Trevion was the first Children's Mercy Kansas City patient to receive an en bloc liver/kidney transplant.
Meet Trevion
Mother-Daughter Kidney Transplant: Clara's story
Born with one kidney, Clara faced many health challenges. With help from Children's Mercy and mom, Vivi, Clara continues exploring the world and singing along to her mom's favorite tunes.
Meet Clara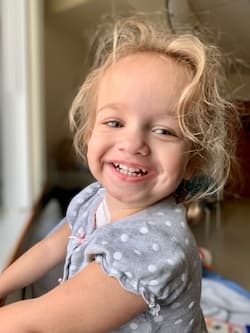 Inside Pediatrics: Jack's story
Two-year-old Jack needs daily dialysis, care from the region's top pediatric nephrologists and a kidney transplant to survive. While some kids wait months for a kidney, Jack already has a donor: his dad.
A better quality of life: Hayden's story
Hayden Murnahan defied the odds when he received a long-distance kidney donation via private plane for a second transplant.
Meet Hayden
Kidney transplant: Isaac's and Colin's stories
Isaac Schroeder, a 2 ½-year-old patient from Omaha, Neb., and his mother celebrate the one-year anniversary of Isaac's lifesaving kidney transplant at Children's Mercy. Meanwhile 18-year-old Colin Martin recovers from a kidney transplant made possible by his brother, William. This was the first brother-to-brother transplant performed at Children's Mercy, and both young men are doing well.
Kidney transplant: Josiah's story
Josiah's and his family faced unforeseen challenges on his journey to receiving a kidney transplant. Fortunately, the transplant not only saved Josiah's life, it brought him and his family closer together.
Meet Josiah
Advancing kidney transplant care through research

Members of the Children's Mercy Kidney Transplant Team take part in local, regional and national research that aims to find innovative treatments for children who have kidney failure.
Evaluation of immunosuppressive dosing regimens as part of our quality improvement activities has resulted in modification of medication administration schedules and more prompt achievement of therapeutic drug levels.

We are working with colleagues in the Center for Personalized Medicine and Therapeutic Innovation to explore the influence of genomic-based variations in patient drug metabolism characteristics on individualized treatment regimens.

Our program is a regular participant in national industry-sponsored pharmaceutical studies. Current protocols are addressing the use of erythropoietic stimulating agents, vitamin D and anti-viral agents in transplant recipients.

We are one of a select group of pediatric transplant programs in the country participating in a study sponsored by the National Institutes of Health of antihypertensive therapy in pediatric transplant patients.

The transplant, dialysis and general nephrology programs are active members of the North American Pediatric Renal Trials and Collaborative Studies (NAPRTCS). Activities include data entry into the transplant, dialysis and chronic kidney disease registries, participation in the benchmarking project, and frequent patient entry into prospective clinical trials.
Visit the Donate Life organization to learn more about organ donation, registration, news, and events.