Pectus Carinatum: Weston's Story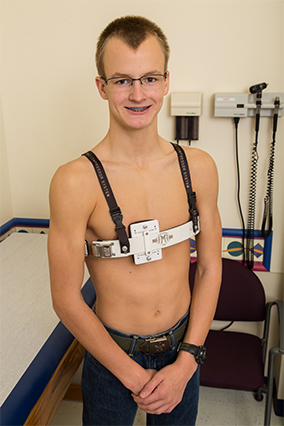 An Eagle Scout, lifeguard and avid swimmer, Weston Marshall also had pectus carinatum as an adolescent, a condition characterized by an abnormal overgrowth of the rib cartilages, resulting in a protrusion of the sternum. Pectus carinatum is seen four times more often in males than in females. It also can be detected at any time, from infancy through puberty.
In Weston's case, pectus had caused an almost shark fin-like protrusion from the center of his chest. "Weston's pectus became much more apparent at about age 15 as he went through puberty, and it was very pointed," said his mother, Marlee.
Though pectus caused no other physical complications, it was a concern for Weston and his parents. When the Marshalls, who live in Lansing, Kan., began researching the problem online, they found information about surgery, and assumed their son might need an operation to correct the pectus.
"I was concerned that I wouldn't be able to swim for several months if I had to have surgery," Weston said.
After bringing the issue to the attention of Weston's primary care provider, he received a referral to the Center for Pectus Excavatum and Pectus Carinatum at Children's Mercy Kansas City, the only center dedicated to treating pectus in the region.
At his first consultation with Shawn St. Peter, MD, Surgeon-In-Chief at Children's Mercy, Weston and his family learned nearly every pectus carinatum case at Children's Mercy is corrected without surgery.
"Dr. St. Peter said they only do surgery for pectus carinatum in extreme cases," Marlee explained. "Instead, he recommended bracing for Weston with the dynamic compression device."
Children's Mercy has the largest experience with this brace in the United States. The brace corrects the abnormal chest shape and allows remodeling by applying external compression, similar to the way braces correct crooked teeth.
The patient usually wears the brace six to 20 months, 23 to 24 hours a day. Adjustments are made at regular intervals, usually every two months. Once the deformity is corrected, the patient still wears the brace in a "retainer" mode.
Because this cartilage hardens as the individual reaches adulthood, pectus carinatum patients have a limited window of opportunity to correct the problem, usually during puberty when the cartilage is still pliable.
Weston, who also wore braces on his teeth at the time, said the brace for pectus is very similar. "The brace is a little uncomfortable at first or when it gets adjusted," he said.
"My biggest concern was what it would look like," Weston added, "but you couldn't tell I was wearing it unless I had a tight-fitting shirt on."
Weston wouldn't wear his brace when swimming or working out, but would typically sleep with it on. The "shark fin" that originally brought him to the clinic flattened out considerably following several months of bracing.
"The Children's Mercy team was amazing," Marlee said. "They knew Weston's goals and why this was important to him. For other families who might be concerned about pectus, I would tell them to come in and talk with the professionals at Children's Mercy. It was such a relief to know the Pectus Center was right in our own backyard."