COVID-19 Vaccine at Children's Mercy
Updated: March 14, 2022
Children's Mercy recommends every child who is eligible to get a vaccine, receive their vaccine as soon as possible. We understand this is an important decision for each family and we want to help. We are are committed to:
Places to get your child's COVID-19 vaccine
Vaccines at Children's Mercy
Children's Mercy has COVID-19 vaccine clinics for ages 5 years up to 22 years.
Appointments are needed.
Walk-ins are not available.
Schedules may change due to holidays.
How to schedule an appointment


If you have an account already, log into the Patient Portal
If you do not have a Patient Portal account, call the COVID-19 Scheduling Hotline: (816) 302-6300


Weekly

Monday - Thursday: 9 a.m. - 4 p.m.
Children's Mercy College Blvd (5500 College Boulevard, Overland Park, KS)
Children's Mercy East (Thursdays only)
Friday: 9 a.m. - 1 p.m.
Children's Mercy College Blvd (5500 College Boulevard, Overland Park, KS)
Important information


Vaccines are available for ages 5 years up to 22 years.
Please note the Pfizer vaccine will be administered and a second dose will be needed three weeks later.
Families coming for the vaccine will be expected to follow COVID-19 safety protocols, including masking and social distancing.
Please continue to check back for additional clinic dates. We will add clinics as needed to meet demand.
COVID-19 booster shots

The CDC also recommends all adolescents aged 12-17 years receive a COVID-19 vaccine booster shot 5 months after their original two doses.
If your child meets this criteria, you can schedule an appointment for their booster by calling (816) 302-6300.
Patient Portal scheduling is not available for booster appointments.
Vaccines in the community
Vaccines through your primary care physician
Many community primary care physicians (PCPs) are offering vaccines to their patients. Check with your PCP for vaccine appointments too.
If you do not have a PCP, check out our listing of community pediatric practices affiliated with Children's Mercy.
Vaccines through the health department
You can also check the websites of your local health department to learn more about their plan for vaccine distribution.
Watch a special message from Children's Mercy to members of the Black community.
Questions about the vaccine? We've compiled answers to frequently asked questions we receive.
Learn the truth about vaccines, how the COVID-19 vaccines were developed and their safety.
Find instructions to follow after your child receives the COVID-19 vaccination.
Learn what you can do and what you should continue to do once you are fully vaccinated.
Tips for helping your child with their vaccination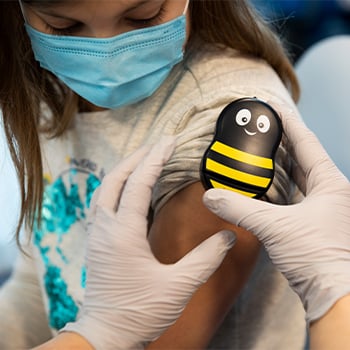 Making needle procedures more comfortable
Before your child's COVID-19 vaccination, use our guide to explaining a vaccination to your child, and learn about our Comfort Promise and commitment to making your child's experience as comfortable as possible.
Explaining a vaccination to your child
The Association of Child Life Professionals (ACLP) has created the following videos with advice for parents about COVID-19 vaccination.