COVID-19 Vaccine at Children's Mercy
Updated: May 3, 2021
Children's Mercy is continuing to follow the vaccine rollout plans developed by Missouri and Kansas. In following the plans, we have been able over the past few weeks to vaccinate our employees.
We will continue to keep this page updated as additional information becomes available. You can also check the websites of your local health department to learn more about their plan for vaccine distribution.

Vaccine clinics
In our efforts to continue to help assist our patients and community, Children's Mercy will be hosting a series of COVID-19 Vaccine Clinics. Appointments are needed for all clinics.
Please note the Pfizer vaccine will be administered and a second dose will be needed three weeks later.
May 15, 8 a.m. to 2 p.m.
Children's Mercy East
This clinic will be open to individuals who are 16 up to 22 years old and Missouri residents.

Assisting in the community
We are now working with community leaders, local health departments, school districts and local health care systems to assist with vaccination of teachers and other areas of employment that provide services to children.
If you have further questions about eligibility for this phase of vaccination, please work through your school district or your local health department.

Find the plan for your area
All states have developed plans. You can also check the websites of your local health department to learn more about their plan for vaccine distribution.
See the Kansas plan
See the Missouri plan
Watch a special message from Children's Mercy to members of the Black community.
Questions about the vaccine? We've compiled answers to frequently asked questions we receive.
Watch a short video and learn about the safety of the COVID-19 vaccine.
Find instructions to follow after your child receives the COVID-19 vaccination.
Learn what you can do and what you should continue to do once you are fully vaccinated.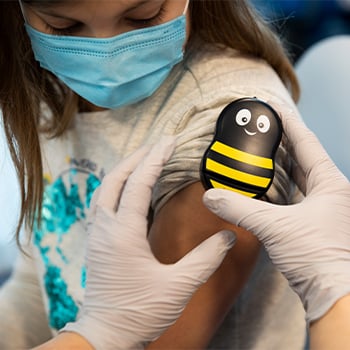 Making needle procedures more comfortable
Before your child's COVID-19 vaccine shot, learn about our Comfort Promise and our commitment to making your child's experience as comfortable as possible.
COVID-19 vaccine research study
Would you like your child to be registered as a potential participant for an Infectious Diseases research study, including upcoming COVID-19 vaccine research studies?
If you would like to sign your child(ren) up to be contacted for a future Infectious Diseases research study, please complete the survey at the link below.
Please contact Megan Bledsoe, Clinical Trials Coordinator via email (mcbledsoe@cmh.edu) with any questions.