Surgical Site Infections
According to the Centers for Disease Control and Prevention (CDC), Surgical Site Infections (SSIs) are the second leading cause of Hospital Acquired Infections (HAIs) in the U.S., accounting for 17 percent of all HAIs or 300,000 infections among hospitalized patients each year. A surgical site infection is an infection that occurs after surgery in the part of the body where the surgery took place.


Operational definition

A surgical site infection is defined as the total number of surgical site infections divided by the total number of surgeries that occurred in the month that the surgery was performed. This can be given as a percentage or a rate per 100 procedures for a given month. These are divided by type of surgery performed.
Most patients who have surgery do not develop an infection. However, infections occur in up to three out of every 100 patients who have surgery. The costs per surgical site infection are between $3,000 – $29,000 depending on the type of procedure and the type of infection.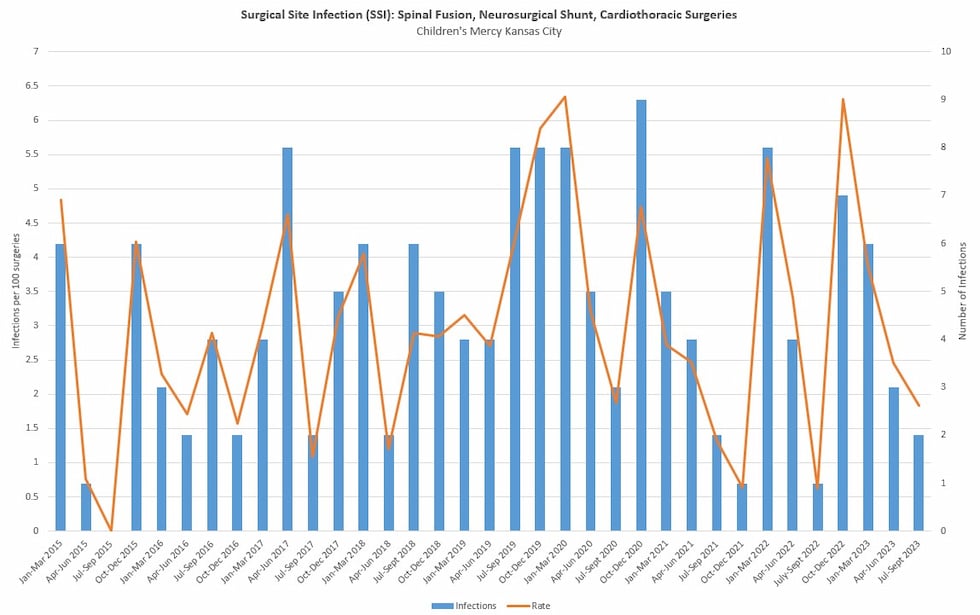 Access a text-only version of the Surgical Site Infection (SSI) graph above.


What does this all mean?

While advances have been made in surgical site infection prevention practices before and/or during surgery, surgical site infections remain an important cause of surgical complications and even death among hospitalized patients.
Many hospitals are working to reduce and prevent the number of SSIs by following CDC guidelines and best practices such as:
Hand-washing before and after patient care

Hand-washing and scrubbing procedures prior to surgery

Cleaning the skin at the site of surgery with special soaps and dressing practices that kill germs

Wearing special hair covers, masks, gowns and gloves during surgery to keep the surgery area clean

Giving antibiotics prior to surgeries that are considered high risk for infection. In most cases, a patient should receive antibiotics within 60 minutes before the surgery starts and the antibiotics should be stopped within 24 hours after surgery.
Children's Mercy has made it a priority to enhance surgical site infection rate awareness among staff and families. A hospital committee was formed to determine surgical site infection best practices and to make sure we provide the best care to prevent surgical site infections. This committee is composed of health care providers, nurses, staff, and family representation who work with the operating room and during surgical procedures.
Our long-term goal is to eliminate surgical site infections or have a ZERO infection rate. Once we have reached this goal, we will continue to strive to maintain a zero infection rate.
To learn more about prevention of Surgical Site Infections:
Edwards JR, Peterson KD, Andrus ML, Dudeck MA, Pollock DA, Horan TC. National Healthcare Safety Network (NHSN) report, data summary for 2006 through 2007, issued November 2008. Am J Infect Control 2008;36:609-26.

Centers for Disease Control and Prevention. Outline for healthcare associated infection surveillance. Available from: Centers for Disease Control. Accessed October 5, 2009.

Horan TC, Andrus M, Dudeck MA. CDC/NHSN surveillance definition of health care-associated infection and criteria for specific types of infections in the acute care setting. Am J Infect Control 2008;35: 309-32.

Centers for Disease Control and Prevention. NHSN manual: patient safety component protocols. Accessed September 20, 2009]