IBD Patient Family Advisory Council Member Bios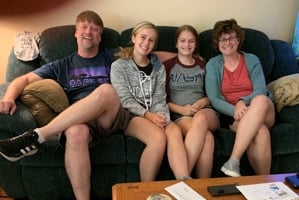 Jennifer Judd
I have been on the PFAC since 2017 and am a past PFAC Chair. My husband and two daughters all have IBD, and my husband and oldest daughter have had colectomies and j-pouches. My family loves both beach and mountain vacations. My older daughter is studying aerospace engineering, while my younger daughter is a soccer player and musician in high school. I spent 21 years as a hospital chaplain and am currently teaching middle school. I joined the PFAC to give back to Children's Mercy for the care that my daughters have received. I was privileged to co-present with the IBD clinic team the presentation: "PFAC and Provider Partnerships" at an ImproveCareNow conference.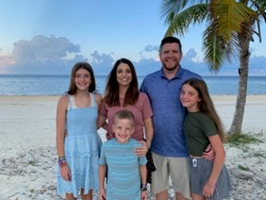 Katie Aten
My husband, Brett, and I are the parents of three children, Ainsley, Brecken and Crew. In 2020, My daughter Ainsley was diagnosed with Crohn's disease at the age of 11. As a nurse, I knew something was wrong because she was underweight, anemic and feeling very sick. Thankfully the Children's Mercy GI department got her in quickly and started treatments soon after her initial diagnosis. Today, she is in deep remission and is thriving in school and competitive volleyball.

I am so grateful to Children's Mercy for giving my daughter her health back and making the process easier for my family. I joined the PFAC to give back and to share our success story to others. I've also enjoyed connecting with other families that are going through a similar situation.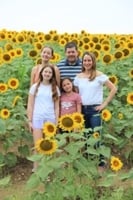 Stacey Algren
My husband, Adam, and I have three daughters (Reese, Sadie and Tessa) and I have been a member of the PFAC since 2021. Through the years, all my daughters have received various forms of excellent care through Children's Mercy.

I became a member of the PFAC after my middle daughter, Sadie, was diagnosed with Crohn's disease at age 10. As a physician and a mom, I jumped at the chance to improve care, quality of life and outcomes for kids with inflammatory bowel disease.

Children's Mercy's dedication to quality measures and improving the patient experience makes me proud to be a part of this team.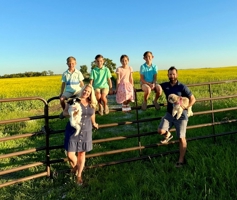 Amy Kille
My husband Dave and I have four children. Our daughter was diagnosed with Crohn's Disease at 7 years old. We have no family history of this disease so we immersed ourselves in learning everything we could about it so our daughter could get back to feeling good and doing the things she loves. We are very grateful for the knowledgeable doctors and nurses at Children's Mercy who have helped us along the way.

I joined the IBD PFAC as I have a passion for educating families about IBD and how we can help each other along this journey. Our family is also very active with our local Crohn's & Colitis support group; we have met lifelong friends in our group. We were introduced to Camp Oasis through the Crohn's & Colitis Foundation and our daughter loved camp!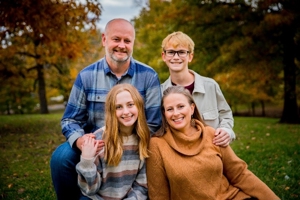 Kerry Kinkelaar
Our daughter, Bailey, was diagnosed with Crohn's disease when she was eight years old. Children's Mercy has been a tremendous support to our family as we have navigated the ups and downs of her health journey for many years.

I became a member of the IBD PFAC with hopes of using our experience and perspective to help support other families as they navigate their own path. We appreciate that the IBD team values parent input and feedback as they work to provide high quality healthcare. We are incredibly grateful for the knowledge, support and care we have received from the Children's Mercy IBD team.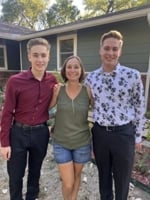 Stacy Koschney
My husband, Jeremy, and I have twin boys. Gage and Lance. Gage was diagnosed with Indeterminate ulcerative colitis in 2020. We do not have an IBD Specialist in our area, so we decided to seek care through Children's Mercy, which is 3 hours away. We have been so grateful for the care they have provided him through telehealth video visits, but when we do drive to Children's for infusions or procedures, he always receives excellent care.

I became an IBD PFAC member because I am an RN and after navigating the challenges in the health care system like I never had before, I wanted to work with the IBD Multidisciplinary team to help them continue providing exceptional care to all of their IBD patients and their families.
Greg Greenberg
My wife, Debbie, and I have three daughters. I was diagnosed with Crohn's Disease at age 16 and my middle daughter was diagnosed this year at the age of 9. She went from being a typical carefree kid to facing hospitals and needles regularly overnight and we credit every Children's Mercy staff member we've encountered for helping her make that transition successfully. That is why I am thrilled to give back to the hospital by serving on the Family Advisory Board, working together with other families and the impressive team at Children's Mercy to share my family's experiences and advocate on behalf of all patients and their support systems.
IBD Patient Family Advisory Council Menu