Patient Portal FAQ
Do you use the patient portal app?
Soon, you will have even easier access to your child's health information, right at your fingertips! The app you may have on your phone today, HealtheLife, will be replaced with the MyChildrensMercy app, available in both app stores.
You

do not

need to take any actions at this time. When the MyChildrensMercy app is available in app stores, you will simply need to download it from your app store.
Any information you have on your current app will be available on the new one.
We will update this information once the app is available to download on the app stores.
Enrollment and access

1. What is MyChildrensMercy?

MyChildrensMercy is an easy, secure way to log in to view health information online (your child's or – if you are an older patient – your own), all in one central location. It is also known as a "patient portal."

2. How do I sign up for MyChildrensMercy?

You can sign up online, in person, by mail, email or fax. The forms and instructions are on the Children's Mercy Patient Portal webpage or ask the staff at the registration desk.

3. What do I do when I receive my email invitation?

The email invitation will walk through instructions on how to complete your enrollment. Please note that this invitation will expire in 90 days. You will need to sign up again at your Children's Mercy clinic and restart the process.

4. Why do I have to provide a signed picture ID?

You must provide a signed photo ID to prove your identity and keep your medical information safe. You can then log in to your health records.

5. Can I give my child access to his/her information?

Yes, once your child turns 13, they will have the opportunity to access their information. Your child will need to sign up in person, fax, mail or email and will get his/her own unique logins.

6. My child is 18, why can't I log in to their MyChildrensMercy account?

Once a patient is 18 years old, they will have to grant permission to their parents in order to allow access to their MyChildrensMercy account.

MyChildrensMercy help

7. Who do I call for help with the portal?

If you have not received your portal invitation, please visit your clinic for enrollment. For any other problems with the portal please call (877) 621-8014. Support is available 24 hours a day, including weekends and holidays. Due to security measures the team cannot be reached via email or web.


Using MyChildrensMercy

8. What can I do with MyChildrensMercy?

You are able to view your medical information such as medication list, allergies, immunization history and more. You are able to send a message to your care team, view upcoming appointments, request to schedule an appointment, and pre-register for upcoming appointments.

9. What information can I see in the portal?

The portal will allow you to see:
Demographic Information
Appointment information
Messages to and from CMH health care providers
Health Summary Information (Allergies and Problems)
Immunizations
Clinic Notes
Education Materials
Medications
Procedures
Vital Signs
Lab Results (Including Pathology and Microbiology)
Radiology Results
This information is part of the United States Core Data for Interoperability (USCDI).

10. Can I print my immunizations or allergies?

While there is not currently a direct print function, you can always print what's on the screen. To do this right-click your mouse, and then click "Print".

11. Why can't I see my upcoming surgery or procedure appointments?

For certain appointment types, the arrival time differs from the appointment time. Please contact your clinic or health provider to confirm the appointment.

12. When will health information from my visit be posted to the portal?

Lab results (including Microbiology) and radiology reports are available to you 24 hours after results are received. Pathology results are available to your 72 hours after results are received. All other information posts immediately, including COVID results.

13. Can I enter my own information into my electronic record?

No, MyChildrensMercy is currently for viewing only, but you can send a message from the portal to your care clinic with questions. You may also ask for your personal information to be corrected or updated in this way.

14. How do I know if I have a message in the portal?

When a message is sent to you through the portal, you will get an email (the email registered with your account) notifying you of that message. That email does not include the content of the message, it simply states that you have a message in MyChildrensMercy.

15. How do I attach a document or image to a message?

When sending a new message from your inbox, you may attach a document or image to a message by selecting the Send a Message button, selecting Browse, and then selecting the file you would like to attach.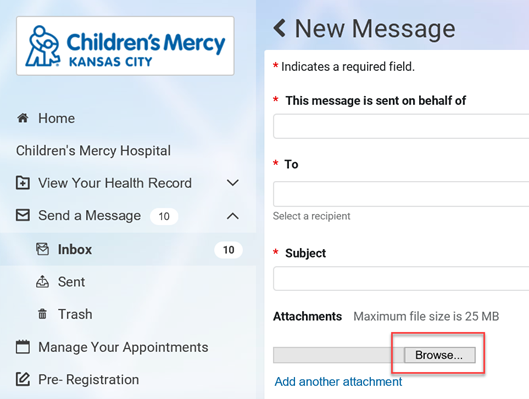 16. Are there attachment requirements or limitations?
Yes, the maximum file size per message is 25MB. Available attachment file types are:
Security

17. Is my health information protected?

Using the MyChildrensMercy portal protects your communication unlike email which may not be secure. No one has access to your portal unless you authorize it.


Emergencies

18. Can I use MyChildrensMercy to communicate an emergency or medical concern?

If you are experiencing a medical emergency, please call 911 and do not use online messaging. MyChildrensMercy and secure online messaging is for routine health-related inquiries only.