September 19, 2023
COVID-19, RSV and the Flu: What you need to know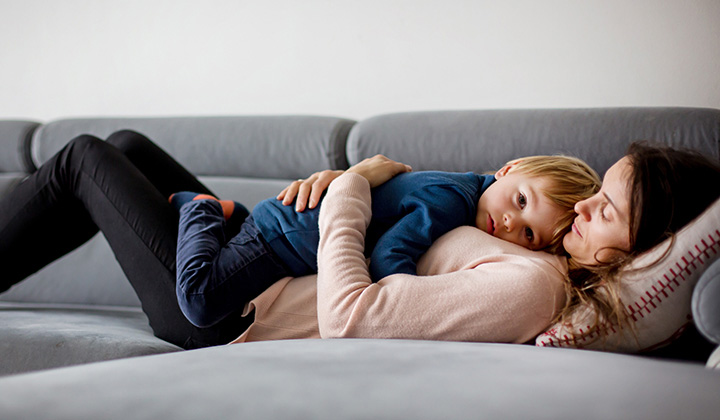 Viral respiratory season is quickly approaching. Since the COVID-19 pandemic, respiratory viruses seem to circulate in new patterns, so being prepared is important! According to the American Academy of Pediatrics last flu season a record number of children under the age of 4 years old were hospitalized. Here's what you need to know to help keep your family safe and healthy.
What is RSV?
RSV is a contagious virus that can be spread through droplets from coughing, sneezing or touching infected surfaces and then touching your face. The symptoms are cold-like and show up around 4 to 6 days after infection.
Symptoms include:
Cough
Trouble breathing
Fever
Runny nose and nasal congestion
For most children, RSV causes mild symptoms, and the body fights the virus off in 1-2 weeks. In young children, particularly those less than 6 months, and children with weakened immune systems, RSV can become dangerous by causing other infections like bronchiolitis and pneumonia. It is the leading cause of hospitalization among infants in the U.S, and most infants hospitalized with RSV were otherwise healthy with no chronic medical problems.
What is new with RSV in 2023?
In July 2023, the Food and Drug Administration (FDA) approved Nirsevimab (Beyfortus) to prevent RSV infections in infants. Nirsevimab is a long-acting monoclonal antibody that decreases the risk of hospitalization and severe disease from RSV in infants. It is a onetime injection that provides immunity to RSV by giving babies an antibody. It is different than a vaccine, which helps prevent disease by giving a small amount of a virus or bacteria to help a baby make antibodies with their own immune system.
In August 2023, the Centers for Disease Control and Prevention (CDC) recommended all infants younger than 8 months old, born during or entering their first RSV season, receive Nirsevimab. Only one dose is needed, but some infants may be eligible for a dose during their second year. There is currently no RSV vaccine for infants.
The Food and Drug Administration (FDA) also approved an RSV vaccine for people who are 32-36 weeks pregnant in August 2023. After getting the vaccine, the pregnant person makes antibodies to RSV and passes them to the baby before delivery. When the baby is born, they have some protection against RSV. The CDC will make recommendations, likely this fall, on who should receive this vaccine.
What is the flu?
Flu, or influenza, is an infection of the nose, throat and lungs caused by the influenza virus. The flu can cause you to feel sick for at least a week. It is contagious and can be easily spread through droplets from person to person.
There's a misconception that influenza "isn't that bad," but it actually can be deadly. Nothing is "just a virus." A virus, like the flu, can make you just as sick, if not sicker, than some bacterial infections. So, be sure to take the flu seriously.
Flu symptoms include:
Fever
Headache, body aches and chills
Cough
Runny nose and congestion
Sore throat
Nausea, vomiting or diarrhea
How to protect your family from the flu
The best way to protect yourself from getting the flu is to get vaccinated. Flu vaccine is safe and available and recommended for everyone 6 months and older at your doctor's office and many places throughout your community starting in September. The flu vaccine is different from last year, so you need to be vaccinated every year for the best protection. If you have an egg allergy, you can still get the flu vaccine just talk with your doctor.
What is COVID-19?
Coronavirus disease (COVID-19) is an infectious disease caused by the SARS-CoV-2 virus. Most people infected with the virus will experience mild to moderate respiratory illness and recover without requiring special treatment. However, some will become seriously ill and require medical attention. Older people and those with underlying medical conditions like cardiovascular disease, diabetes, chronic respiratory disease, or cancer are more likely to develop serious illness.
Symptoms include:
Fever
Cough
Fatigue
Muscle or body aches
Difficulty breathing
Sore throat
Headache
Sneezing
Vomiting/diarrhea
Lost of taste/smell
What is new with COVID-19?
The virus that causes COVID-19 continues to circulate with a recent increase in hospitalizations. On Sept. 12 the CDC recommended an updated COVID-19 vaccine for everyone ages 6 months and older. This updated vaccine will provide protection against serious illness from the strains that are now circulating. Reach out to your child's primary care provider, pharmacy, or local health department to get your child vaccinated. This vaccine should be available within the next few weeks.
How to treat RSV, Flu and COVID-19
For all these viruses, you can manage fever and pain with most over-the-counter medications. If your child is having trouble breathing or staying hydrated, call your doctor or seek medical care as soon as possible.
There is no specific treatment for RSV, but there are medications to treat flu and COVID-19. Ask your doctor if your child needs to receive treatment for either of these respiratory illnesses.
How to prevent RSV, Flu and COVID-19
Wash your hands for at least 20 seconds.
Keep away from people who are sick.
Cover your nose and mouth with a tissue when coughing or sneezing (or sneeze/cough into your elbow).
Clean surfaces often like doorknobs, car handles, phones and keys.
Stay home if you are sick.
Stay up to date with flu and COVID-19 vaccines.
---