May 30, 2023
How moms are celebrating Father's Day!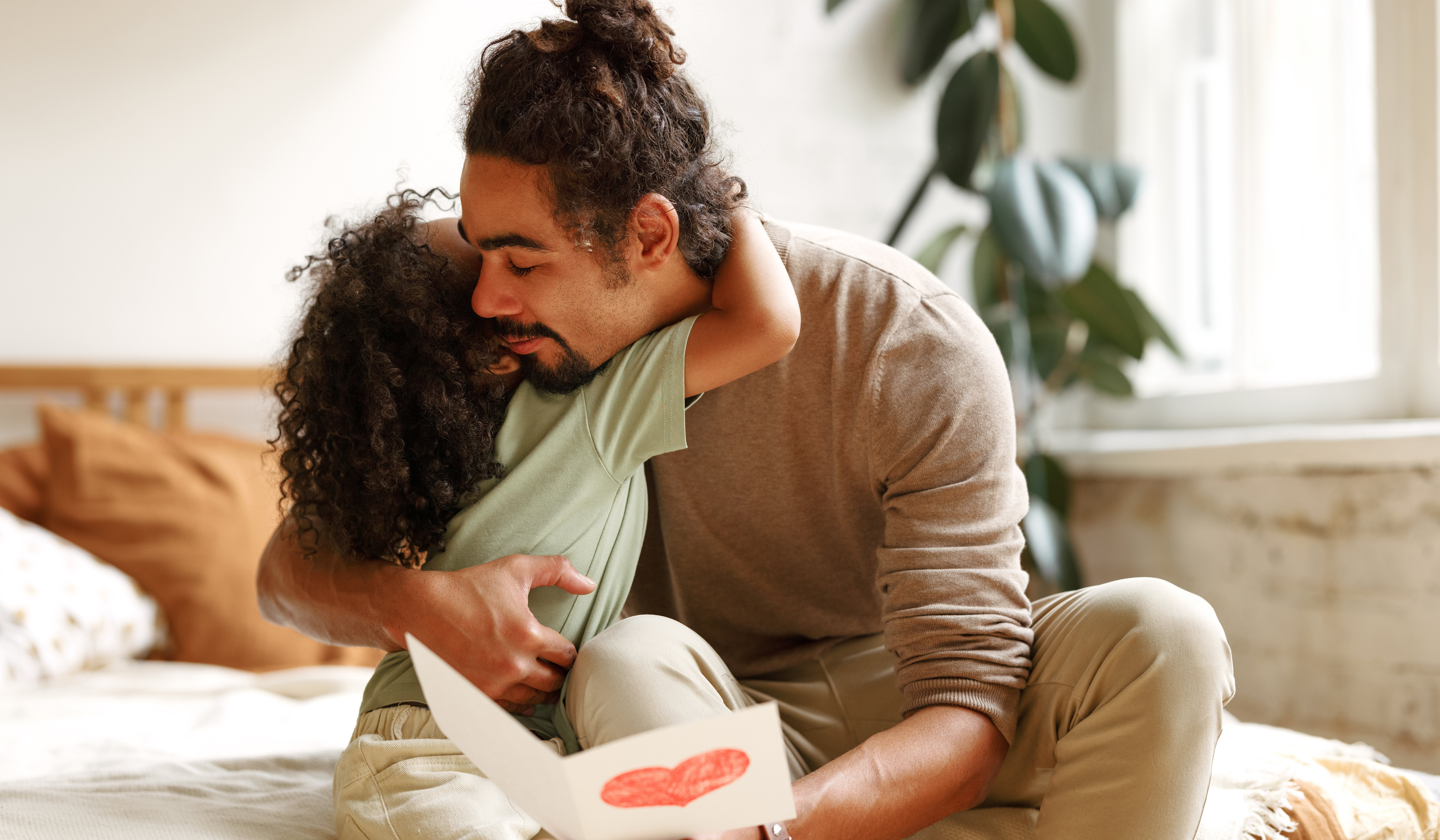 In life they are often called our coaches, mentors and superheroes. But the most cherished name they go by is dad! A father's strength and role in the family never goes unnoticed. That's why it's important to celebrate everything they do and show just how appreciated they are.
With Father's Day quickly approaching, a few Children's Mercy Kansas City moms were asked how they make their partner feel special and how they plan on celebrating them on this special day.
Why is it important for you to celebrate dad?
"Dads need to feel celebrated for their roles in raising our children. In my family, our daughters' father does a ton and is such a great role model, teacher and encourager for our girls. Dads need to feel loved, valued and respected all days but especially on this day." - Christina, mom of 3
"Dads are so special and important! My husband is going to have his first Father's Day this year and I want him to know that the way he provides for our family, takes care of our daughter and loves her is amazing." – Katie, first time mom
"Dad is one of the biggest parts in our household and we want to make sure he's celebrated and loved!" – Cortney, mom of 1
"I celebrate him because of his unique and loving relationships with our kids and his undying love and support of me." – Sarah, mom of 2
"Many times, dads take on the role of the strong, brave protector of the family. Taking the time to celebrate dad gives him a chance to feel special, appreciated and loved." – Jessie, mom of 3
"Father's Day is a time for us to celebrate the hard-working men in our lives, show them how much we appreciate and love them." – Andee, mom of 2
Do you have specific traditions each year?
"We started a journal on my husband's first Father's Day. The journal is a place where the girls write a little note to Dad each year. Early on, I wrote the notes for them, but now he has a look back at all the years and can see their writing and messages grow and evolve over the years." - Christina
"No real concrete traditions, usually just a BBQ dinner and spending time with family!" - Katie
"Dad gets to sleep in, is brought breakfast in bed and then picks his favorite activities for the day. It's Dad's day!" - Cortney
"Outdoor games as a family like capture the flag and tag. Barefoot family walk and a visit to Foo's Custard." - Sarah
"Father's Day usually consists of all things that Dad loves - be that grilling, playing golf, fishing and spending time with family outside." - Jessie
"We usually do something he loves, such as something outdoors or a lot of the time our time is spent at the ball fields - and he wouldn't have it any other way." - Andee
What do you think makes dads feel special on Father's Day?
"I think the best way to show them love is to tell them they are loved and then let them plan activities they think are fun for the day, even if it's some time alone on the golf course or any other activity they enjoy." - Christina
"Being recognized for their hard work and taking the time to tell them, and show them, how much you appreciate them." - Katie
"He loves looking back at picture/video memories, crafts and sweet messages from our daughter the most." - Cortney
"Hearing why they are loved." - Sarah
"Homemade gifts from the kiddos - specifically when they include how they see their dad, like his age, what he loves to do and what they think about their dad." - Jessie
"Being recognized, appreciated and loved with a little attention on a special day." - Andee
What do you think dad would say is his most cherished Father's Day memory?
"That summer when the Royals were winning and Abe was born. They went on to win the World Series." - Sarah
"His very first Father's Day and spending the day with his son, his dad and his grandfather." - Jessie
"Brady's baseball tournament win several years ago on Father's Day. It was a travel tourney and the entire weekend was focused on the dads, the boys and baseball." - Andee
How do you involve your kiddos in Father's Day?
"I know let them help me pick out gifts and plan brunch." - Christina
"I plan on doing some sort of craft with my daughter to give to my husband!" - Katie
"She helps with a handmade card and delivers it with his breakfast." - Cortney
"Homemade gifts and having them answer questionnaires about their dad. We write the kids age on them and keep them to look at years later." - Jessie
"The kids always pick out a gift, make a gift and/or a card. The thoughtfulness that comes straight from them is the best in a dad's eyes." - Andee
What are your Father's Day plans this year?
"Brunch somewhere and he may go golf, while I watch the girls." - Christina
"We will probably just spend time with family and do whatever my husband wants to do! I want to make his first Father's Day special." - Katie
"We will plan breakfast and probably a fun outdoor event like golf or drinks on a patio while kids play!" - Cortney
"Griddy dance-off. Seriously." - Sarah
"Father's Day will likely consist of either golfing or fishing followed by grilling out with the family and friends." - Jessie
"Baseball tournaments in Arkansas, hopefully reliving the memory of the tourney champs again." - Andee
---