November 27, 2022
Info about the flu and tips for staying healthy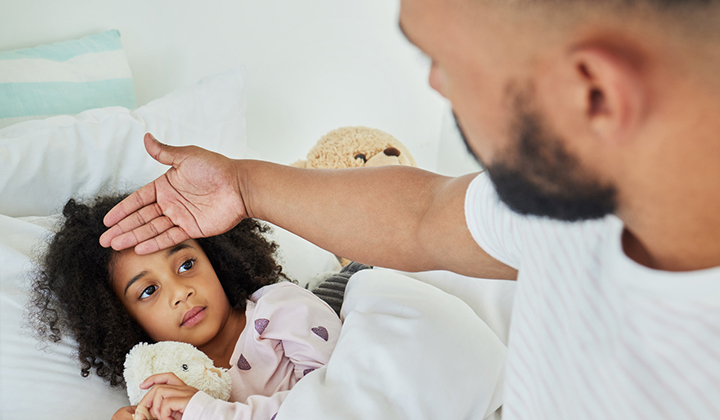 The first cases of seasonal influenza were reported earlier this year than our traditional "flu season." We are expecting a severe flu season nationally this year. The Southern Hemisphere (including countries like Australia) have seen a worse influenza season during their winter months, which in combination with our earlier than normal rise in cases, makes us believe our season could be worse as well.
What is the flu?
Flu, or influenza, is an infection of the nose, throat and lungs caused by the influenza virus. The flu can cause you to feel sick for at least a week. It is contagious and can be easily spread through droplets from person to person. Flu season typically starts in November peaks in January or February and lasts through March.
There's a misconception that influenza "isn't that bad," but it actually can be deadly. Nothing is "just a virus." A virus, like the flu, can make you just as sick, if not sicker, than some bacterial infections. So, be sure to take the flu seriously.
What are symptoms of the flu?
Flu symptoms include:
Fever
Headache, body aches, chills
Cough
Runny nose, congestion
Sore throat
Nausea, vomiting, or diarrhea
Flu symptoms are similar to respiratory syncytial virus, or RSV, which we are also seeing a lot of in kids already this year. RSV is a contagious virus that can be spread through droplets from coughing, sneezing or touching infected surfaces and then touching your face. Remember, you can be infected with more than one respiratory virus at the same time.
Can masks help stop the flu from spreading?
Masks work. What we found was flu and most other respiratory viruses did not circulate when we were masking as a community and when we were maintaining social distance. We started seeing spikes when masks weren't being worn.
Protect yourself from the flu
The best way to protect yourself from getting the flu is to get vaccinated. Flu vaccine is safe and available for people 6 months and older at your doctor's office and many places throughout your community starting in September.
Tips for staying healthy:
Get a flu vaccine.
Wash your hands for at least 20 seconds with soap and water.
Cover your nose and mouth with a tissue when coughing or sneezing (or sneeze/cough into your elbow).
Avoid touching your eyes, nose and mouth.
Continue to wear masks in public areas.
Stay home from work or school if you have symptoms of the flu.
Other Resources:
---