August 19, 2022
Creating a Community of Support: Advice for parents of kids with a new medical diagnosis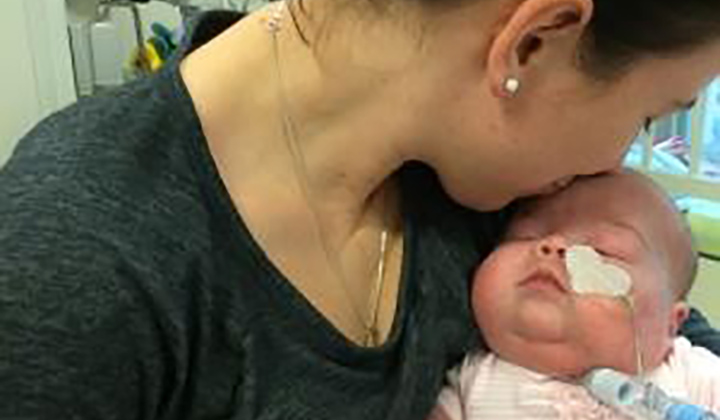 As parents, we plan and prepare for all kinds of things – shopping for baby gear, finding the right school, meal prep, you name it. But one thing most of us are totally unprepared for is how to handle an unexpected diagnosis, serious illness or other medical complication with our child.
When my daughter Kaydee was born prematurely with multiple health conditions, the first thing I remember feeling was terrified. There's so much that's unknown in those early days, and you don't know how it's going to alter your life and your child's life.
I remember having this expectation of what life was going to be like for my family and for our future, and when we got all these diagnoses, all that came to a screeching halt. My husband and I were totally overwhelmed by the unknown. Every time we got new information, it felt like we had to reset our expectations and revise that vision of what the future might hold.
If you find yourself in an unexpected situation like we did – or want to help someone you know who is dealing with a medically-complex child – here are a few ways to build a community of support.
Choose a family spokesperson
One thing that really helped us in those first few days in the hospital was deciding on a point person (that wasn't my husband or myself) to keep our loved ones updated. That way, you only have one person to update and they can pass the word along to everyone else for you.
Everyone means well when they call or text to check on you, but it's just too much to try to respond to those messages when you're still trying to figure out what's happening yourself. Choosing someone you trust to keep your friends and family updated takes some of the stress off you while also staying connected with everyone who is concerned for your child and your family.
Take advantage of technology
There are several different online platforms that can help you keep people in the loop and receive the support you need:
Social media, like Facebook, Instagram, etc.
Websites designed specifically for medical situations, like CaringBridge or Give InKind
Technology like video calls and meal delivery services
Even though our first few weeks in the hospital were overwhelming and stressful, it was really amazing to see the ways people connected with us and cared for us, even though we couldn't be in person together. Sometimes it was tough to be honest and vulnerable about what we were going through. But we found that people felt like they were a part of our story because of what we shared, and so many of them reached out to help.
Get all-around support from your Children's Mercy team
Of course, we were really grateful for the excellent medical care Kaydee received while we were at Children's Mercy for several months, but there are so many supports in place at the hospital that help families in other ways.
Child Life is so important, especially for siblings and friends who may need extra preparation to see another child in a hospital setting with all the tubes and wires and machines. They are wonderful at helping prepare your child for procedures and teaching you how to help your child through difficult situations.
Psychologists are available to you as a parent to help you navigate the abrupt changes to your life that happen around a child's illness, injury or disability.
Social workers are really instrumental in assessing your family's situation and getting you connected to all kinds of resources and community support.
Find comfort from parent mentors
In my role as Parent Support Program Coordinator for the NICU, I work with our Patient and Family Advisory Council and staff members to ensure families are surrounded with the care and connection they need throughout their time at Children's Mercy and beyond. We have several other programs throughout the hospital for families in all areas, including the Parents Offering Parents Support mentoring program that matches parents of newly-diagnosed children with a parent who has walked a similar path.
Another Children's Mercy parent and Family Advisory Board chair, Bethany Luther, summed it up well: "Our family's support system gives us strength, hope and relief when life gets overwhelming. No one understands what you're going through more than people who have lived it."
Helping friends and family through a medical challenge
Whether you've been through a hospitalization before and want to give back or just want to help someone who's in the thick of it, there are many ways to provide support. For a close friend or family member, you can offer to be their spokesperson or organize a meal train or Give InKind page for them. If you know a family with a baby in the NICU, here's a great resource for ways to help (many of these apply to families in all kinds of medical situations). Participating in a special event or fundraiser, like Dream Big Day, is another great way to show solidarity with families who are going through a difficult time.
If you need help finding support for your family while your child is hospitalized or newly diagnosed, visit our Family Support and Resources page for more information.
---