October 08, 2021
Yes, it's tough right now: tips for parents and COVID-19 regulations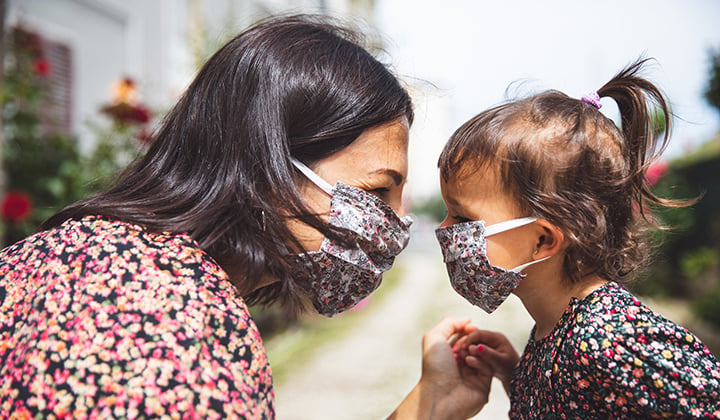 It's a tough time to be a parent right now. COVID-19 is still in our communities, but it feels like most people are "back to normal." Except when you have kids. Children under 5 aren't protected by the COVID-19 vaccine and many parents are struggling to figure out how to keep kids safe while not keeping them isolated from the world. Here are some tips to help you think through your decisions.
Comfort with COVID-19 may feel different for each family. And even within each family, feeling safe about COVID-19 may be different. If you are struggling with what activities or gatherings to attend, we hope you find these tips helpful.
What we know about COVID-19
We are still learning about COVID-19 but already know a lot. So, let's start there.
COVID-19 is spread by droplets. When an infected person breathes out small particles that contain the virus, another person can breathe them in through their nose, mouth or even if it lands on their eye.
COVID-19 can infect both adults and children.
People may be infected and don't experience symptoms, meaning they don't know they have COVID-19 and wouldn't know they may be spreading the virus.
COVID-19 vaccine will protect you from getting sick and is available for people 12 years old and older.
Physical distancing helps you to be less exposed to COVID-19, so try to avoid crowds. Safer options include staying 6 feet apart from other people, avoiding unventilated buildings, attending uncrowded outdoor activities where you can space apart, and limiting the time spent with people who don't live with you.
Washing your hands helps stop the spread of COVID-19.
Examples of less safe and safer activities
| | |
| --- | --- |
| Safer options | Less safe options |
| Outdoor birthday party at a park. | Indoor birthday party at a trampoline park. |
| Visit with vaccinated family, indoors with the windows and doors open. | Visit with unvaccinated family, indoors with the windows and doors open. |
| Going to a drive-in movie. | Watching a movie in an indoor theater. |
| Eating at a restaurant outside where tables are 6 feet apart. | Eating inside a restaurant. |
Working through decisions
Understand the setting. Try to know the details about the activity when making decisions. Inside or outside? How many unvaccinated people will be there? Will people be wearing masks? Are you able to stay 6 feet apart? Does the place have good ventilation? This will help you understand your risk level of possible exposure.
Decide your comfort level. Figure out for yourself what situations you would prefer to avoid, and which ones you are less nervous about. For example, how do you feel about eating at a restaurant outdoors, indoors, or curbside pickup?
Give yourself permission to change your mind. Plans can change, and that's okay. If the gathering now includes more people than you realized, know you can change your mind. Try to communicate your decision as soon as possible though to allow others time to shift plans. You may disappoint some people but it's okay to choose what is best for your family.
Talking with loved ones about your decision
Talk as soon as possible. It's best to let people know your decision, so they can make plans themselves.
Be honest and clear. Try to not beat around the bush. You could say something like, "We will be attending if everyone wears a mask." Or "Your safety and health is really important to me, and so is the health of my family, so this is the best decision for us."
Avoid arguing about what is right for others. Focus on what is right for you and your household. That is all you can control. You don't want to damage a relationship at a time when you might already be feeling disconnected from each other.
For kids, help them understand. You can share how the decision was made, or what you expect of them if you are attending, like wearing a mask. Emphasize the importance of caring for loved ones by keeping them safe.
Most people understand how difficult it is right now for parents. While we all want this pandemic to be over, until it is, know you are doing the right thing to protect your child from COVID-19 exposure. There are many safe ways to still see family and friends. Whatever you decide, trust yourself to make the best decision for your family.
---