February 11, 2021
Ways to celebrate Valentine's Day during COVID-19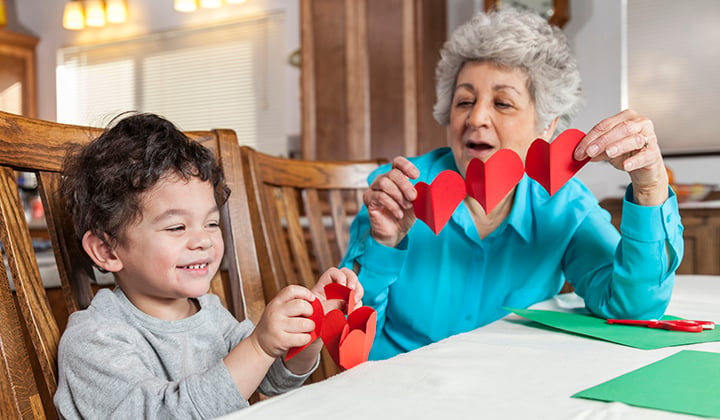 In school and at home, Valentine's Day is typically a fun day to trade friendship notes, messages of love and eat yummy treats. During the coronavirus pandemic, it still can be fun with a few slight differences to stay safe. Here are some ways to celebrate with the whole family and still decrease the risk of spreading COVID-19.
Celebrating with kids
Decorate your house with Valentine's Day décor, reds, pinks and hearts. One simple and inexpensive craft is coloring hearts on paper and display them in windows.
Ask the kids to plan the menu for a special Valentine's Day family dinner and get them involved in some way, like setting the table or washing the veggies.
Help your child write a letter of gratitude to special people in their lives and drop it in the mail.
Film a quick video on your phone and send it to loved ones. The video can be your kid singing a favorite song, showing a fun dance or even a quick Valentine's Day greeting.
Celebrating with a partner
Flowers are always a good idea. Order some from a local florist for delivery or hand pick some garden blooms.
At home spa day! This can be fun with homemade face masks or foot rubs to help each other relax.
Sign up for a virtual cooking class. Lots of options are available through AirBnb Experiences, though local culinary centers or even from Top Chef winners.
Fancy date night in with candles, take out food and dressing up even though you are staying in.
Pampering yourself
Treat yourself! Try to make time for yourself. It's been a tough year and you deserve some pampering. Try journaling, watching your favorite movie or video chatting with your friends.
Celebrating with others
If you are having gatherings or celebrating with people outside of your household, here are ways to make it as safe as possible.
Find a place outdoors where you can social distance.
Open doors and windows if staying indoors.
Practice social distance with 6 feet of space between people.
Limit the number of people attending.
Wear face coverings.
Have guests bring their own food, drinks, plates, cups and utensils.
Avoid singing or shouting.
Wash hands with soap and water or use hand sanitizer.
Share cards and notes of love rather than candy and food.