December 09, 2020
How to talk about holiday gatherings this year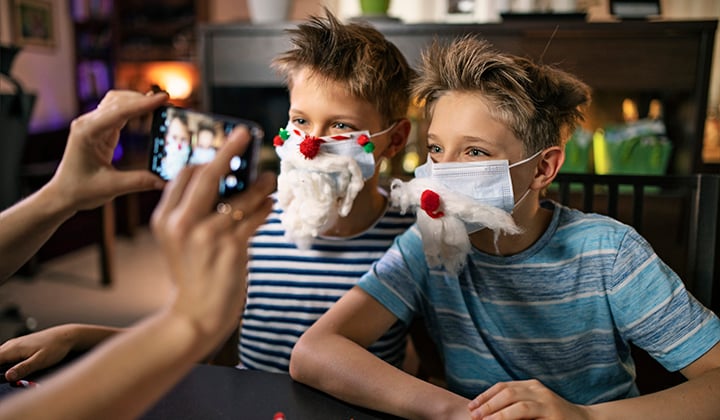 The holiday season is here and, this year, holiday stress has a whole new meaning. Decisions about whether and how to gather together are on everyone's minds. We all want our loved ones to be safe and we all want to enjoy the holidays at the end of a difficult year. The way we go about it will look different for each family. Within families, it is common to have differing opinions on any topic, so it should come as no surprise that relatives may disagree about how to celebrate. Many of us have been isolated from people we care about for a long time and we have looked forward to the holidays all year long. It feels unfair to miss out on something as important as holiday gatherings with loved ones. That said, we have to consider everyone's safety and make the right call for ourselves. If you are struggling with making holiday decisions and talking about them with family, we hope you find these tips helpful.
How to make decisions about your own holiday plans
Ask yourself questions that will help you make a decision. Discuss with your partner or someone you trust what feels safe and best for you. Ask yourself, "What are the most important things to me and my family about the holidays?" so you can figure out how to incorporate those into your plans. If you are on the fence about attending a gathering, ask the host what safety measures will be in place. You might offer to bring masks or extra tables for outdoor seating. The more information you have, the better decision you can make.
Listen to your gut. Oftentimes, you may know the right decision for you, but you are worried about what others will think. Be honest with yourself about your comfort zone. It doesn't feel good to go along with a plan that you don't really feel comfortable with.
Have a firm plan before you talk with loved ones. If you don't have your mind made up, it can be easy to give in to guilt from family members. It is always easier to communicate when you have a clear point of view and can clearly state your reasons.
Give yourself permission to change your mind. Decisions about holiday gatherings during a pandemic are complicated and it is understandable to have mixed feelings. If you need to change plans, that's okay. Communicate about the change as soon as you can. Also, if you attended a gathering for Thanksgiving but you are feeling hesitant about December holiday plans, it is perfectly fine to make a different choice for other holidays.
Accept that you may disappoint or upset people. It is alright if our decisions don't sit well with others. We can't expect everyone to agree with us. The important thing is that we honor our own boundaries and respectfully communicate with our loved ones.
Accept that you may experience difficult feelings about your decision. Even when you make the right decision for yourself, you can still experience sadness, anger, disappointment, or a sense of loss. Don't ignore your feelings. Give yourself room to feel them. This is a tough time. Take care of yourself by seeking support from people you can talk to honestly about how you are feeling.
How to talk with loved ones about holiday plans
Talk with family as soon as possible. If you had planned to host or attend a gathering but you've started feeling uncertain, prepare your family for the possibility that plans may change. Make a plan B with loved ones to avoid last-minute scrambling if possible.
Be honest and clear. Beating around the bush and trying to soften the blow won't really work. Express your concern for the safety of everyone involved. You could say something like, "Your safety and health is really important to me and so is the health of my family, so this is the best decision for us."
Validate others' emotions. Acknowledge that it is understandable for the other person to feel frustrated, disappointed, sad, or even angry about our choices. This is a tough situation and it is stressful to miss out on gathering with people we care about.
Avoid arguing about what is right for others. Focus on what is right for you and your household. That is all you can control. You don't want to damage a relationship at a time when you might already be feeling disconnected from each other.
How to talk with kids about changes in holiday plans
Validate kids' feelings. Let them know that it's okay to be sad, angry, or frustrated about changes in holiday plans. Model for them how to name your own feelings so they know that it's normal to experience uncomfortable emotions.
Help them understand how the decision was made. Emphasize the importance of caring for loved ones by keeping them safe. You can say something like, "We love Grandma and Grandpa very much and we care about their safety and health, so we have made a decision that keeps them safe and healthy."
Include them in decisions about how to celebrate. Giving kids choices is important at a time when they do not have much decision-making power. Involving them helps them look forward to the holidays.
Let them choose some foods that will be part of the holiday meal or goodies.
Let them pick a holiday movie for a movie night.
Encourage them to decorate their room with their own holiday style.
Have them vote on a gift that your family can enjoy together.
Make a choice to help or give to others in need in a safe way.
Get their ideas for how to connect with family members you won't be with.
Alternatives to holiday gatherings
If you decide to forego the gathering, you can still find creative ways to connect with family.
Adapt old traditions or start new ones.
If you live nearby:

Go in separate cars to a drive-through light display.
Deliver favorite foods to their door.
Surprise them by singing festive songs outside of their home.

If you live far away:

Send videos or photos of impressive light displays.
Order food to be delivered to them.
Call each other to sing holiday songs.
Play a game or read a favorite storybook on a video call.
Video call them to watch them open gifts from you.
Plan something to look forward to together.
Start a shared document or digital pinboard about a trip you could take or a gathering you could celebrate when it is safe to get together.
However you decide to spend your holiday season, trust yourself to make the decision that is best for your family. There are many ways to enjoy the holidays. While we may want to share our holiday spirit in person, trust that it can be shared virtually as well!
---