Give Mercy — organize a fundraising event

As a nonprofit hospital, Children's Mercy relies on generous donors like you to provide top-quality care for patients and families.
When families can't pay, we don't turn them away. It's because of our generous and caring community that Children's Mercy can keep our doors open. Your fundraising event will help us continue to provide the highest level of care to all kids who come through our doors.
Groups and individuals alike can create meaningful opportunities that will benefit the thousands of kids currently receiving care and support the discoveries needed to help kids in the future get healthy and thrive.
Steps to starting your own fundraiser



Step 1
Review Guidelines and Fill Out an Application: Provide us with some basic contact information and tell us why you're excited to support the kids at Children's Mercy!

Step 2
Discuss Your Event with Our Team: Chat with a Children's Mercy team member about the fundraising event or drive you'd like to host and they'll provide some tips and tricks for a successful event.

Step 3
Plan and Hold Your Event: Using the tools provided by the Children's Mercy team, your event will be a great success! We're always here to answer your questions.

Step 4
Deliver Your Donations: Contact your Children's Mercy team member after the event to schedule your drop off!
Ways to fundraise for kids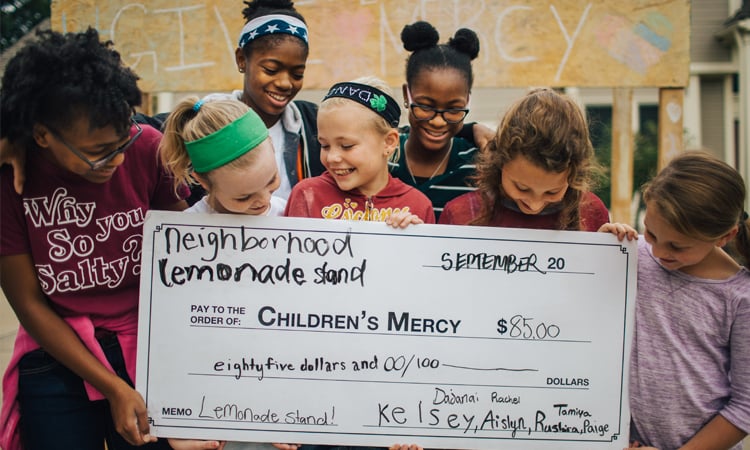 Organize a Fundraiser
Organizing a fundraiser is a great way to involve friends and family in making a difference in the lives of kids.
Get inspired
Works of heART
Wanting to share his love for Children's Mercy, local artist Donald "Scribe" Ross brought a community of artists together to make inspiring and breathtaking works of art. The artists then sold these heart-shaped pieces to benefit Children's Mercy!
Plan a fundraiser
Have questions about starting a fundraising event or drive?
Visit the Frequently Asked Questions page for more information on starting your own fundraising event or drive to support Children's Mercy.