Antimicrobial Stewardship
A Pediatric Guide from Children's Mercy Kansas City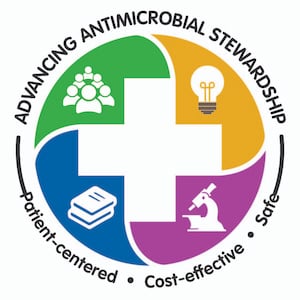 Antimicrobial stewardship is defined as efforts to improve the prescribing and promote the optimal use of antimicrobial agents. As part of that effort, the Children's Mercy Antimicrobial Stewardship Program has developed a variety of resources for physicians and providers who care for pediatric patients.

Optimizing use of antibiotics

In the United States, approximately 47 million unnecessary antibiotic courses are prescribed each year. Complications of overuse of antibiotics can lead to antimicrobial resistance.

According to the CDC's 2019 Antibiotic Resistance Threats report, in the United States alone, at least 2.8 million people acquire an antimicrobial-resistant infection each year. These infections result in approximately 35,000 deaths and a large cost burden to the health care system. Additionally, antibiotic use can result in significant harm, including severe or life-threatening adverse drug reactions.

All physicians and providers should engage in antimicrobial stewardship practices. Antimicrobials are a community resource, meaning they are the one class of medications that lose effectiveness over time and use, so the more we use them, the less effective they become.


The Antimicrobial Stewardship team at Children's Mercy

Children's Mercy has a dedicated Antimicrobial Stewardship Program (ASP) team of experts, including:
Infectious diseases physicians

Pharmacists

Advanced practice providers

Nurses

Data analysts
The ASP team works to serve the needs of frontline clinicians to ensure that together, we carefully preserve these vital therapies.

Our team also includes representatives from infection prevention and control and microbiology. Additionally, our Outpatient ASP Advisory Board includes members from:
Emergency department

Urgent care clinics

Primary care clinics

Pharmacy

Family advisory board


Collaboration and partnership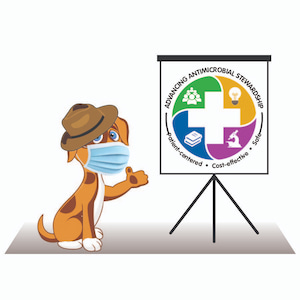 Since 2008, the ASP team actively collaborates with providers in the inpatient setting to optimize antimicrobial use in hospitalized patients and develop protocols to promote best practices. The ASP team has been a leader in the development of pediatric outpatient ASP initiatives.

ASP launched an outpatient section from the Sharing Antimicrobial Reports for Pediatric Stewardship Collaborative, also known as SHARPS-OP. This multi-institution, pediatric collaborative aims to establish pediatric outpatient ASP benchmarking metrics and share helpful stewardship strategies.

Contact the ASP team at antimicrobialstewards@cmh.edu.

Resources for treating pediatric infections
Access current resources, such as our Outpatient Antibiotic Handbook, Empirical Guidelines for Common Infections, "Stewie Shares" antimicrobial stewardship infographics, and relevant articles and publications on the topic.
Family education tools
An important part of antimicrobial stewardship is taking time to educate patients and families on how to use antibiotics appropriately. View our guidance for communicating with patients and families.
Pediatric Guide - Antimicrobial Stewardship