Inpatient Therapy Services
Children's Mercy physical and occupational therapists provide a variety of individualized therapeutic interventions for children from birth to 21 years of age who are hospitalized. Therapists are instrumental in development of a care plan that promotes function and maximizes outcomes.


Ambulation training

Our therapists help educate and train patients in the use of assistive devices such as crutches, walkers as well as transfers to wheelchairs and other positioning devices to promote safe, functional mobility.


Aquatic therapy

Aquatic therapy can be used to treat a variety of diagnoses from cerebral palsy to sports injuries. Benefits include decreased pain and stiffness, improved relaxation and freedom of movement in preparation for land-based activities. This service is available at Children's Mercy Adele Hall Campus and Children's Mercy Sports Medicine Center at Village West.


Burn treatment

Our therapists help children recover from burn injuries through exercise, positioning, splinting, casting, ambulation, and fitting with pressure garments in order to aid in scar management for maximizing healing and functional use of the affected area.


Developmental therapy

Developmental therapy identifies areas of concern arising from physiological, neurological, or environmental factors and then helps to promote the child's acquisition of skills for improved play leading to improved quality of life at home and in the community.
A tool we may use for developmental therapy is the Explorer Mini. The Explorer Mini has a joystick with a bright yellow ball handle that is 18 inches from the patient's face. It allows for grasp and release, creating cause and effect so the child can quickly learn forward, backward and turn in circles. The child stands in the device secured by an adjustable saddle seat, which allows weight-bearing positions for proper hip development and opportunities to improve strength, endurance and postural control. The Explorer Mini has five speed options, maxing out at 1.5 mph.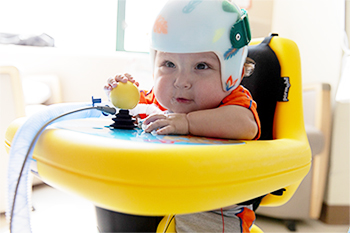 Feeding and videofluoroscopic swallow studies (VFSS)

Feeding therapy addresses oral motor and oral sensory processing skills which may affect a child's ability to safely take in food and liquids by mouth. If swallow safety concerns are present, a videofluoroscopic swallow study can be completed. Our occupational therapists assist in completion of VFSS. These studies help evaluate oral motor skills in children with feeding and swallowing issues. Common diagnoses include children with cerebral palsy, Down Syndrome, and other genetic syndromes; premature infants, and children with brain injuries.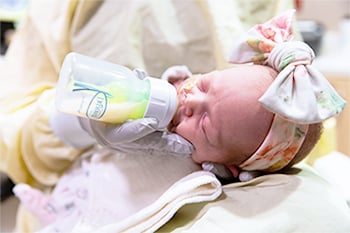 Functional electrical stimulation

Functional electrical stimulation (FES) is a well-established rehabilitation technique that uses pulses of electrical current to stimulate nerves in the arms and legs resulting in muscle contractions and patterned muscle activity.
The FES bike creates patterned movements in the arms, legs, trunk enabling muscles to work and perform activities even though the muscles may be weak or paralyzed through neurological disease or injury. Benefits generally include reversal of muscle atrophy; improved local blood circulation; increased range of motion and reduced muscle spasms.
The XCite is a portable functional electrical stimulation station used to assist patients perform task specific, strengthening activities by sending electrical impulses to targeted muscles via surface electrodes.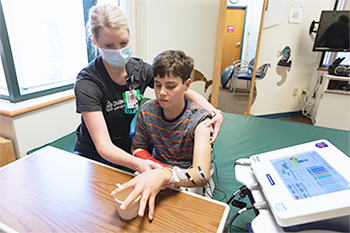 Neonatal therapy

Our physical and occupational therapists practice in our Neonatal Intensive Care Unit to promote optimal long-term developmental outcomes and nurture infant-parent relationship by addressing positive neuromotor, musculoskeletal, sensory and feeding experiences. Our therapists receive specialized training and education to provide evidence-based therapy care to this population.


Rehabilitation

Our inpatient rehabilitation program addresses the needs of children and young adults after they've had a traumatic and life-changing injury or illness.


Spine and back rehabilitation

Our therapists work with patients who have undergone spinal surgery and/or treatments to assist with mobility and will teach appropriate ways to move or perform specific tasks to prevent injury and promote functional mobility.


Splinting

Our therapists provide a variety of splints and orthotics to assist in maintaining appropriate joint alignment during functional activities, including ambulation.
Physical and Occupational Therapy Menu