Rhyming to Reading
A Phonological Awareness and Early Literacy Program
According to the International Dyslexia Association, 15-20 percent of the population has a language-based learning disability. Of the children with specific learning disabilities receiving special education services, 70-80 percent have deficits in reading. Dyslexia is the most common cause of reading, writing and spelling difficulties.
Children's Mercy pediatric speech-pathologists developed Rhyming to Reading, a phonological awareness and early literacy program. This research and evidence-based program helps young children struggling to learn early literacy concepts, as well as children who are typically developing, establish a strong foundation for future reading success.
Rhyming to Reading uses a multisensory structured teaching approach and includes activities to teach phonemic awareness, phonics, fluency, vocabulary and comprehension. Activities include games, songs and books to engage children in the learning process.
More than 2000 children have participated in this program and have shown significant progress.
Evidence-based program effectiveness

An IRB approved retrospective research study of 342 subjects was conducted. Results indicated statistically significant outcomes that Rhyming to Reading is effective in teaching phonological awareness and phonics skills to:
Young children, yielding an average 30% gain in improvement in pre and post test scores.
Children with and without history of speech, language, learning difficulties.
Children 4-6 years old.
Rhyming and Reading is effective in teaching all targeted phonological awareness skills as identified by the National Reading Panel and the International Dyslexia Association through the five key components of reading including phonemic awareness, phonics, fluency, vocabulary, and comprehension.
For families: Rhyming to Reading classes at Children's Mercy
Rhyming to Reading class sessions are offered three times per year: Spring, Summer and Fall at Children's Mercy College Boulevard and Children's Mercy Northland.
Please note: Due to COVID-19, we are not offering in-person classes at this time. We will update this page once we are able to resume.
Classes are for children:
4-6 years old.
Who may or may not have speech/language/learning difficulties.
Who have not yet entered kindergarten.
Who are able to work with other children in a small group.
Children participate in:
Pre- and post-test to determine appropriate level.
Small group classes (three to six children per group) once a week for one hour.

Level I: eight weeks.
Level II: six weeks.

Play-based multisensory learning activities.
Teaching of early literacy skills that encourage development.
Research-based teaching methods.
Instruction by pediatric speech-language pathologists.
Parent observation and education.
Please call (913) 696-5750 to schedule pre-testing or to obtain additional information about the classes and fees.
For educators: Rhyming to Reading curriculum for purchase
These curriculum are available on DVD or via a web link and includes:
Two levels of programming, including 15 easy to follow lesson plans.
Over 80 instructional videos, which demonstrate multisensory teaching techniques to enhance literacy learning.
Full color printable materials including rule cards, letter cards, game materials, lesson plans and parent newsletters.
Pre- and post-tests to determine the child's baseline skills and to track progress.
System requirements for the DVD:
PC: DVD player and Windows XP or higher.
Mac: DVD player and OSX or higher.
System requirements for the web-based curriculum:
Chrome, Edge or Safari. The course will not load in Internet Explorer.
To order the Rhyming to Reading™ DVD, please email us or mail the order form (PDF).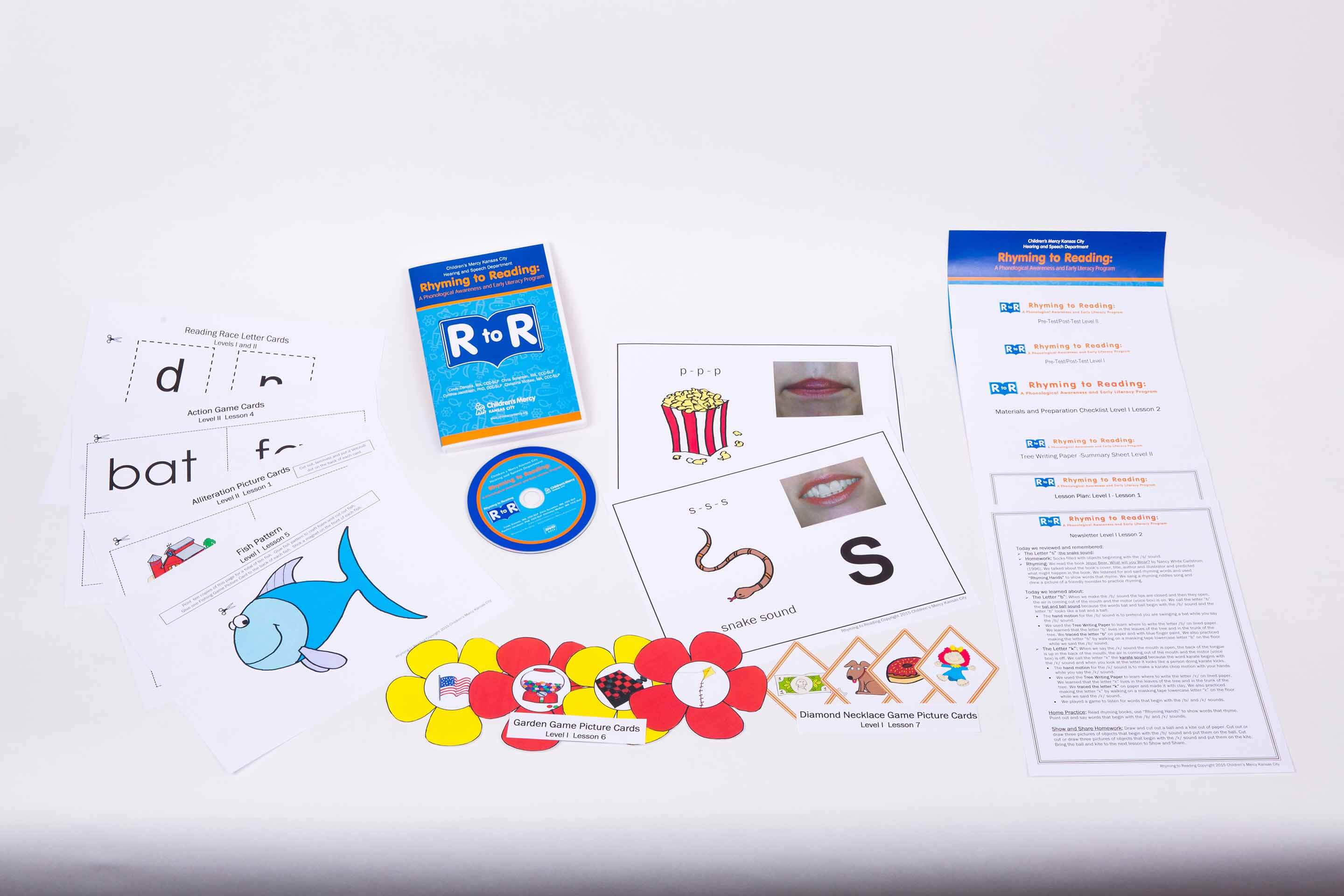 To order the web-based Rhyming to Reading program, follow the instructions below. Note: The web-based version of the curriculum will reference the DVD. Please disregard any reference to the DVD and proceed to access the program via the dedicated website
Click on the link to purchase and access the program via Cornerstone, our online education portal: Rhyming to Reading web-based curriculum.
New users: Click on the Rhyming to Reading button. The item will appear in your Shopping Cart and you can click "Proceed to Checkout" to purchase the curriculum.
Returning users: Sign-in to your account to access the curriculum.