Emerging Infections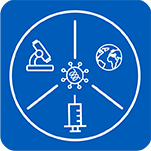 Emerging Infections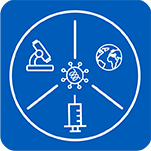 Enhancing the ability to handle current and emerging infectious diseases to protect children and public health

As the world has learned with the COVID-19 pandemic, infectious diseases have the ability to significantly impact our lives and public health. The world's experience during the pandemic has underscored the need for greater preparation by monitoring viruses in the community and looking for those that may evade detection with current technologies, may not be treatable with available medications, or may not be prevented with existing vaccines.
The Emerging Infections Area of Emphasis (AOE) at the Children's Mercy Research Institute (CMRI) aims to get ahead of infectious diseases in order to protect the health of children everywhere.
The work of the AOE builds upon the nearly two decades of infectious disease research of its leader, Rangaraj Selvarangan, BVSc, PhD, who also serves as director of Clinical Microbiology & Virology Laboratories and the research director of Laboratory Medicine at Children's Mercy. Under Dr. Selvarangan's leadership, the Emerging Infections AOE focuses on six key areas of investigation.
Surveillance, epidemiology and outbreak investigations

The surveillance, epidemiology and outbreak investigations in the AOE encompass two large research programs at CMRI – the Kansas City-New Vaccine Surveillance Network (KC-NVSN) and the COVID-19 Diagnostics and Investigations Empowering the Family (CODIEFY) study.
Children's Mercy is one of only seven pediatric institutions across the country to take part in this groundbreaking surveillance New Vaccine Surveillance Network. Dr. Selvarangan has served as the principal investigator of the KC-NVSN team since 2009, and the team was recently awarded a five-year, $7.25 million grant from the Centers for Disease Control and Prevention to perform population-based, laboratory-confirmed, acute surveillance of acute gastroenteritis illness and acute respiratory illness in children. In the new funding period, the KC-NVSN team is conducting year-round surveillance of acute gastroenteritis and acute respiratory illness in children from the six-county Kansas City metropolitan area seen in Children's Mercy's inpatient, Emergency Department, and Primary Care Clinic.
The multidisciplinary CODIEFY study, also led by Dr. Selvarangan, uses COVID-19 testing, immunological assays and single-cell genomic sequencing technology to investigate the risk factors and spread of COVID-19 virus.
In vitro diagnostic evaluation, implementation and outcomes

The Emerging Infections AOE will continue industry-sponsored clinical trials aimed at evaluating and implementing in vitro diagnostic tests and measuring their impact on patient outcomes. Investigators and laboratory technologists at Children's Mercy enterprise work with the AOE team to evaluate tests with an eye toward ultimately improving patient care.
Emergency and pandemic preparedness

The emergency and pandemic preparedness research conducted by the Emerging Infections AOE includes pandemic viruses such as SARS-CoV2 and influenza. This effort involves evaluating the post-acute sequala of COVID-19 infection in children, determining the mechanisms underlying different susceptibility toward the virus, and the longevity of immunity in those who receive vaccines. As part of this COVID-19 related work, Children's Mercy is one of the pediatric hospitals participating in the national Collaborative Long-term Study of Outcomes for COVID-19 in Kids (CLoCk) consortium.
In addition, the AOE investigates emerging viruses like enterovirus D68 (EV-D68) and its associated complication of acute flaccid myelitis in children. In 2014, Children's Mercy was among the first to notify the CDC of a major outbreak of EV-D68, leading it to become a pathogen of interest that the CDC is monitoring.
Vaccine trials and anti-infectives evaluation

The Emerging Infections AOE further conducts critical research aimed at controlling and preventing infection through the use of vaccines. This line of research inquiry includes evaluating vaccines for pandemic influenza and SARS-CoV2 as well as research on the growing problem of antimicrobial resistance.
Antibiotic and laboratory stewardship

Another area of research by the Emerging Infections AOE builds upon Children's Mercy's long-standing antimicrobial stewardship program as well as the emerging field of diagnostic stewardship. The AOE conducts laboratory investigations to support antibiotic and laboratory stewardship efforts to ensure the right drug and test is provided for the right patient at the right time.
Pathogenesis of emerging infections

The AOE further explores the pathogenesis of emerging viral and bacterial infections, including parechovirus central nervous system infections and invasive bacterial infections in children. Children's Mercy is one of the leading sites in the U.S. that has described many aspects of parechovirus and Dr. Selvarangan aims to enhance awareness of this potentially devastating infection and encourage hospitals country-wide to test for this emerging viral infection.
Opportunities abound for collaboration

In addition to working to be ahead of the curve with respect to viruses affecting the local community and the country, the Emerging Infections AOE presents unique opportunities for investigators at CMRI to take part in highly collaborative and cross-disciplinary research projects.
The work of the Emerging Infections AOE reinforces CMRI's translational approach to research and touches multiple populations across the Children's Mercy health system. The collaborations between research and clinical teams are vital when identifying new viruses or infection outbreaks.
Among the departments, divisions and groups currently working with Dr. Selvarangan and the Emerging Infections AOE are:
Interested in collaborating?
If you are interested in collaborating with Emerging Infections, contact Rangaraj Selvarangan, BVSc, PhD, Director of Emerging Infections.
Individuals with an MS or PhD in microbiology, virology, molecular biology, biotechnology, or bio-informatics interested in clinical research and infectious disease are encouraged to contact Senior Talent Recruiter, Julie Aust (jaaust@cmh.edu).
Pediatric Pathology
William R. Brown, Missouri Endowed Chair; Director, Clinical Microbiology & Virology Laboratories; Director, Emgerging Infections, Children's Mercy Research Institute; Professor of Pathology, University of Missouri-Kansas City School of Medicine; Clinical Professor of Pathology, University of Kansas School of Medicine