Health Care Innovation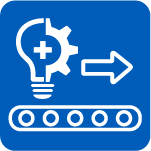 Accelerating innovations to transform pediatric health care

A new idea to improve the health and wellbeing of children and their families can come from anyone, from anywhere, and at any time. But guiding the development of that idea into a technologically savvy and commercially ready product is often a complicated process requiring specialized expertise.
The Health Care Innovation Area of Emphasis (AOE) at the Children's Mercy Research Institute (CMRI) accelerates and expands the pace of discovery, translation, and dissemination in the rapidly shifting health care landscape.
It does so by collaborating with faculty, staff, and partners to identify intellectual property development opportunities for products and processes – all with an eye toward optimizing the medical, surgical, and therapeutic management of children.
Along the way to product development, the Health Care Innovation AOE works with the innovator to:
Conduct landscape surveys that define the clinical and business opportunity surrounding their idea
Define a scientific, business, and regulatory roadmap that is unique to their idea and aligns with their professional objectives, interests, and responsibilities
Identify funding mechanisms to advance their innovation
Identify strategic partners that can provide education, mentoring, and technical support as they develop their idea
After conception, the Health Care Innovation AOE works to align the products' technological and commercial readiness to ensure inventors are well positioned to strategically advance their innovations beyond the walls of Children's Mercy.
Unique and unparalleled expertise

The highly collaborative nature of the CMRI Health Care Innovation AOE and its Children's Mercy partners provides faculty and staff with an environment rich in the resources, knowledge, and support to strategically advance their innovations.
The Health Care Innovations AOE works closely with external partners and Children's Mercy experts in:
Business Development
Clinical Practice
Engineering
Health Outcomes
Human Factors
Innovation Center
Marketing
Philanthropy
Research and Grants
Research Informatics
Strategic Planning
Technology Transfer
Fueling the innovation pipeline
Several Children's Mercy innovations laid the foundation for the Health Care Innovation AOE, including initiatives focusing on drug repurposing for under-represented pediatric conditions, FDA-approved medical devices for weight estimation and nutritional assessment, and clinical decision support tools.
Further fueling the pipeline at CMRI is a unique program intended to rapidly accelerate bringing innovations to the marketplace. Launched in 2020, the CMRI Innovation Incubator Awards not only provide support for promising initiatives and projects but also give inventors a better understanding of the innovation process from start to finish.
Roadmaps to navigate innovation


The Health Care Innovation AOE has outlined a series of roadmaps to guide innovators on the processes and general timelines for bringing products to the marketplace. The roadmaps focus on the critical steps involved from product conception to actualization, including analyzing the market, evaluating existing intellectual property, and considering business-related questions that may affect the success of an innovation in the marketplace.
The roadmaps provide direction on developing health care-related research innovations, including those related to:
Drugs
Devices
Diagnostics
Decision Support
Questions?
If you have questions about content related to Health Care Innovation, contact Robert Lane, Physician-in-Chief and interim Chief Scientific Officer, or Steven Leeder, interim Executive Director, The CMRI, Associate Chair-Research, Department of Pediatrics.