Pediatric Residency Program
A rewarding residency? Challenge accepted.
We're devoted to the wellbeing of children and we're looking for incoming pediatric residents who share our values and mission.

We provide resources to support you and customize your pediatric residency experience. Whether you focus on community pediatrics or a subspecialty fellowship, our diverse and expert faculty will mentor you along the way – sharing your goals, helping you hone your skills and preparing you for the future. With this well-rounded support you will be able to focus on what matters most: providing the highest level of care for pediatric patients.
All about us

Children's Mercy is consistently ranked among the best children's hospitals by U.S. News and World Report. We're proud to rank in all 10 specialties, and nine of our specialties rank among the top 30 programs in the United States. For the past 10+ years, Children's Mercy has been ranked as one of the best places to work in Kansas City. As a vibrant city with a traditional Midwestern feel, Kansas City is balanced with a thriving economy of small businesses, tech start-ups and headquarters of major companies including Hallmark, Cerner and H&R Block. Each year, Kansas City receives national rankings for livability, affordability, innovation and technology, culinary arts (especially barbecue!!) and the fine arts.
About the residency program


Complex Cases: as a regional pediatric referral center. we commonly see the most complicated diagnoses

9,200 + surgical cases
12,500 + admissions
131,700 + Emergency/ Urgent Care visits
4,600 + transports

Learn from leaders: over 850 faculty pediatric subspecialists
Committed to DEI: Founded in 1897 by a female physician and a female dentist, the Berry sisters. Today, we strive to create an inclusive community where all feel welcome and supported and reflect the diversity of patients we serve.
Your wellbeing matters

We believe creating a world of wellbeing for children begins with the wellbeing of our future pediatricians and pediatric subspecialists. Our program is designed to bring balance to your training experience through a culture of support. Read about our wellness program.
Salary and benefits
2023-24 salaries


PGY1: $66,019.20
PGY2: $68,972.80
PGY3: $71,614.40
Benefits for residents


Annual education stipend
Paid orientation
$500 towards Pediatric Boards
Step III USMLE/COMLEX fee paid - one time
International elective stipends
Free covered, on-site parking
Housestaff lounge with flat-screen TV, kitchen, classroom and library
Membership dues to the American Academy of Pediatrics
MedStudy and Laughing Your Way to Passing the Pediatric Boards books provided
$2,250 per year towards travel related to presenting scholarly activity or to cover board review courses
Catered lunches
Moving allowance of $500 from outside the Kansas City metro area (subject to taxes)
Annual resident retreats
Individual call rooms
Allocated call money for meals during call shifts
Discounted tickets to community attractions including movie theaters, amusement parks, bus passes, etc.
Research

The Pediatric Residency Program at Children's Mercy is committed to providing research opportunities and mentorship support for research to pediatric residents. The Residency Program's goal is to match interested residents with research mentors. Additionally, the program provides education for residents interested in research and works with the Children's Mercy Research Institute to collaborate on resources to maximize research success. Learn more about your research opportunities.
Unique experiences
Global Health
The Global Health Track is a two-and-a-half-year program, running concurrently with residency that will offer you further education in global health and prepare you for the opportunity to travel abroad. Most importantly, you will learn about global health, develop effective programs around the world, and learn about how you can incorporate global health into your lifelong career whether that be general pediatrics, a subspecialty, or even living overseas.
Advocacy
The Advocacy Track provides the skills and knowledge necessary to improve child health by engaging communities and using evidence based strategies. It offers a unique educational experience in that it is a statewide collaborative comprised of up to 2 residents per class from each of the 4 pediatric residency programs in Missouri. The Child Advocacy Track will go above and beyond the basic broad exposure provided during the required rotation in your PL-2 year—it is designed to support residents with a passion for advocacy and an interest in taking a leadership role throughout their careers.
CHiCOS Clinic
The Clínica Hispana de Cuidados de Salud (CHiCoS) sets Children's Mercy apart by offering a unique, formal program for learning medical Spanish as part of a resident's weekly continuity clinic. In addition to developing bilingual language skills using a formal curriculum, CHiCoS residents learn how to provide culturally-appropriate support for the growing Spanish-speaking community of Kansas City.
Apply for the program
Each year we accept:
27 Categorical Pediatric Residents
1 Preliminary Pediatric Resident
6 Internal Medicine/Pediatric Residents
3 Combined Pediatric/Child Neurology Residents
Our program only accepts applications through ERAS and is listed under Children's Mercy Hospital. All positions are filled through the National Residency Matching Program.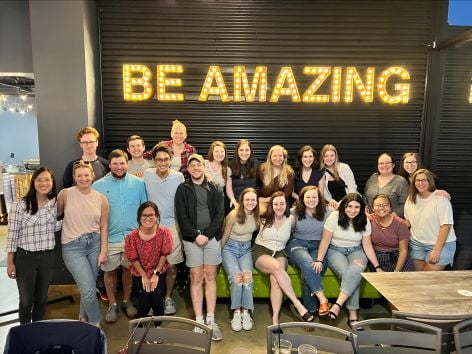 "It's about you"
"This is a place that allows you to perform. That supports you. It's about you, not about them. At other places, trainees can work so much and so hard that they can't learn. They miss out. Here, they hear our voices. The program is designed to learn."
— Current Resident
Our Pediatric Residency Program leadership team
More about the Pediatric Residency Program