How to Apply
To support students applying to our residency program and minimize the health effects of the COVID-19 pandemic, Children's Mercy Pediatric Residency Program will be conducting virtual interviews this year. Your rank position with our program will not be negatively affected by factors out of your control due to COVID-19.
Application process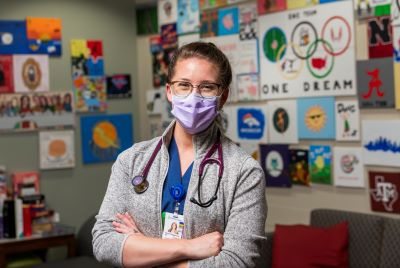 Our program only accepts applications through ERAS and is listed under Children's Mercy Hospital. All positions are filled through the National Residency Matching Program.
Files should include three letters of recommendation; Chairman's letters are not required. We accept both USMLE and COMLEX scores.
Our interviews will virtually take place October 18 through January 26 on Mondays, Wednesdays and Fridays at a variety of times to account for varying time zones. We will also host virtual "site visits" throughout the interview season as a chance for applicants to speak to our residents and to get to know our program through their perspective! Each applicant will interview with the Program Director, an Associate Program Director and a faculty interviewer.
Thank you for your interest in the Children's Mercy Pediatric Residency Program. For more information please contact:
Shelby Kaup, MBA
Pediatric Residency Program Coordinator
Children's Mercy Hospital
2401 Gillham Road
Kansas City, Mo. 64108
ProgramCoordinator@cmh.edu

International medical school graduates

Application process

The following application requirements apply to graduates of foreign medical schools:
Applications only accepted through ERAS
Graduation from medical school in the last 2 years
Educational Commission for Foreign Medical Graduates (ECFMG) certificate at the time of application
Minimum three-digit scores of 250 on Step I and II of USMLE
J-1 & H1B visas are sponsored
Hands-on U.S. clinical experience is strongly preferred


The deadline for applications is December 15. No applications will be accepted after this date.
Licenses and Certificates

All graduates of international medical schools, U.S. citizens or foreign nationals, must acquire and maintain a valid ECFMG certificate to apply for a Graduate Medical Education training program at Children's Mercy Hospitals. Graduates of international medical schools should contact the State Board of Registration for the Healing Arts for requirements to commence postgraduate training and to receive subsequent licensure.
State Board of Registration for the Healing Arts
3605 Missouri Boulevard
P.O. Box 4
Jefferson City, Mo. 65102-0004
(866) 289-5753
Website
Visas

Foreign nationals are required to obtain a permanent resident or a J1 visa sponsored through the ECFMG. J1 visas require the successful completion of Steps I and II of USMLE and allow for a maximum stay of seven years. The ECFMG may be contacted directly for information regarding visa sponsorship applications and current immigration regulations for post-graduate training.
Education Commission for Foreign Medical Graduates
3624 Market Street, 4th Floor
Philadelphia, Penn. 19104
(866) 289-5753
For additional information, foreign nationals considering application to a Children's Mercy Hospital training program should contact:
Children's Mercy Hospital
Graduate Medical Education
Susan Hathaway, PhD, MAEd
Vice Chair/Senior Administrative Director
(816) 983-6905
sbhathaway@cmh.edu