Pediatric Critical Care Fellowship
Our PICU

With 43 PICU beds, 24 CICU beds, 24-hour faculty coverage and the capability to care for up to 67 critically ill patients, our pediatric intensive care units sees more than 2,300 annual admissions.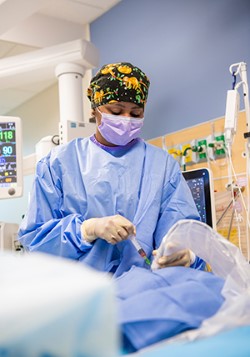 Your clinical experience

Congenital heart disease
Our high-volume Heart Center hosts at least 350 surgeries every year, with treatments including all stages of single-ventricle palliation, ventricular assist devices and transplants.
ECMO
The ECMO program in our PICU, launched in 2007, sees 40-50 cases and 500-600 patient days annually, utilizing both VV and VA modalities.
Transport team
Fellows participate in a four-week, first-year program covering transports by ground, rotor- and fixed-wing aircraft with a team that moves more than 5,700 patients a year from a 150-mile radius.
Burn and trauma
The only Level-1 trauma center in a free-standing children's hospital in our region, Children's Mercy is also pursuing American Burn Center certification. PICU providers co-manage all burn and trauma cases admitted to our unit.
Transplant
Children's Mercy has an active bone marrow transplant and CAR T-cell therapy, kidney, liver and heart transplant programs.
More about your clinical experience and rotations
A three-year program
First year
PICU = 28 weeks
(20 weeks PICU + 8 weeks CICU)
Anesthesia = 8 weeks
(4 weeks general + 4 weeks cardiac)
Research = 8 weeks
Cardiology = 4 weeks
Transport = 4 weeks

Second year
PICU = 16 weeks
(8 weeks PICU + 8 weeks CICU)
Research = 32 weeks

Third year
PICU = 20 weeks
(12 weeks PICU + 8 weeks CICU)
Research = 26 weeks
Elective = 2 weeks
(Several options based on individual goals)
Check us out IRL!
Graduate Medical Education Open House

Explore our hospital and our city. Experience our culture of wellbeing and support firsthand. See your future here, with us.
Save the date:
Friday, October 27, 2023
Friday, November 3, 2023
One night lodging paid. Participation will not affect your ranking. All invited applicants will receive additional information at the time of their invitation to interview.
UIM Mix & Mingles

Optional session for applications traditionally underrepresented in medicine. Meet with UIM faculty, fellows and residents. Discuss DEI efforts and life at CM and in KC!
Save the date:
Thursday, October 26, 2023 (in person)
Thursday, November 2, 2023 (in person)
Participation will not affect your ranking. All invited applicants will receive additional information at the time of their invitation to interview.​
Didactics series

Tuesday and Wednesday noon lectures are protected time for our fellows. We base our didactics on ABP specifications and current "need-to-know" topics. Each academic year begins with cardiopulmonary topics, with every lecture linked to a published source or SCCM Virtual Critical Care Round module. Core didactics also include PICU-specific ethics, quality and safety, and academic and professional development.
Weekly Core Physiology Conference
Weekly PICU Academic Conference
Monthly PICU M&M Conferences
Monthly Heart Center M&M Conferences
Journal Club
Annual Fellow Retreat


Simulation exercises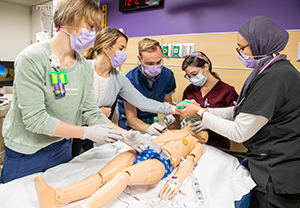 First-year fellows participate in a multidisciplinary "Boot Camp" facilitated by the Children's Mercy simulation center on a wide range of skills.
Fellows also must complete a required, three-day ECMO course in their first year, followed by yearly simulations.
Monthly in situ simulations in the PICU focus on communication and advanced resuscitation.
Available fellows join weekly CODE LITE simulations with a multidisciplinary team.


More about the academic curriculum
Salaries and benefits
2023-24 salaries


PGY 4: $74,609.60
PGY 5: $76,481.60
PGY 6: $78,852.80
PGY 7: $81,224.00
PGY 8: $83,626.40
PGY 9: $85,342.40
PGY 10: $87,049.25
Benefits for fellows


$1,500 Educational stipend per academic year for books, travel and other educational materials
$2,250 Professional stipend for academic year to present scholarly activity
Health and dental insurance for trainee and dependents with no premiums
Hospital-issued iPad
Free parking
Moving allowance
20 days of vacation
Paid sick time
Paid board exam
Access to clinical and research librarians, statisticians, scientific writers and learning specialists
Tuition allowance of $5,250 per year
On-site fitness center and wellness center
Research opportunities

Each of our trainees is expected to complete a minimum of one scholarly project during the course of their fellowship, resulting in the submission of a manuscript to a peer-reviewed publication.
Past/current fellows have completed scholarly work in the areas of bioethics, clinical research, translational research, basic science, education and quality improvement.
In addition, the Children's Mercy Research Institute supports a large number of basic-science, translational and clinical research projects.
More about our research
Wellness

Finding an appropriate work-life balance can be challenging, especially in fellowship. Children's Mercy as well as the Critical Care Department are invested in helping fellows achieve their wellness goals. Fellows receive 4 weeks of vacation, as well as time off around major holidays. The Critical Care Department (faculty AND fellows) are a collegial group that enjoy spending time with each other outside of work.
As employees of Children's Mercy, fellows have access to a wide array of wellness resources. CM offers virtual mindfulness meditation classes that are available to fellows for free. In addition, there are multiple lectures and events throughout the year focused on recognizing and managing burnout. Fellows have access to an on-site employee fitness center. The Employee Wellness Center offers primary care services as well as behavioral health and counseling. And through the Take CARE Wellness Program, employees have access to a personal health coach.
More about our wellness programs
Apply for the program
The PICU fellowship participates in the Fall Pediatric Subspecialty Match through the NRMP. The program has openings to match two new fellows per year. Applications are accepted via ERAS. We also accept a cardiology fellow every other year to complete a two-year program that allows the fellow to sit for dual boarding.
Stories
Inside Pediatrics: Zei's story
After a mysterious illness ravages Zei's lungs and leaves her fighting for life, the critical care team re-invents its life support protocols to push the limits of medicine to give her a chance.
Inside Pediatrics: Leah's story
Leah was born with half a heart, and despite several surgeries, it's failing fast. Cardiac and critical care specialists work to keep her alive, hoping a new heart can be found in time.
Our PICU Fellowship leadership team
More about Children's Mercy fellowships