Academic Curriculum
Pediatric Critical Care Medicine Fellowship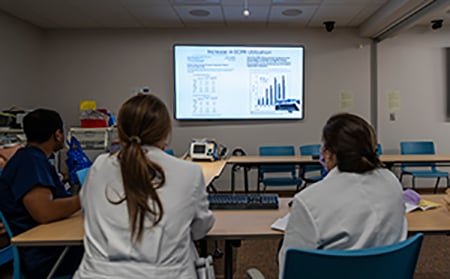 Our academic curriculum highlights Tuesday and Wednesday noon lectures that are protected time for fellows. We develop our didactics based on ABP content specifications and current "need-to-know" topics. Each academic year begins with cardiopulmonary core topics. Throughout the year, each core physiology topic is linked to a book chapter, relevant evidence-based article, podcast or SCCM Virtual Critical Care Rounds module to prime each fellow learner for the topic. Built into our core didactics, we have a PICU specific ethics curriculum, quality and safety curriculum and academic and professional development curriculum. We provide evaluations to fellows and faculty in order to improve education on an ongoing basis.
Each academic year begins with an inter-disciplinary simulation boot camp for first year fellows. Fellows are then involved with yearly ECMO simulations and monthly multi-disciplinary fellow simulations in the PICU. These are designed to help develop leadership skills and give fellows multiple opportunities to practice difficult conversations. Also, fellows have the opportunity to participate in Code Lite, which is a short, weekly multi-disciplinary simulation, as either a participant or facilitator. Please find a comprehensive list of didactic offerings below.
Also, fellows may choose to pursue optional certificate programs in clinical research, health professions curriculum and evaluation or pediatric bioethics offered through Children's Mercy or UMKC. Additional information regarding these programs can be found on the Masters and Certificate Programs page.


Required conferences
PCCM Core Curriculum
Weekly noon conference prepared by CM faculty or fellows focusing on clinical or physiology topics.

Includes specific lecture series for cardiac critical care and neuro critical care.
PCCM Scholarly Conference
Weekly noon conferences prepared by CM faculty or fellows that provide a foundation for clinical research and opportunity to discuss ongoing research endeavors.

Includes specific series for quality improvement, research design and diversity/equality

Includes case conference and journal club
PCCM Education Conference
Monthly continuing education conference prepared by CM faculty or fellows on a topic of their choosing.

Presented to critical care physicians, nurses, respiratory therapists, pharmacists, pediatric residents and medical students.
PCCM Morbidity and Mortality Conference
Monthly PICU and Heart Center conferences.

Case summaries prepared by PCCM or Cardiology fellow or attending.
ECMO Case Conference
Quarterly meeting attending by all ECMO providers that involves case discussion and updates to the ECMO program.
Cardiac Disposition Conference (Optional)
A biweekly conference to review echocardiographic, radiologic, clinical and catheterization data of children with congenital heart disease.

Attended by physicians, nurses, trainees, and other multidisciplinary staff.
Fellow Administrative Meeting
Monthly meeting are held to discuss administrative aspects of fellowship and provide opportunity to discuss fellow questions/concerns.
Common Fellowship Core Curriculum
A hospital-wide program to address topics common to all ACGME-approved fellowship programs.

Conferences cover topics such as professionalism, medical ethics, fatigue/sleep deprivation, physician impairment, teaching, mentoring and leadership.
Common Fellowship Quarterly Seminars/Workshops
In-depth education for second- and third-year fellows

Topics include case discussions on medical ethics and professionalism, health economics, transition to faculty, coding and billing.
Grant Writing Boot Camp
Instruction on writing a competitive grant

Goal of writing first grant during fellowship
Problem Solving Basics
Didactic course for second-year fellows

Learn and apply a variety of analytical tools and techniques that are effective in continuously improving your practices

Assist in better developing and maintaining clinical and research skills
Grand Rounds - Local and national speakers present pertinent pediatrics topics weekly.

Professor Rounds – Case-based presentations for residents and faculty prepared and presented by a senior resident each week.

Pediatric Resident Morbidity and Mortality – A monthly conference structured to define ways to improve quality of care through the analysis of recent cases.

Faculty Development Lecture Series – Fellows are invited to attend lectures and workshops organized by Children's Mercy's Office of Faculty Development.
Our PICU Fellowship leadership team
More about Children's Mercy fellowships