June 02, 2023
7 ways to keep pools safe this summer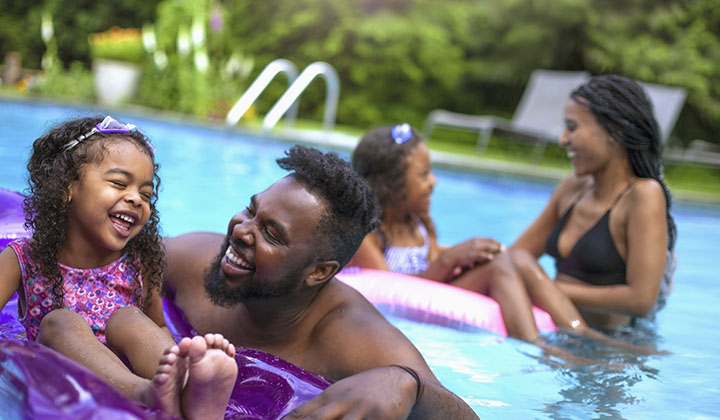 Summer is here! Pools are open! It's time to have some fun in the sun!
Multiple layers of protection are needed to prevent drowning. Drowning continues to be the leading cause of unintentional injury death for children aged 1 to 4 years and they are more likely to drown in a home swimming pool – the family pool, a friend's pool, a relative's or neighbor's pool.
Drowning is the 3rd leading cause of unintentional injury-related death for children and adolescents aged 5 to 19 years and are more likely to drown in natural water settings. Drowning can happen in as little as 2 inches of water and is often silent and quick.
Here are some important water safety tips to keep your young children safe around water.
Develop a "water watcher" system.

Close and constant supervision from a responsible adult is the best way to prevent drowning in children around water

, including bathtubs.

The adult should be within arm's reach, providing "touch supervision

.

"

A water watch lanyard can be used and is available from 

poolsafely.gov

 for the water watcher to wear and will remind him/her of their responsibilities. These are

also

available for free at 

Children's Mercy Adele Hall

 in the lobby by the

Roasterie

. The assigned water watcher should:

Be sober.
Put down the cell phone.
Avoid other activities.
Supervise even if there are lifeguards.
Take turns with another adult for breaks (15 to 20 minutes).

Life jackets should be used whenever the child is in watercraft. Small children and non-swimmers should wear a life jacket whenever they are in or near water. A properly fitted US Coast Guard-approved life jacket is recommended. Air-filled swimming aids, like floaties or armbands, do not take the place of life jackets. They can lose air and are not designed to keep swimmers safe.
Fence and secure swimming pools. Pools should be surrounded by a 4-sided climb-proof fence that is at least 4 feet high and completely separates the pool from the house. The fence should also have a self-closing and self-locking gate that opens away from the pool, with the latch at least 54 inches from the ground. For above-ground pools, when not in use, the steps or ladder leading to the pool should be secured, locked, or enclosed by a barrier to prevent unexpected access.
Install alarms. Drowning can be silent and quick. There are pool alarms, alarms for fence gates, and door alarms to help parents keep their young children safe and prevent unintended access to a pool. Doorknob covers and window guards are also recommended.
Teach kids to swim. Infants as young as 1 year old may benefit from swimming lessons. A parent's decision to begin swim lessons should be based on the child's frequency of being around water, health, cognitive and developmental levels. Parents should research options for swim lessons in their community to make sure they will meet the needs of their child. Multiple lessons are needed to gain competent swim skills. Parents should remember swim lessons do not "drown proof" a child of any age. Parents still need to provide close supervision when children are in and around water and provide barriers to prevent unintended access to water. Parents may want to discuss when to begin swim lessons with their child's pediatrician.
Get CPR Certified.

Parents,

caregivers

and pool owners should know CPR.

Early bystander CPR

can double or triple

chances

of survival after cardiac arrest.

Keep a phone and rescue equipment at the poolside for

emergencies

– life preservers, life jackets

, Automated External Defibrillator (AED)

and a reach tool.

Some children with special health care needs are at increased risk for drowning.

Water safety is especially important for children with autism, as they can be drawn to water but do not understand the danger. Sadly, the leading cause of death among people with autism who wander is drowning. Children with autism should learn the importance of water safety. Social stories and picture cards can be used. Parents should research swim lessons for children with autism in the community as they can provide individualized and specialized training. Parents should take precautions to prevent wandering.
Despite children with epilepsy being at increased risk of drowning, swimming can be safe, especially for those with well-controlled seizures. Parents should talk with their child's pediatrician or neurologist before any swim activity.
Cardiac Arrhythmias. Children with long QT syndrome and other cardiac arrhythmias can be triggered by exertion while swimming. These children should be closely supervised around water at all times. Parents should talk with their child's pediatrician or cardiologist before any swim activity.

Medication Side Effects.

Side effects from medications that impair balance, alertness

or coordination increase the risk for drowning

. Parents should consult their child's pediatrician

about

risks

when medications are

prescribed

.
---