March 13, 2023
Keeping kids safe from accidental poisonings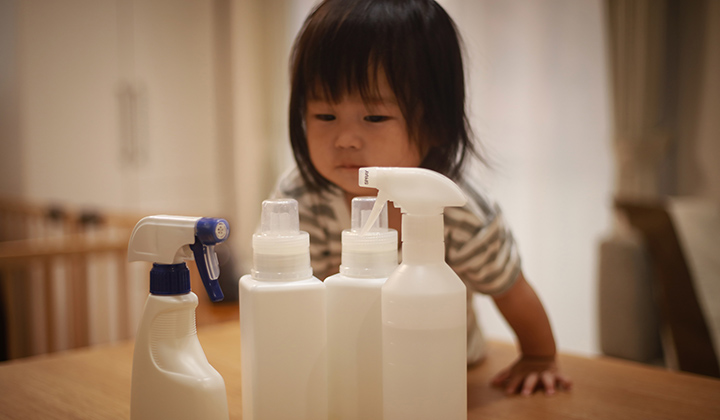 According to the American Association of Poison Control Center, over 93% of poison exposures in Missouri and Kansas occur in the home, and over 45% of those cases involved children under the age of 5.
Prepare the home.
Keeping the home safe is key for preventing poisonings. Keep all hazardous items stored in original containers up on a high shelf, hidden out of sight, or in a locked child-proof container or cabinet. The practice of securing hazardous items is recommended for the following:
All forms of cannabis, such as marijuana and edibles
All medications, including opioids and vitamins
Cleaning supplies
Alcohol
Personal care products – eye contact solution, perfume, hand sanitizers, etc.
Liquid laundry packets
Nicotine and nicotine products like e-cigarettes
Button batteries from toys and electronics
Other chemicals such as antifreeze, gasoline and oils
When you are visiting family, you can also ask them to be sure their hazardous items are locked up when you are there. Remember, storing chemicals under sinks puts them at a child's eye level.
Know what to do.
Along with preparing the home, it's also important to know what to do if there is a suspected poisoning. Keep the Poison Help home number close by, in a visible location and saved in your phone for quick access—1 (800) 222-1222. These lines are staffed by live poison experts, 24/7. All calls are free and confidential.
Teach kids what is dangerous.
Teaching your child about safe medication use and things to stay away from will help them know what is dangerous and help keep them safe.
Teach them what medicine is.
Medicine should only be given by adult caregivers or with their permission.
Do not tell them medicine is candy or tastes like candy. Many medications closely resemble candy and may entice children to try and access them.
Tell kids to stay away from hazardous items. You can try saying something like "Not safe, only Mommy/Daddy can use it."
---