August 29, 2022
Medication 101: What you may not realize about medicines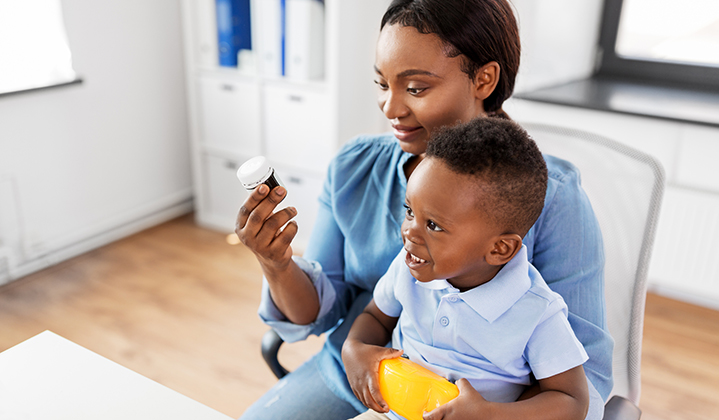 Here's a fact that will knock your socks off – a medicine cabinet is one of the worst places to store medicine. It's true! It shouldn't even be called a medicine cabinet because storing medicine in the bathroom where temperatures and humidity can get high is one of the least stable places to keep medicine. Let's run through a few other things you may not realize about medications.
Understanding a prescription medication label
Many of us have seen a prescription bottle and the label. It includes some really important information to check and verify before taking or giving any medicine to anyone.
Name of who it's for. Check to make sure this is for your child.
Directions for use. Instructions should be clear for how to take the medication. It's okay to have questions if it's not clear. Call your pharmacist or provider with any questions you may have.
Check to make sure the volume/amount inside is what you expected. If they are pills, you can count to make sure the amount is correct.
It's important to understand the dose – or amount, in milligrams, not just the volume of the medicine, which is in milliliters.
This is the strength of the medicine. Be sure it matches any paperwork you were given during your provider visit. Sometimes, concentrations will change which changes the volume inside, so it's best to call your provider or pharmacist if you have any questions.
How often the medication should be taken.
Medication labels are often overlooked for many reasons – familiarity, trust or not realizing you need to read it. You are another layer of checks in protections before any medication is given to your child. Parents are the best advocates for their children if there are any discrepancies or questions about the medicine or directions for giving medications, so feel free to ask if you do have questions.
The prescription process
During a visit with your child's provider, they should tell you what they are going to prescribe – the name of the medication, how much or how many days' worth of medicine, and how many refills. This should also be given to you with paperwork. Then, the prescription is sent by your doctor's office to the pharmacy of your choice, or you take the doctor's signed prescription to get the medication filled.
This process has a few steps, so unfortunately, there are opportunities for errors. But the good news is there are a few places to make sure things are right. Here's what you should check:
Everything on the prescription label should match the discharge paperwork prescription information.
Everything on the prescription label should match what you were told by the doctor.
If there is anything that doesn't match, or you have questions, please call your provider.
Prescription v. over-the-counter medications
There are a few differences between prescription and over-the-counter medications. Prescriptions are given to you by a doctor and over-the-counter medications are available for purchase without a doctor's prescription. Another big difference can be the instructions and dosing.
With prescription medications, you should have clear instructions on the amount you are giving your child. With over-the-counter medication, often parents feel they should read the label and make the decision on dosing, which may cause confusion. With over-the-counter medications:
Read the labels for dosing recommendations. Please ask your child's provider if you have any questions about how much to give your child.
Talk about the type of medication (infant or child) with your provider because the concentration of infant ibuprofen and child ibuprofen, for example, are different.
Common medicine misunderstandings
Medication does have an expiration date. Do not take medication after it's expired.
Substituting adult medicine for child medicine is not safe. The adult medication may be more potent and harmful to a child.
Do not assume you can dissolve medications to make them easier for your child to swallow. Always check with your pharmacist before altering any medication form.
Extending medicine by skipping doses or cutting pills in half and taking them not as instructed is not safe.
Some medication must be refrigerated. Check the instruction and storage information.
Medication storage and disposal
Store medicine in a cool, dry place. Not a bathroom. This can be a kitchen cabinet or linen closet. One of the best places to keep all medication is in a lockbox. Learn more about safe medication storage and the right way to get rid of medicine here.
Tips for parents about medications
Don't assume things about medications. Read the labels. Check the paperwork. And know it's okay to ask clarifying questions to make sure you understand how to give the medication to your child.
Always keep a list of your child's medications. Whether it's written down or in your notes app on your phone, a current list of your child's medication, dosage and frequency is always helpful before doctor's visits and in emergencies.
Ask for a family-friendly medication list. If your child is ever in the hospital, they may be on medications. Ask your child's care team for a family-friendly medication list so you can verify any medications your child was taking at home have been started and are correct.
Please, do not hesitate to call your provider, nurse or pharmacist with any questions about your child's medications. Medicines are complex and powerful, so it's important we give you clear and the best information for your child.
Related articles:
---