April 15, 2021
Toxic metals found in baby food: what you should do now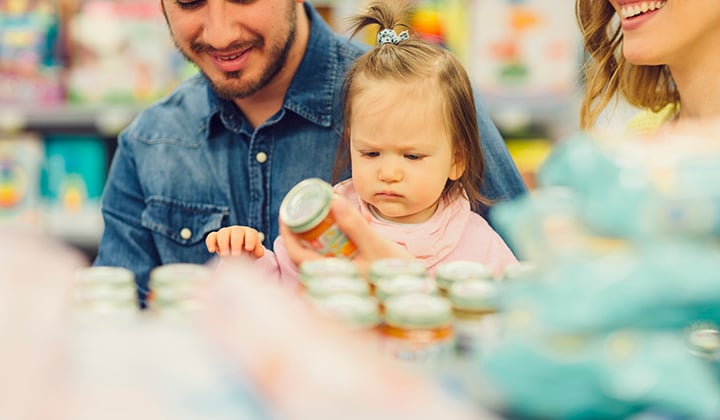 What we want for our children is to be happy and healthy. That's it. All the other stuff like clothes and birthday parties are great, but we want them to be healthy. So, we feed them the best we can and take them to regular doctor's appointments and do all the stuff we're supposed to do. With the recent news that the US House of Representatives found multiple baby food brands were tainted with high levels of heavy metals like arsenic, lead, cadmium and mercury, it can send any parent into fear mode. We should be concerned, but not panic. Here's why.
While this news is shocking, it's important to remember that heavy metals exist naturally in certain foods and the soils we grow them in. Heavy metals also get into the water and soil through the pollution that's released into the environment, for example, they can get into food from manufacturing and packaging. Sometimes these things are hard to avoid.
Are heavy metals unsafe?
Toxic metal exposure can be harmful to the developing brain. Low levels of heavy metals in baby foods are a relatively small part of a child's risk of toxic metal exposure. Research has shown some associations between low dose, heavy metal exposure and problems with neurocognitive development. However, lots of factors, like genetics, social, and environmental factors, like where you live, work and play, can also influence brain development; it's not just heavy metal exposures.
Should I test my baby for heavy metals?
While heavy metal testing could provide some sort of emotional validation for a worried parent, we do not recommend heavy metal testing based on baby food consumption. Testing is not going to change our medical management. A child exposed to heavy metals via baby food or juice would NOT show levels of heavy metals that would require treatment for heavy metal toxicity. We do, however, recommend screening and testing for lead exposure. This is something your primary care physician should do.
How can I decrease heavy metal exposure?
There are multiple steps you can take to reduce the risk of exposure to heavy metals in your child's diet.
Feed a variety of foods to lower the risk of contaminants.
Offer a mixture of grains like oatmeal, rice, quinoa, pasta and barley – not just rice.
Avoid fruit juices.
Make your own baby food, when possible.
Making your own baby food
Making your own baby food leaves some parents worried about the mess or time it can take, but this is a great way to provide variety, know what the food is blended with while minimizing additives and allows you to modify the textures of the food to avoid choking hazards.
You may already have the tools to make your own food; blender or food processor, steaming pot or bowl, cutting board, knife and storage containers. Here are some great foods to start with:
Vegetables: green beans, green peas, potatoes (white and sweet), squash, corn, broccoli, asparagus, cauliflower, pumpkin, carrots, beets
Fruits: apples, apricots, bananas, melon, peaches, pears, plums, prunes, avocadoes, berries, guava
Protein: chicken, turkey, beef, pork, lentils, egg yolk, silken tofu, whole-fat yogurt, whole-fat cottage cheese, beans (black, garbanzo, navy, etc.)
Grains: brown or white rice, oatmeal, barley, quinoa, pasta
Reminder, offering baby foods at 6 months should be a messy, fun and adventurous time with your child. If making your own baby food is stressful or overwhelming it may not be the best option for you to enjoy this stage in your child's life. It is okay to purchase baby food and still provide a variety of options. It also doesn't have to be all or nothing, if you enjoy making baby food some of the time and use purchased baby food other times that is great, too.
Every child's nutrition needs are unique and tailored to the individual. If you have specific questions or concerns, ask your pediatrician, or ask for a referral to see a pediatric dietitian for further guidance.
Related articles:
---