May 22, 2020
Helping your child wear a mask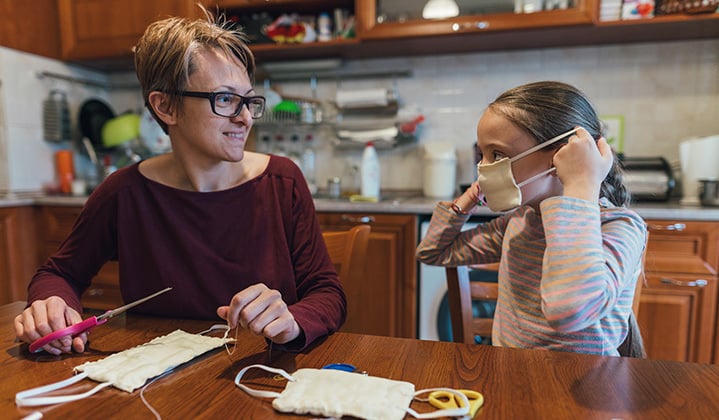 Since wearing a mask is currently required when social distancing isn't possible, it is important to help children understand why we're wearing masks and to help them feel as comfortable as possible. Below are some tips for you and your family to help your child with wearing a mask.
NOTE: Cloth face coverings should not be put on babies and children under the age of 2 because of the danger of suffocation.
Explain germs and why we need to use masks in simple language that they can understand.
Germs are very small. They are smaller than the tiniest piece of sand or dust. Everyone has germs. Some germs make people sick.
Germs can go from our body to someone else's body when we cough, sneeze, spit, or breath too close to someone else.
If someone is sick, or thinks that they are sick, they may wear a mask, so they do not give their germs to other people. Right now, people are wearing masks to keep each other safe.
Do a hands-on activity to help your child understand how germs spread.
Provide opportunities to get comfortable with the mask.
Practice wearing your masks at home so your child can get used to it.
Put your mask on first. This will show your child it's safe to wear a mask by wearing yours, too.
Tell your child before putting on the mask. Does your child want to put it on or does your child want help?
Stand in front of a mirror with your child. Show how you can still talk and smile even though you are wearing a mask.
Do health care play!
Make masks for your child's favorite doll or stuffed animals.
Let your child teach their doll or animal why they need to wear a mask.
Play pretend doctor or nurse.
Ask your child to draw and color a picture of her favorite character or animal wearing a mask.
Help them make their mask their own:
What color mask would they like?
Decorate the mask with stickers.
You could add buttons to a headband or use ribbon to help keep the mask off of your child's ears and make it more comfortable.
Validate their emotions and normalize them.
Agree it is frustrating that we have to wear masks.
Let them know you are sad, too that we have to do this.
Show your child pictures of other children or superheroes wearing masks.
If your child is having difficulty, find a safe place for your child to take breaks from wearing the mask
Additional resources:
Learning about germs
Social Stories about wearing masks, washing hands and social distancing:
Thanks to all the contributors to this blog: Patricia Davis, Stephanie Easily, Kelly Grabendike, Megan Johnson, Alison Monroe, Lucy Raab and Barbie Rudder.
---