Wide World of Vaccines
December 2022
RSV Vaccine Can't Come Soon Enough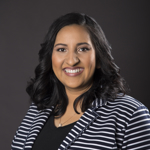 Column Author: Maria Martinez, RN, BSN, MSN, MBA, CPN | Immunization Program Coordinator, Patient Care Services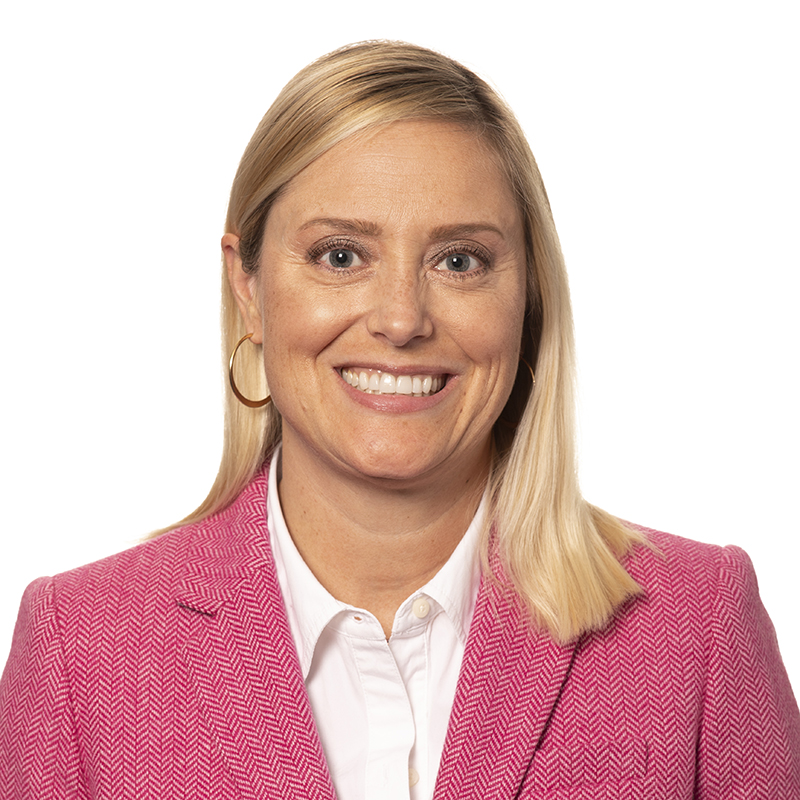 Column Editor: Angela Myers, MD, MPH | Director, Division of Infectious Diseases | Professor of Pediatrics, UMKC School of Medicine | Medical Editor, The Link Newsletter
This respiratory season is having the same jarring impact on pediatric health care that the beginning of the COVID-19 pandemic had on the entire world in March of 2020. While many epidemiologists and health care providers anticipated a strong flu season and some wondered what COVID-19 infections may look like, few anticipated the huge toll that RSV (respiratory syncytial virus) would have at the same time. The combination of an early flu season as well as high rates of RSV have meant many pediatric hospitals are seeing a sharp influx in patient volume, with limited beds and staffing to meet the demand.

In the month of November, Children's Mercy Kansas City saw a peak RSV positivity rate of 45% and a peak rate for influenza of 54%, while COVID-19 positivity rates remained low at <3%. Most recently, for the week of Dec. 4-10, RSV and influenza rates have decreased, though they remain high at 11.8% and 41.3%, respectively, and COVID-19 rates are up to 5.6%. (Table 1)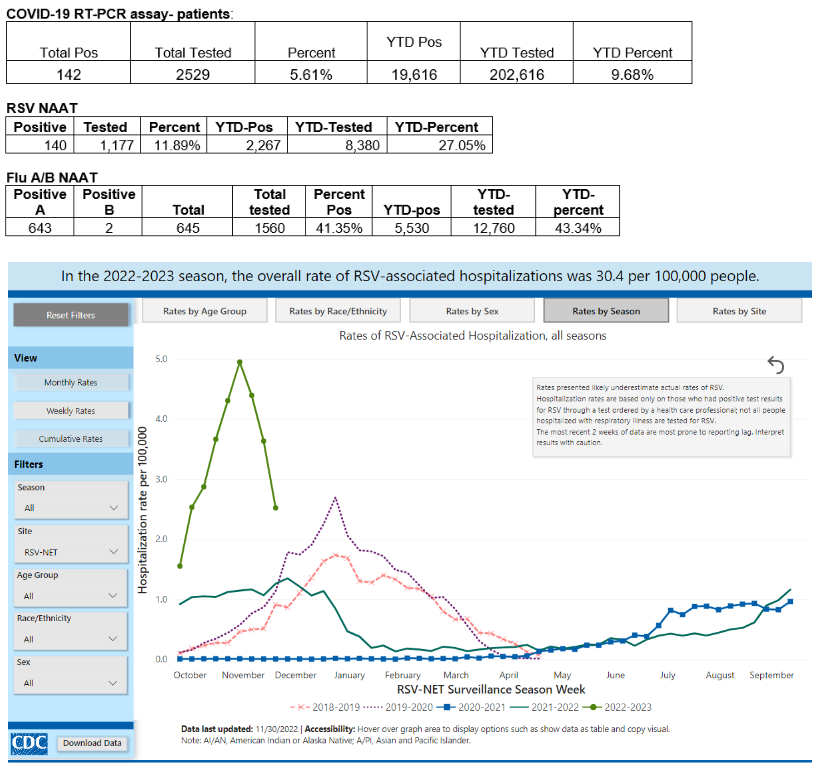 Table 1: Weekly COVID-19, influenza and RSV PCR test results at CMKC
Table 2: Rates of RSV-Associated Hospitalization, 2022-2023 season (CDC)
The unusually high number of children becoming ill with RSV has emphasized the severity of the disease and prompted questions about options available to prevent it. Palivizumab, a monoclonal antibody, is currently the only preventive option. Palivizumab can help prevent infection but is available only for high-risk infants who meet strict criteria. Palivizumab doses should be initiated before the start of RSV season and given monthly throughout RSV season. The process of getting insurance to cover this costly treatment and the challenges of the monthly regimen are hurdles for those who are eligible to start treatment and need to maintain adherence.
While children under 5 years of age are the most likely to be hospitalized with RSV, older adults are also at high risk of becoming severely ill. In the United States, prior to the 2022-2023 RSV season, there were approximately 100-300 deaths for children under the age of 5 and 6,000-10,000 deaths for adults 65 years and older.2,3
Now, after many years of research, a vaccine for RSV is on the horizon. One of the options that may be available as soon as next winter is Pfizer's maternal RSV vaccine.4 The Pfizer vaccine is a bivalent prefusion vaccine that induces antibodies to the F (fusion) protein of RSV. The F protein is important for viral entry into the cell in an RSV infection. The phase 3 randomized double-blind placebo-controlled clinical trial MATISSE (MATernal Immunization Study for Safety and Efficacy) is investigating the vaccine, which is administered during pregnancy and induces antibodies that are passed transplacentally from the mother to the infant. Planned interim analysis of the data found that vaccine efficacy for severe medically attended visits for lower respiratory tract illness was 81.8% (CI: 40.6%, 96.3%) through the first 90 days of life. Efficacy was lower, but remained 69.4% (CI: 44.3%, 84.1%) through 6 months of age. The efficacy was not quite as high for non-severe medically attended visits at 57.1% (CI: 14.7%, 79.8%) and 51.3% (CI: 29.4%, 66.8%) for the first 90 days and 6 months respectively. Importantly, there were no safety concerns for mothers or infants throughout the study. Pfizer intends to submit its data to the Food and Drug Administration for approval by the end of December 2022.5 Pfizer will also be seeking approval for this same vaccine in older adults as it proved to be successful in that research group as well.

For adults 60 years and older, GSK will also be submitting its RSV vaccine for approval soon. This vaccine contains a recombinant subunit prefusion RSV F glycoprotein antigen (RSVPreF3) combined with GSK's proprietary AS01E adjuvant. The Adult Respiratory Syncytial Virus (AReSVi-006) phase 3 randomized, observer-blinded, placebo-controlled trial across multiple countries found the overall vaccine efficacy for those 60 years and older was 82.6% and was 94.1% against RSV lower respiratory tract disease (RSV-LRTD).6 In adults aged 70-79 years, efficacy was found to be 93.8% and was 94.6% in adults with underlying comorbidities such as cardiorespiratory and metabolic disease. Efficacy was noted to be consistent with strong neutralizing antibody response to both RSV-A and RSV-B subtypes.6 Adverse events were largely mild and included pain at the injection site, headache, fatigue and myalgias.

Although the vaccines that will be available first may not provide coverage to children over the age of 6 months, they will help provide protection to young infants and older adults, who are our most vulnerable populations for severe RSV disease. By giving them protection, we will hopefully minimize the impact of this illness in other populations as well. Although these data have not yet been published in a peer-reviewed journal, they do provide some hope that we will soon see less circulating RSV during the respiratory season.
References:
RSV-NET interactive dashboard. Centers for Disease Control and Prevention. Accessed December 12, 2022.

https://www.cdc.gov/rsv/research/rsv-net/dashboard.html

Thompson WW, Shay DK, Weintraub E, et al. Mortality associated with influenza and respiratory syncytial virus in the United States. JAMA. 2003;289(2):179-186. doi:10.1001/jama.289.2.179
Hansen CL, Chaves SS, Demont C, Viboud C. Mortality associated with influenza and respiratory syncytial virus in the US, 1999-2018.  JAMA Netw Open. 2022;5(2):e220527. doi:10.1001/jamanetworkopen.2022.0527

Neergaard L. Strong RSV vaccine data lifts hopes after years of futility. Associated Press News. Accessed November 29, 2022.

https://apnews.com/article/science-health-business-covid-ec1dae2bd47d604712fc2a4a842591a8

Pfizer announces positive top-line data of phase 3 global maternal immunization trial for its bivalent respiratory syncytial virus (RSV) vaccine candidate. News release. Pfizer. November 1, 2022. Accessed November 29, 2022.

https://www.pfizer.com/news/press-release/press-release-detail/pfizer-announces-positive-top-line-data-phase-3-global

GSK's older adult respiratory syncytial virus (RSV) vaccine candidate shows 94.1% reduction in severe RSV disease and overall vaccine efficacy of 82.6% in pivotal trial. News release. GSK. October 13, 2022. Accessed November 29, 2022.

https://www.gsk.com/en-gb/media/press-releases/gsk-s-older-adult-respiratory-syncytial-virus-rsv-vaccine-candidate/