Hip Dysplasia: Kayse's Story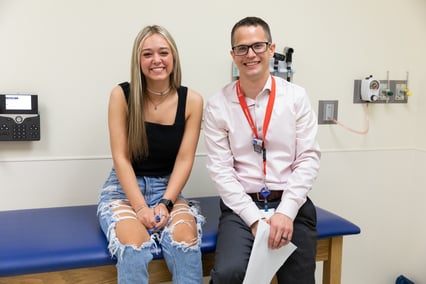 18-year-old Kayse Cooper was an active multi-sport athlete until persistent leg and hip pain sidelined her from her favorite activities—track, cheer and volleyball. With the help of Caleb Grote, MD and the hip program team at Children's Mercy, Kayse is back on her feet and planning for her future as an early childhood educator.

"I first started having issues in 8th grade, when I got a stress fracture in my right leg because it was longer than the left leg," Kayse recalled. With rest, it improved for awhile, but by the summer before her junior year of high school, her leg and hip pain while trying to compete as an athlete had become unmanageable. X-rays at her local doctor's office showed that Kayse's hips were uneven, but even with physical therapy and steroid shots, her condition didn't improve.

Kayse's grandma, who she lives with, started researching hip programs and found Dr. Grote at Children's Mercy. From her first visit, Kayse and her family felt confident that she would get some answers and a better long-term solution to her hip pain. "Nurse Janet was my nurse from the first time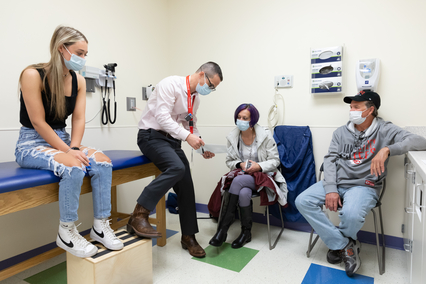 I went to Children's Mercy and she sees me every time I'm there. She is the sweetest person I've ever met!" Kayse shared. "And Dr. Grote is the best, he's so funny! He makes jokes and it calms my nerves, but he also explains everything to me so I understand what's going on."

"Kayse has a condition called hip dysplasia with acetabular retroversion, femoroacetabular impingement and labral tear," explained Dr. Grote, Kayse's hip specialist. "The surgical team did two procedures during her surgery: a peri-acetabular osteotomy and hip arthroscopy with labral repair and femoroplasty." Essentially, Dr. Grote's team repaired the ball-and-socket joint of the hip bones as well as a tear to the cartilage that surrounds the bones in that area.

Hip problems in teens are often due to a condition they were born with called developmental dysplasia of the hip (DDH). While all babies are checked for DDH, sometimes it doesn't show itself until adolescence, when the body is growing quickly.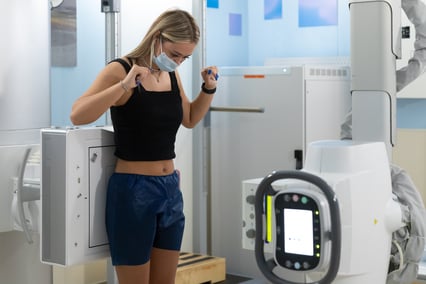 Kayse's surgery took place in the winter of her senior year. "Kayse had an excellent post-operative recovery," shared Dr. Grote. "She was dancing and walking without a limp less than three months after major hip reconstruction. She even met her goal of walking the stage at her high school graduation!"

But despite the unusually quick physical recovery, for Kayse, "the hardest part of this whole thing isn't the pain, it's the mental factor." Everyday things like going to the bathroom or putting her own laundry away became monumental tasks, and activities like sports and going out with friends were a distant prospect during the months after surgery. For someone like Kayse, who is very independent, "not being able to do things or go outside and be active—I like to do all these things and I just couldn't."

Missing out on her senior season of volleyball was crushing for Kayse, especially since her team went to state this year. "I was the team manager, so I was there with the team, but it was so hard to have a good mindset when all I wanted was to be on that court. My senior season was over before it started."

Her family, friends and boyfriend were key to her recovery. "I had a lot of bad days, where I was just sobbing all day because I was so frustrated," Kayse shared. "I called my mom a lot, and she reminded me that it's only temporary and things will get better." Her grandparents took care of meals and laundry for her and her friends came over to keep her company. "My boyfriend was super supportive," Kayse recalled. "He came [from our hometown of Strafford, Mo.] and surprised me at the hospital and visited me every single day at home to make sure I wasn't lonely."

Dr. Grote encourages his patients to focus on the positives and the small victories along the way during their recovery. "We break recovery down into sections: two weeks for the incision to heal, six weeks for the bone to heal, and three or more months for you to heal. That way, kids can check off each stage as they meet those milestones, and they'll continue to see improvements over the next year or so."

Now that Kayse has graduated from high school, she has a brighter outlook. She's looking forward to hanging out with friends and having one last fun summer before starting college in the fall to become an early childhood educator. When she comes up against a challenge, she reminds herself, "If I can get through hip surgery, I can get through this!"
Learn more about the Hip Program at Children's Mercy