March 10, 2022
Developmental milestone updates: What parents need to know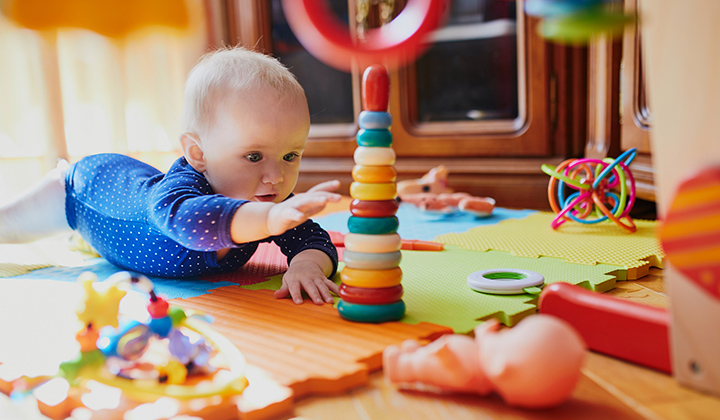 Developmental milestones help track how children are progressing in physical and behavioral ways like talking, walking, playing and learning. They are also used to help detect autism and developmental delays in children. These milestones have just been updated for the first time in 18 years. Here is what's changed and how it will affect parents.
The Center for Disease Control and Prevention (CDC) along with the American Academy of Pediatrics (AAP) have partnered to update the developmental milestones for infants and children through the Learn the Signs. Act Early program. This update process began in March 2019 and is the first update since the release of the original milestones in 2004.
What changed with the developmental milestones?
Shifted focus to what most kids can do. The old milestones used the 50th percentile, or what skills would be met by half of children of a certain age group. The new milestones use the 75th percentile, or what most kids of a certain age are meeting. This shift will help reduce frustration for parents whose children aren't meeting the original milestone, but who will still get there when expected. The change also sets a clearer threshold for parents and pediatric care providers on when to seek early intervention, or professional support, for delays.
Ages to cover each well checkup. The new checklists were expanded to also cover children ages 15 and 30 months. So now there is a checklist for every well-child visit spanning 2 months to 5 years.
Attention to more social and emotional milestones. When a child begins to smile, laugh or hug a doll has now been added and recognized as crucial milestones. Now parents can better track their child's interactions and how their child shows feelings.
Added clearer language, removed some vague language. Removing words like "may" or "begins" to help make things clearer for parents and pediatric care providers.
Removed some milestones. To help reduce confusion, some repeated milestones have been removed at different ages. For example, crawling has been removed as a milestone. Previously, crawling was a milestone at 6 months. This removal is in line with what pediatric care providers practice and how some children skip crawling.
Moved some milestones. Other milestones have been moved to reflect the age at which most kids would be expected to reach that milestone. For example, sitting was previously a 6-month milestone and now is a 9-month milestone.
Added discussion questions. These questions can help open the conversation for parents to share concerns and partner with their pediatric care providers.
Added tips and activities.
How the milestone updates may affect parents and children
Improved early intervention referral process. In the pediatrician's office, you may receive updated milestone handouts. If there are delays based on these new milestones, it will allow the pediatric care provider to give a prompt referral for an evaluation. Using the old milestones, a child may be referred for a developmental evaluation but would not qualify for services because the child's development was within the range of average. Although this could be reassuring for the family, it poses a concern for early intervention services by clogging the intake process with kids who aren't truly delayed. This, in turn, delays an intake evaluation for a child with significant developmental delays.
Reduce worry. When parents see their child is developing differently than other children, parents worry about delays. By changing the developmental milestones to what 75% of children, or most children, can do at a given age, the updated milestones are more likely to show a developmental path that is on track, and in turn, reassure the parent that their child's development is on track.
Easier to understand. The updates include more family-friendly language, which allows families to understand the milestones and invites conversation with caregivers about the milestones.
It's not easy for families to know if their child is meeting milestones at the right times. This can lead to confusion and worry. These updates are intended to help families understand the milestones, feel empowered to ask questions, and give both caregivers and pediatric care providers more clear guidelines about a child's progress. Review the new CDC's Developmental Milestones here.
---