December 24, 2021
Overcoming a fear of the dentist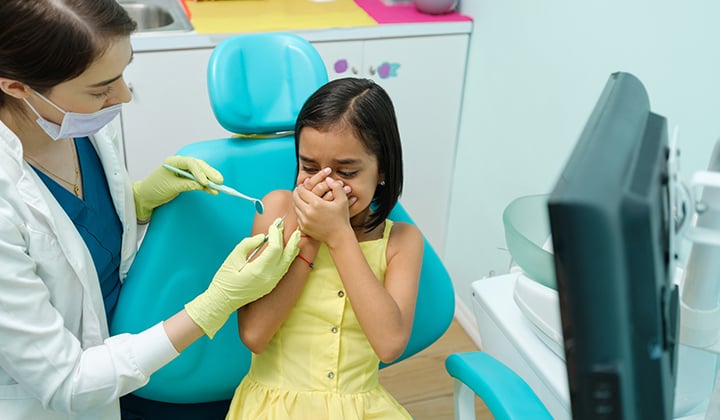 A fear of the dentist. We've heard about it. It's not just kids, even some adults have a fear of visiting the dentist. It may be because they think it's painful, scary, or even just fear the unknown. Here are a few ways to help kids overcome their fear of the dentist.
Start early
Try to visit the dentist after the first tooth breaks through and no later than one year of age. An early visit to the dentist can help establish healthy brushing and get your child used to having their teeth checked regularly.
Help kids feel comfortable before you go
Children can pick up on a parent's feelings and fears with subtle and not-so-subtle cues. So, try to not stress about the appointment. With a positive attitude, children can visit with a calmer attitude. Also, try to use positive, simple language. Here are some examples:
| | |
| --- | --- |
| Avoid: | Instead, try: |
| Are you scared to visit the dentist? (Avoid implying what you think they may feel.) | How are you feeling about visiting the dentist? Was the dentist visit what you thought it would be? |
| This [procedure] will take as long as 10 minutes. | It will take less time than it takes to drive to school. |
| The dentist will help fix your teeth. (A child may think they are broken.) | The dentist will help take care of your teeth and teach us how to keep them healthy. |
How to help while at the dentist
Keeping a positive attitude before, and while, you are at the appointment will help your child remain positive, too. Dentists have many ways to help kids feel calm and comfortable. You can ask the dentist to first tell you what they will do and show it on a doll or model before they do it. That way, your child will know what is going to happen. For younger children, have them bring a comforting toy to snuggle or blanket to help them relax.
Dentists want your child to have a positive experience, too. You can talk with the dentist about any worries you or your child may have. They can be partners to help create a welcoming and comfortable environment so your child will have a lifetime with a healthy and happy smile.
Related article:
---