June 10, 2021
Ways to beat the dreaded summer boredom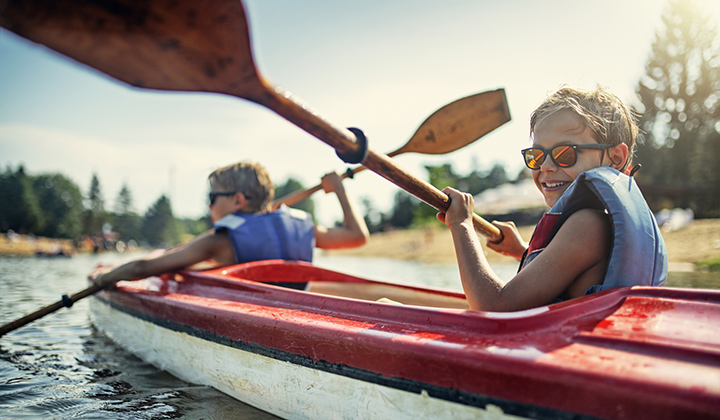 Summer is finally here! We love the sunny days and the freedom a school break can bring. While summer break means less rigid and busy schedules for some, research shows many children are less physically active in the summer months than during the school year. You may remember childhood summers filled with things like riding bikes to the corner store, walking to a local swimming pool or playing active games with friends. However, for many children today, these types of active summer experiences have become less common. Here are some ways to keep kids active this summer, before they even have the chance to say, "I'm bored."
Aim to be active daily
Kids are healthiest when they get to be active every day. Here's what that can look like:
Be active 60 minutes each day with activities like biking, walking or exploring a park or nearby trail.
Have 3 days a week with those active minutes at a vigorous level with activities that include running, carrying things up and down stairs or very brisk walking.
At least 3 days a week build their muscles and bone strength by climbing on playground equipment, jumping, playing hopscotch, or basketball.
Get the kids involved
Thinking ahead can help parents and children engaged with some go-to physical activity ideas as easy alternatives to devices and screen time in the summer months. It may be helpful to ask the kids to think of a list of activities that they would enjoy and that fit into your family's summer plans and routines. Often, when it's an idea they thought of, they are more likely to do it.
Make a bucket list
After the brainstorming session, try creating a "bucket list" of things your family wants to do. List all the things the entire family thought of and use the list to check off all the fun activities you do along the way.
Keep a routine
Even though school is out, that doesn't mean your routine needs to be, too. As parents, we can help by setting a positive example toward keeping healthy and active by modeling those behaviors.
Here are a few ideas to build activity into your routine:
Set screen limits. Maybe that looks like 1 hour of activity before turning on a screen or turn off all screens 1 hour before bed.
Create screen-free zones in the house, such as bedrooms. TVs are kept out of bedrooms and all devices are charged overnight in a room of the house that is not a bedroom.
Walk or bike to a nearby park or playground, or just around the neighborhood after dinner.
Volunteer for a park clean-up or clean up your neighborhood.
Have a family game night once a week, where the game is selected by a different family member each week. Games could be indoors or outdoors and could be anything from cards or board games to tag or hopscotch.
Try our sample bucket list
We have so many great things right here in Kansas City for the whole family. Take a peek at our sample KC Summer Bucket List!
Find a new park.
Check out one of KC's trails, parks, playgrounds or green spaces this summer. Across the metro, each city or county's parks and recreation department website lists area parks and playgrounds, trails or other activities. Look for a park around the corner from you, or venture to one with features your kids might enjoy, like Roanoke Park's rope structures for climbing or Concourse Park's giant slide for all ages. KC Parks has a searchable function by age group and type of features like playgrounds, spray grounds, pools and hiking trails to help find just what you are looking for.
Hop on a bike.
Family bike rides around the neighborhood can be a fun summer activity. Try swapping a car ride with a bike ride to nearby destinations. Don't forget to wear a snug-fitting helmet.
Take a hike.
Kids can often get invigorated by a change of scenery. You'll feel like you are in the woods at the hiking trails at Swope Park, or visit the nearby Lakeside Nature Center. Wyandotte County Lake Park boasts some of the most extensive wooded trails in the metro that loop around the lake and its many shelters, fishing spots and playgrounds.
Beat the heat.
From spray parks to pools, KC has a lot to offer for active water play. Most spray parks or splash pads are run by county or city parks and recreation departments and free of charge at local parks. We love county lakes that often have canoes, kayaks and even paddleboards for you to rent.
Walk it out.
Walking as a family can be a great thing to add to your routine in the summer. Not only do you get some family time but get to be active while doing it! Walking is a great activity for families, but not everyone lives in a neighborhood that feels easy or safe to walk or bike in. Everyone in our city deserves the chance to be healthy and active, and research shows that when a neighborhood has nearby safe parks, trails, playgrounds, sidewalks and bike lanes children and families are more likely to be active. The first-ever regional Kansas City Physical Activity Plan, emphasizes resident and youth involvement in creating equitable places for physical activity. Tools like KC Healthy Kids' Kids' Walking Detective or simple steps from BikeWalk KC can empower kids to investigate their neighborhood's walk-ability and advocate to local officials if needed, for changes to make it easier to be active.
---