Gender Pathway Services
Nationally ranked by U.S. News & World Report
Gender Pathway Services (GPS) at Children's Mercy provides interdisciplinary, family-centered services for transgender, gender-variant, and gender-questioning children. Our services support the physical, mental and social health of young people and their families as they navigate the process of gender identity development. To initiate hormone treatment, our team does require a diagnosis from a mental health professional of gender dysphoria.
As specialists in pediatric and adolescent development, we recognize that each person has a different "pathway," so we provide care that is unique to each family. Our goals are to keep families informed of their treatment options and to provide them with medical and emotional support, advocacy and community resources. 


Who we serve

Our team of pediatric specialists cares for children and teens with any gender variance. Our specialists work together to provide evidence-based care that is informed by the Clinical Practice Guidelines established by the Endocrine Society and Standards of Care proposed by the World Professional Association of Transgender Health (WPATH).


Experienced care for gender dysphoria

The Gender Pathways Services team begins gender-affirming care after your child has received a diagnosis of gender dysphoria from a licensed mental health provider (such as a licensed counselor, therapist, psychologist or psychiatrist). Most families see a community mental health provider for their initial assessment, but in very specific situations, you may see a psychologist at Children's Mercy.
People who come to our clinic to usually fall within one or more of the following groups:
Gender-questioning youth: Children and adolescents who are questioning their gender identities.
Transgender, gender non-binary or gender-fluid youth: Children and adolescents whose gender identity is different from their assigned birth sex.
Gender-variant youth: Children and adolescents who express themselves differently from traditional gender norms.
For more information or questions, call (816) 960-8844 and our team can provide you with guidance and a list of community resources, if needed. 
What to expect

When your child has received a diagnosis of gender dysphoria from a licensed mental health provider, please call the clinic at (816) 960-8844. We will guide you to the services you need.
Your first appointment is typically with the Gender Pathway Services (GPS) team, which includes multiple health care professionals. Depending on your child's needs, your team may include:

Endocrinology
An endocrinologist is available to discuss puberty-blocking and gender-affirming hormones (at appropriate ages), monitor effects, and help guide families to surgeons for gender-affirming surgeries, if desired. That physician may also recommend blood work or X-rays to screen for other health conditions that may influence medical therapy.

Developmental and Behavioral Health
A Gender Pathway Services psychologist will provide a diagnostic evaluation and make treatment recommendations. Ongoing mental health care is generally provided in the community, but GPS psychologists are available to consult with community therapists as needed.

Adolescent Medicine
An Adolescent Medicine Specialist will assist young people and their families who need help with psychiatric medications, menstrual suppression, or other reproductive health needs. Adolescent Medicine specialists are also available outside of Gender Pathway Services for teens and families who have questions about the gender transition process or need assistance connecting to community services, but do not currently want to start hormones or blockers.

Spiritual Services
A Board-Certified Chaplain will provide gender-affirming support that facilitates spiritual well-being and nurturing respectful and compassionate relationships. They can also provide you with resources to guide families in search of open and affirming communities of faith, if desired.


Speech therapy
Gender-affirming voice coaching referrals are available at Children's Mercy.
Appointment cancellations
If you need to cancel your GPS appointment, please call (816) 960-8803. We appreciate you calling in advance if you need to cancel, so we can try to keep our waiting list for GPS appointments as short as possible. Thank you for your help and consideration.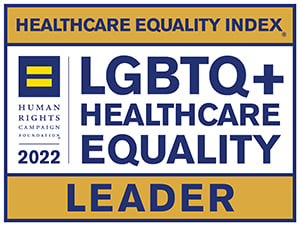 Healthcare Equality Index
Children's Mercy had earned "LGBTQ Healthcare Equality Leader" designation by receiving a top score of 100 on Human Rights Campaign (HRC) Foundation's Healthcare Equality Index (HEI).
HEI is the national LGBTQ benchmarking tool that evaluates healthcare facilities' policies and practices related to the equity and inclusion of our LGBTQ patients, visitors and employees.
Stories
Changing lives with Gender Pathway Services: Alex's story
17-year-old Alex knew something was different from about the age of 3. But it wasn't until mom reached out to Children's Mercy did this struggling child get answers, help and a diagnosis of gender dysphoria, which would set Alex on the path to becoming a happy, healthy transgender male.