Kathy Goggin, PhD
Deputy Director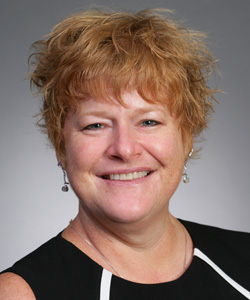 Kathy Goggin, PhD, is the Deputy Director of the Children's Mercy Research Institute. She holds the Ernest L. Glasscock, MD, Endowed Chair in Pediatric Education and Research, is the Associate Chair for Research for the Department of Pediatrics and is the Director of Health Services and Outcomes Research for Children's Mercy Kansas City.
Dr. Goggin is a professor in the Schools of Medicine and Pharmacy at the University of Missouri-Kansas City.
Dr. Goggin is a fellow of the Society of Behavioral Medicine and the Academy of Behavioral Medicine Research. She regularly serves as a reviewer for the National Institutes of Health.
At Children's Mercy, Dr. Goggin is helping to institute sustainable strategies to enhance the academic environment and reinforce a durable infrastructure to promote high-impact research. As Director of the Health Services and Outcomes Research Division, she promotes existing research strengths and develops new capabilities by providing leadership and support to create multidisciplinary teams and leverage strategic relationships with local, national and international collaborators to increase research productivity and retention.
An established researcher, Dr. Goggin has garnered continuous extramural funding since 1997 and has been responsible, as PI or Co-I, for over $49 million in extramural funding for national and international research studies. This research focuses on primary and secondary HIV prevention, medication adherence, and psychosocial predictors of health behavior change to improve health outcomes and reducing health disparities. Her research is also notable for its focus on community-based translational research efforts that have focused on impacting faith-based organizations, community-based organizations, communities and a variety of health care settings, both domestically and internationally.
Dr. Goggin has published more than 200 papers and abstracts spanning diverse fields from pharmacy, to medicine, nursing, psychology, and public health.
She serves as an ad hoc reviewer for over 20 journals and recently completed a five-year post on the editorial board of Health Psychology. She has mentored over 35 master's and doctoral students, as well as junior colleagues. Many of these individuals have gone on to successful research careers.
Dr. Goggin's is a clinical psychologist with expertise in behavioral medicine. She earned a BA (Summa Cum Laude) from California State University, Dominguez Hills, Los Angeles, Calif., and a PhD from the San Diego State University/University of California, San Diego Joint Doctoral Program in Clinical Psychology.
She was the Chief Fellow of the National Institute of Mental Health Postdoctoral Research Training Program in HIV/AIDS at the New York Hospital/Cornell University Medical College and Memorial Sloan Kettering Cancer Center from 1994-1995; and then funded by the Aaron Diamond Foundation, completed postdoctoral training in HIV/AIDS at the New York State Psychiatric Institute/Columbia University and Cornell University Medical College, 1995-1997.