Mark Hoffman, PhD
Chief Research Information Officer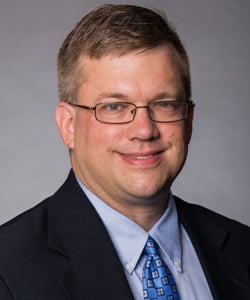 Mark Hoffman, PhD, serves as the Chief Research Information officer for Children's Mercy and the Children's Mercy Research Institute. Dr. Hoffman's role is to accelerate and improve all types of research at the Children's Mercy Research Institute through resources such as data, applications and technology.
Dr. Hoffman earned his doctorate in Bacteriology from the University of Wisconsin-Madison. He joined Cerner in 1997 as a software engineer where he advanced to the role of Vice President for Genomics and Research.
In 2013, Dr. Hoffman joined the faculty at the University of Missouri Kansas City (UMKC) in the Departments of Biomedical and Health Informatics and Pediatrics. At UMKC he launched the Center for Health Insights and brought new informatics capabilities to the university, including REDCap, i2b2 and the Cerner Health Facts data.
His formal training in research and experience in software development have prepared him to effectively connect the needs of researchers to the capabilities of technology-solutions. During his 16 years at Cerner and three years at UMKC, he consistently worked to identify or build the best capabilities possible to meet rapidly changing requirements in genomics, public health and "big data." In his role as Vice President of Research at Cerner, he had the opportunity to meet with a wide variety of clinical research organizations around the world, learning about their successes and challenges.
Dr. Hoffman joined Children's Mercy in 2016. He is the primary investigator on a CDC grant to utilize clinical and laboratory data warehouses to inform quality improvement and he continues to serve on the faculty at UMKC. He has delivered a TED talk on the "Envirome" and won the iThermometer category in the Google wearable devices in health care challenge in 2015. He is an inventor of 19 issued patents and a member of the American Academy of Inventors.
His professional background informs how he approaches his role at Children's Mercy. But most importantly, he brings experience as a parent of two children who have been patients at the hospital. He is personally committed to ensuring that researchers at the Children's Mercy Research Institute have access to the best technical resources and experts available to help them find answers as quickly and effectively as possible for children and their families.