Shawn D. St. Peter, MD
Surgeon-in-Chief, Department of Surgery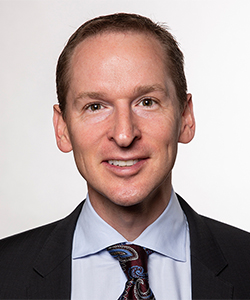 Shawn D. St. Peter, MD, has been on staff in the Department of Surgery at Children's Mercy since 2006. He is currently Senior Vice President, the Surgeon-in-Chief, and the Associate Program Director of the Pediatric Surgery Fellowship Program at Children's Mercy, where he is also the Director of the Center for Prospective Trials. He holds the Thomas Holder and Keith Ashcraft Endowed Chair of Surgical Research.
Dr. St. Peter received his undergraduate degree in Zoology from the University of Idaho, and then continued his education, receiving his Medical degree from the University of Washington School of Medicine. He completed surgical residency at the Mayo Clinic in Scottsdale with a year of research at Oxford University in Oxford, England. He finished his training with a fellowship in Pediatric Surgery at Children's Mercy.
Along with numerous past national and local professional responsibilities, Dr. St. Peter currently serves on committees for APSA, IPEG, AAP and ACS. He is the recipient of several honors and awards, including the Golden Apple Mercy Mentor Award, which he has been awarded 6 times.
Dr. St. Peter has co-authored over 400 original publications, in addition to the extensive publication of reviews, chapters, and 2 textbooks. He has been invited to give multiple national and international lectures. His research is largely focused on comparative effectiveness trials, decreasing the impact of operations on children and reducing the costs and healthcare burden for children with surgical diseases.