J. Steven Leeder, PharmD, PhD
interim Executive Director, The CMRI, Associate Chair-Research, Department of Pediatrics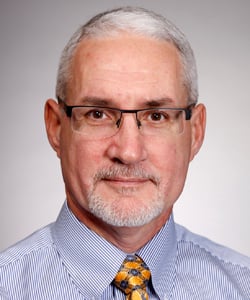 J. Steven Leeder, PharmD, PhD, is the Marion Merrell Dow Endowed Chair in Pediatric Precision Therapeutics, and his institutional roles are interim Executive Director of the CMRI with responsibility for the Precision Therapeutics Area of Emphasis, and Associate Chair-Research, Department of Pediatrics at Children's Mercy.
He holds appointments as Professor of Pediatrics and Pharmacology at the University of Missouri-Kansas City; Courtesy Professor, Department of Pharmaceutical Chemistry, University of Kansas, Lawrence, Kan.; and Clinical Professor of Pediatrics, University of Kansas Medical Center, Kansas City, Kan.
Dr. Leeder is certified in Applied Pharmacology by the American Board of Clinical Pharmacology and has been active in several academic societies related to drug metabolism and clinical pharmacology. He has served as Chair of the Pediatric, Perinatal and Maternal Pharmacology section of the American Society for Clinical Pharmacology and Therapeutics (ASCPT), Chair of the Drug Metabolism Section of the American Society for Pharmacology and Experimental Therapeutics (ASPET), and is currently a member of the Executive Committee of the Board of Publication Trustees for ASPET.
Dr. Leeder has a primary interest in forming multidisciplinary teams of researchers with expertise in analytical chemistry, drug biotransformation, gene regulation, pharmacogenomics, and pharmacokinetics to investigate variability in the way that children respond to medications.
Dr. Leeder's research focuses on characterization of the relative contributions of ontogeny and genetic variation to observed variability in drug disposition and response in children. Over the years, these research activities have coalesced into the GOLDILOKs initiative: Genomic- and Ontogeny-Linked Dose Individualization and cLinical Optimization for Kids with current funding as one of four Specialized Centers for Research in Pediatric Developmental Pharmacology supported by the Eunice Kennedy Shriver National Institute for Child Health and Human Development. In collaboration with the Division of Clinical Pharmacology, Toxicology and Therapeutic Innovation led by Dr. Jon Wagner, the program serves as a model of integrated research that will allow precision therapeutics research to be extended to address research questions related to variability in drug response experienced by other pediatric subspecialties.
He has published over 260 papers and 290 abstracts in the areas of pediatric clinical pharmacology, pharmacogenetics and pharmacogenomics, and drug metabolism. He serves as Associate Editor for Drug Metabolism and Disposition and is on the Editorial Board of the journals Pharmacogenomics and the Journal of Pediatric Pharmacology and Therapeutics.
Dr. Leeder earned his bachelor of science in pharmacy from the University of Toronto, Toronto, Ontario; his doctorate in pharmacy from the University of Minnesota, Minneapolis, Minn.; and his doctorate in pharmacology from the University of Toronto.