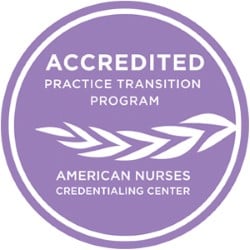 If you are currently enrolled in a nursing program or have recently graduated from nursing school, you are invited to apply to our "Introductory Staff Nurse" job posting.
Children's Mercy hires Newly Licensed Nurses twice per year. Our process for May graduates begins in January, and our process for December graduates begins in August. If you do not graduate in a May or December cycle, please email a Nurse Recruiter at GNRecruitment@cmh.edu for further instructions.
All Newly Licensed Nurses hired into our Introductory Staff Nurse position are automatically enrolled into our Nurse Residency Program.


Nurse Residency Program


12 months of educational meetings


Leadership and peer support


1:1 follow up with Nurse Residency Program Coordinators


Relationship building with fellow nurses
Some of the topics covered in the program include:


Accountability

Evidence-based practice

Mindfulness

Social media

Transition to practice

Safety

Quality

Teamwork

Communication with interdisciplinary teams

Cultural diversity and equity

Ethics

Role transition
Residency units

The Children's Mercy Nurse Residency Program offers positions in all inpatient units. Learn more about how each unit provides unique patient experiences focused on a range of specialties.
Intensive Care Nursery (ICN)/Neonatal Intensive Care Unit (NICU)
The ICN/NICU is a regional referral center providing Level IV infant care — the highest level of neonatal care. Every day, our team cares for up to 84 fragile newborns from the Kansas City area and beyond. Our team includes 300 nurses, 65 neonatal nurse practitioners (who also support other local NICUs), along with specialized equipment to care for our tiniest patients.
Pediatric Intensive Care Unit (PICU)/Cardiac Intensive Care Unit (CICU)
In October 2021, our PICU separated into two specialized ICUs: Pediatric Intensive Care Unit (PICU) and Cardiac Intensive Care Unit (CICU). Our mission in the ICU is to provide healing, comfort and support to our patients and their families in times of critical care. Separating our ICUs has provided our patients with the highly specialized care and dedicated team they deserve at Children's Mercy. Our PICU has 41 beds, and CICU has 24 beds. Our nursing staff can cross-train for both units.
Emergency Department (ED)
Children's Mercy has the only Level I pediatric trauma center in the region – our Adele Hall campus ED has 39 beds, with staffing support from 150 nurses and technicians, 40 APRNs, and over 40 physicians. We treat over 65,000 patients per year. Our 39 exam rooms include 4 trauma rooms; 3 orthopedic rooms; 3 major medical rooms; 4 triage rooms; and a Nurse Practitioner-led minor care area with 10 beds and a separate waiting room for those patients. We have a family room and private waiting room to offer privacy to families at difficult times. We have three zones (Red, Yellow, and Green) and nurses are scheduled in 4-hour blocks, typically rotating to zones once or twice in their shift.
Kansas Emergency Department (ED)
Our ED staff at Children's Mercy Hospital Kansas treat all severity levels of injury and illness, with an annual census of approximately 40,000 per year. Our 28 exam rooms include 2 treatment rooms; 1 orthopedic room; 4 observation rooms; 1 gynecology room; 6 negative pressure rooms; 1 negative pressure room with ante room; and 13 patient exam rooms. We have a family respite room with a coffee maker, water/ice machine, snacks, and a phone charging station, as well as consult rooms for privacy, and access to Radiology, CT, Ultrasound and Laboratory services.
Operating Room (OR)
We have 18 operating rooms and two cath lab rooms at the Adele Hall campus, and 4 rooms at Children's Mercy Hospital Kansas. Inpatients and outpatients are cared for at each facility, but higher acuity patients are treated at Adele Hall. Procedures range from ear tubes, to complex congenital cardiac anomalies, to solid organ transplantation, to video assisted minimally invasive operations.
4 Henson
4 Henson is a 38-bed, medical-surgical unit that cares for patients within hematology, oncology, and blood and marrow transplantation specialties. Our unit contains HEPA filters, allowing immunocompromised patients the freedom to leave their room and visit the play room and teen room, and to particulate in child-life activities that are vital to the patient's psychosocial and physical health. We also have a parent room on each unit with a kitchen, living room, computer access, and laundry facilities. We work with our team of hematology and oncology attending physicians, hospitalists, residents, and APRNs and PAs.
We are supported by the Hematology/Oncology clinic, with an infusion room to provide after-hours and weekend-clinic visits. Common procedures and treatments include lumbar punctures with and without intrathecal therapy; bone marrow aspirations/biopsies; conscious sedation; thawing and infusion of stem cells; exchange transfusions; chemotherapy administration; and blood product administration.
4 Sutherland
4 Sutherland is a 23-bed, medical-surgical unit that is passionate about the care of cardiac patients. We collaborate with the Blue Team, CHAMP, Heart Failure, Heart Transplant, Electrophysiology; CICU and Cardiovascular Surgery to manage primary diagnoses including congenital heart defects; heart failure and transplant; and heart rhythm abnormalities. Additional diagnoses include post-op cardiac surgery; cardiology/arrhythmias; gastroenteritis/dehydration; failure to thrive; apparent or life-threatening event; and gastro-esophageal reflux.
4 West
4 West is a 20-bed, medical-surgical unit which provides care for general surgery, neurosurgery, plastic surgery, urology, trauma, burn, and ENT patients. We have a treatment room; 4 specialty burn patient rooms; and a playroom, and we are supported by attending, fellow and resident surgeons, surgery team APRNs, as well as medical team physicians when medical patients overflow into our unit. Common diagnoses include appendectomy; shunt malfunction; cleft lip/palate repair; pectus repair; fundoplication; pyloric stenosis; VP shunt placement; trauma; and burn.
5 Henson-Hall
5 Henson-Hall is a 28-bed, medical-surgical unit that specializes in orthopedics. Common diagnoses include all ortho; cystic fibrosis; spine surgeries and deformities; clubfoot; spina bifida; cerebral palsy; limb length discrepancy; Blount's; developmental and congenital hip disorders; neuromuscular disorders; hand anomalies; trauma-related injuries; and joint infections.
5 Sutherland
5 Sutherland is a 20-bed, medical-surgical unit that cares for patients with renal failure and transplant, rehabilitation and liver failure and transplant specialties. Primary diagnostic groups include renal; rehabilitation; and liver and intestinal failure and transplant (LIFT). Procedures and treatments performed include peritoneal dialysis monitoring; PICC placement by vascular access; and inpatient rehabilitation therapies.
6 Henson
6 Henson is a 25-bed, medical-surgical unit that cares for patients within the Endocrinology, Pulmonology and Neurology/seizure patient specialties. We have a medication room at each station, as well as two clean utility rooms, two nutrition rooms, and two soiled utility rooms. We also have a playroom and treatment room for patients to use as well.
6 Hall
6 Hall is a 16-bed, medical-surgical unit that specializes in infectious diseases, and common diagnoses include RSV; influenza; gastroenteritis; febrile illness; and asthma exacerbation.
Contact
If you have questions about our Nurse Residency Program please contact us through email. A recruiter will be happy to talk with you.