Academic Curriculum
Pediatric Infectious Diseases Fellowship
Pediatric infectious diseases fellows, attendings, APRNs, pharmacists, and rotating residents and medical students attend divisional conferences.
ASP Journal Club
Every other month journal club with article presentation and discussion led by ASP faculty.


Case Management Conference
Weekly conference to discuss patients on the inpatient clinical consult service, interesting outpatient consults, and challenging cases.


Fellow Didactics
Weekly didactic conference presented by fellows, divisional faculty, or extra-divisional faculty on pediatric infectious diseases topics to prepare fellows for pediatric infectious diseases boards.
Immunocompromised Didactics
Every other month didactic session focusing on the newest literature related to immunocompromised infectious diseases.


Journal Club
Monthly journal club with article presentation and discussion by a fellow or faculty with a professionalism vignette at the end of every conference which encourages discussion


Kansas City Infectious Disease Society (KCIDS)
Monthly case-based conference with both adult and pediatric infectious diseases presentations by faculty and fellows from various hospitals and universities from across the city.


Microbiology Plate Rounds
Monthly conference with the microbiology laboratory team to review viral, bacterial, fungal, and parasitic pathogens from clinical service cases.


Research Conference
Monthly conference with focused presentation by a fellow or faculty regarding ongoing research projects, which allows for brainstorming research ideas and to receive feedback for upcoming presentations.
Core Curriculum Didactics
Monthly meeting of fellows from all subspecialties hospital-wide to address topics common to all ACGME-approved fellowship programs, including leadership development, ethics, quality improvement and safety, and manuscript preparation.


Grand Rounds
Weekly conference with local and national speakers presenting pertinent pediatrics topics.


Morbidity and Mortality Conference
Monthly conference structured to define ways to improve quality of care through the analysis of recent cases.


Professor Rounds
Case-based presentations with an educational didactic component for hospital staff prepared and presented by a senior resident each week.


Academic Scholarship Conference
A unique bimonthly conference covering topics such as quality improvement, advocacy, research and medical education presented by CMKC faculty as well as guest speakers and visiting professors.


Statistics Course
Monthly biostatistics training with introduction into various analysis techniques.


Continuous Quality and Practice Improvement
Annual seminars as well as monthly longitudinal experiential classes are offered to promote education of and development of quality improvement.


Grant Writing Workshop
Fellows will complete a two day grant writing workshop along with a longitudinal curriculum to support them through writing a competitive grant application.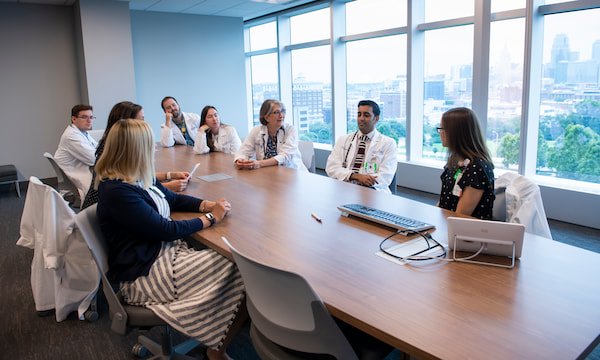 Our Pediatric Infectious Diseases Fellowship team
More about Children's Mercy fellowships