Academic Curriculum
Pediatric Gastroenterology Fellowship
The Division of Gastroenterology holds several educational conferences throughout the year. Many of these conferences are multidisciplinary in nature. Monthly conferences include Gastroenterology/Radiology Conference, Gastroenterology/Pathology Conference, and Gastroenterology/Hepatology Journal club. A quarterly conference is coordinated with Gastroenterology and Surgery. Gastroenterology fellows attend NASPGHAN fellowship conferences, ASGE endoscopy course and other national meetings where research is presented.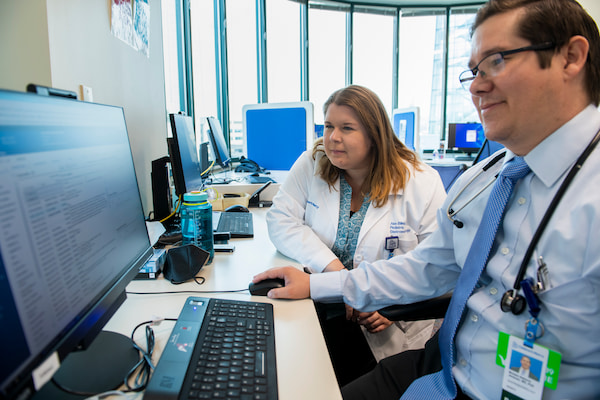 Pediatric Gastroenterology/Radiology Conferences
Monthly conferences with focused presentation led by fellows and attending radiologists to review challenging gastroenterology and hepatology cases.

Pediatric Gastroenterology/Pathology Conferences
Monthly conferences with focused presentation led by fellows and attending pathologists to review challenging gastroenterology and hepatology cases.

Pediatric Gastroenterology Journal Club
Monthly journal club with article presentation and discussion led by fellows and faculty for gastroenterology and hepatology.

Pediatric Inflammatory Bowel Disease Conference
Monthly conferences featuring informal didactics and small group discussion led by members of our multidisciplinary IBD team.

Pediatric Neurogastroenterology and Motility Conferences
Bimonthly conferences highlighting neurogastroenterology and motility ABP content specifications presented by attending physicians and faculty from other specialties.

Pediatric Core Content Conferences
Bimonthly conferences highlighting basic pediatric gastroenterology ABP content of specifications presented by fellows.

Pediatric Gastroenterology Board Review Conference
Bimonthly conferences of board review questions of ABP content specification presented by fellows and attendings.

Biostatistics
Quarterly conferences spread over three years where fellows will review common statistical analyses used in medical research.
Core Curriculum Didactics
Monthly meeting of fellows from all subspecialties hospital-wide to address topics common to all ACGME-approved fellowship programs, including leadership development, ethics, quality improvement and safety, and manuscript preparation.

Grand Rounds
Weekly conference with local and national speakers presenting pertinent pediatrics topics.

Morbidity and Mortality Conference
Monthly conference structured to define ways to improve quality of care through the analysis of recent cases.

Professor Rounds
Case-based presentations with an educational didactic component for hospital staff prepared and presented by a senior resident each week.

Academic Scholarship Conference
A unique bimonthly conference covering topics such as quality improvement, advocacy, research and medical education presented by CMH faculty as well as guest speakers and visiting professors.

Statistics Course
Monthly biostatistics training with introduction into various analysis techniques.

Continuous Quality and Practice Improvement
Annual seminars as well as monthly longitudinal experiential classes are offered to promote education of and development of quality improvement.

Grant Writing Course
Monthly lecture series during first year where fellows will learn the steps to complete a grant application for research and then submit for possible internal funding at the completion of the course.
Stories
Inside Pediatrics: Colson's story
Colson was diagnosed with Crohn's disease and with the help Dr. Julie Bass, Medical Director of the Inflammatory Bowel Disease Program at Children's Mercy, and his mother, he is now receiving family-centered care.
Our Pediatric Gastroenterology Fellowship team
More about Children's Mercy fellowships