Faculty and Fellows
Pediatric Cardiology Fellowship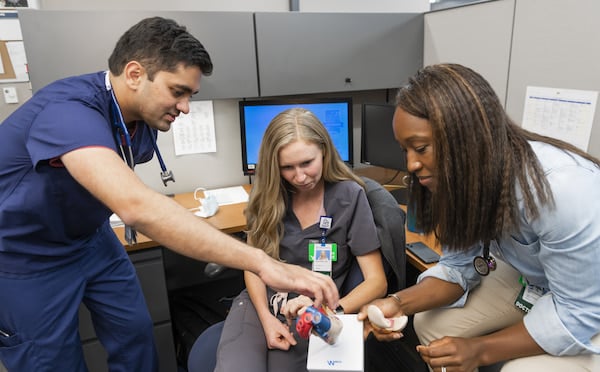 Current fellows

Class of 2020-2023
Bianca Cherestal, MD
I am a New Yorker at heart but have traveled all over for my education and training. I went to Saba University School of Medicine, a small island in the Caribbean for medical school, then matched at Geisinger Medical Center in Pennsylvania for residency, then I stayed there for an additional chief year. Those stages of my education and training were great experiences, so when I embarked on fellowship interviews, I hoped to find a place that was comparable. I definitely lucked out with Children's Mercy! I started fellowship during a global pandemic which was interesting to say the least, but the transition was made easy by the amazing people that are here. The faculty, staff, and my co-fellows have been encouraging and supportive through every phase of fellowship. The guidance and opportunities that I've had really helped me figure out my career path. My goal is to become a pediatric cardiac hospitalist and pursue a master's in health equity.

Karoline Krzywda, MD
I graduated from St. Louis University School of Medicine and first came to Kansas City and Children's Mercy in 2017 for my pediatric residency. Children's Mercy has felt like home since the start of my intern year and it was an obvious choice to continue my cardiology education here. We have excellent and patient teachers that truly make the cardiology department a welcoming environment. I am going to have a career in general cardiology after graduation.
Class of 2021-2024
Nir Atlas, MD
Home is Toronto but I have lived in the U.S. for the past decade. I came to K.C. from Atlanta, where I completed by PCCM fellowship. My wife and I have an amazing 1-year-old daughter, a sweet mini-bernedoodle and are expecting a baby girl in September. This past year has been full of great learning opportunities. I owe a great deal of gratitude to my attendings, co-fellows, sonographers, nurses, and support staff for making CM an inclusive and supportive place to train.
Mollie Walton, MD
I graduated from Creighton University School of Medicine in Omaha, NE and went on to residency in Dayton, OH at the Wright State University Integrated Pediatric Residency Program. Throughout my education and training, I have been surrounded by incredibly supportive teachers and colleagues. When I embarked on fellowship interviews, I felt the same connection at Children's Mercy, even virtually! This proved to be true during my first year of fellowship. I am undecided as to what area of Cardiology I want to pursue a career in, but I am excited to explore and grow through training at CM.
Class of 2022-2025
Lavina Desai, MD
I grew up in Mumbai, India and graduated from Mahatma Gandhi Missions Medical College and Hospital before moving to Detroit, Michigan in 2018. I am coming to Children's Mercy from Children's Hospital of Michigan after completing my pediatric residency. I first dreamt of becoming a cardiologist when I was just 12 and ever since have strived to make it a reality and am beyond thrilled to be joining the CMH family to fulfill this dream. I felt an instant sense of belonging and loved how warm, supportive, and nurturing their approach to fellowship was. While not at work, I love hiking, traveling and anything outdoors however currently I am struggling to keep up with that peloton life (blame never-ending Michigan winters). I can't wait to explore what the next few years have in store for me at Children's Mercy and am looking forward to living in K.C.
Josh Holbert, DO
I am a Kansas City boy, born and raised, who is thrilled to be back in the land of the best people, the best BBQ and the home of the CHIEFS! I return to Kansas City after 7 years, graduating from ATSU-Kirksville College of Osteopathic Medicine and completing my residency in Pediatrics in Omaha, NE at the University of Nebraska. My journey through medicine has taken me through Missouri, New York, Phoenix, Chicago, Omaha and finally back home to KC. I am joined by my wife, Kristin, our son, Noah and lastly our goldendoodle, Addie! In my free time I am a big sports junkie (Go Chiefs, Royals and Jayhawks!). I am thrilled to join the Cardiology family at CM where I get to learn and explore the different areas of cardiology, where I'll have the opportunity to make an impact in such a special population in pediatrics.

Staff
Graduated fellows

What did they do after Cardiology Fellowship or where are they now?
Jonathan Wagner, DO
4th year Clinical Pharmacology Fellowship
Current Position: Division Director, Clinical Pharmacology, Toxicology and Therapeutic Innovation, Children's Mercy Kansas City
Natalie Jayaram, MD
4th year Cardiovascular Outcomes Research
Current Position: Pediatric Cardiologist, NIH funded Cardiovascular Outcomes Researcher, Children's Mercy Kansas City
Sandhya Ramlogan, MD
4th year Imaging Fellowship, Children's Mercy Kansas City
Current Position: Pediatric Cardiologist, Ann & Robert H. Lurie Children's Hospital of Chicago
Daniel Beissel, MD
Pediatric Cardiologist, Children's Minnesota
Current Position: Pediatric Cardiologist and Emergency Medicine, Legacy Salmon Creek Medical Center, Vancouver WA
Meghan Chlebowski, MD
Pediatric Critical Care Fellowship, Washington University/ St. Louis Children's Hospital
Current Position: Cardiac Intensivist, Cincinnati Children's Hospital
Chaitanya Panchangam, MD
Current Position: Pediatric Cardiologist, University of Missouri, MU Health Care
Muluneh Yimer, MD
Current Position: Pediatric Cardiologist, Sutter Health, Sacramento, CA
Doaa Aly, MD
4th year Advanced Imaging fellowship, Children's Hospital Colorado
Current Position: Pediatric Cardiologist, Advanced Imaging, Children's Mercy Kansas City
Natalie Behrle, MD
Current Position: Pediatric Cardiologist Ascension Healthcare, Portage, Michigan
Bethany Runkel, MD
Current Position: Pediatric Cardiologist, Cook Children's, Fort Worth, TX
Natalie Shwaish, MD
4th year Heart Failure and Transplant Fellowship, Cincinnati Children's Hospital
Current Position: Pediatric Heart Failure and Transplant, Loma Linda University Children's Hospital
Sarah Studyvin, DO
Current Position: ACHD Fellowship, University of Mississippi Medical Center
Chris Mathis, MD
Pediatric Cardiologist, Children's Mercy Kansas City
Anmol Goyal, MD
Current Position: 4th year Advanced Imaging Fellowship, Cincinnati Children's Hospital
Amulya Buddhavarapu, MD
Current Position: 4th year Advanced Imaging Fellowship, UT Houston
Our Pediatric Cardiology Fellowship team
More about Children's Mercy fellowships