Nurse Residency Program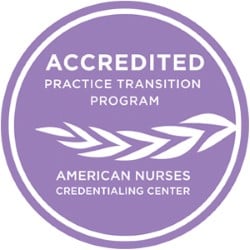 If you are currently enrolled in a nursing program or have recently graduated from nursing school, you are invited to apply to our "Introductory Staff Nurse" job posting.
Children's Mercy hires Newly Licensed Nurses twice per year. Our process for May graduates begins in January, and our process for December graduates begins in August. If you do not graduate in a May or December cycle, please email a Nurse Recruiter at GNRecruitment@cmh.edu for further instructions.
All Newly Licensed Nurses hired into our Introductory Staff Nurse position are automatically enrolled into our Nurse Residency Program.


Nurse Residency Program


12 months of educational meetings


Leadership and peer support


1:1 follow up with Nurse Residency Program Coordinators


Relationship building with fellow nurses
Some of the topics covered in the program include:


Accountability

Evidence-based practice

Mindfulness

Social media

Transition to practice

Safety

Quality

Teamwork

Communication with interdisciplinary teams

Cultural diversity and equity

Ethics

Role transition
Open House
Children's Mercy hosts an open house for nursing students twice a year. Nursing students nationwide are invited to join us for a presentation from the recruitment team, a tour of our facility, the opportunity to speak with Nurse Managers and to learn what to expect from some of our past Graduate Nurses.
Timeline
Our Graduate Nurse application will open on December 12, 2020. It will be posted as the "Introductory Staff Nurse" position. If you are currently a Children's Mercy employee, and are interested in this position, please email our recruitment team at GNRecruitment@cmh.edu.
Application
You can locate our Graduate Nurse application by following this link and searching for the "Introductory Staff Nurse" job posting. When completing you application, it will consist of two parts.
Part 1: The actual application. You will find "click here to apply now" at the bottom of the "Introductory Staff Nurse" job posting. The Introductory Staff Nurse application will allow you to rank your top four areas of interest, with one being the highest level of interest and four being the lowest.
We hire GN's in a variety of areas (depending on the number of available openings) including:


Ambulatory Clinics

Emergency Department

Operating Room

PICU

NICU

2 Henson - Burn Unit/Inpatient

4 Henson - Hematology/Oncology Inpatient

4 Sutherland - Cardiology Inpatient

5 Henson - Infectious Disease Inpatient

5 Sutherland - Rehabilitation and Renal Inpatient

6 Henson - Endocrine/Pulmonology/Neurology Inpatient

6 Hall - Orthopedic Inpatient

CMK Inpatient


Part 2: The video interview. You will find the link(s) to complete a video interview in the "Introductory Staff Nurse" job posting. There are two links: med/surg and critical care. If you are interested in both med/surg and critical care areas, you must complete both video interviews.

**Note: Your application will not be processed until we receive both the application and the video interview(s)**
Tips
Apply only to the job posting titled "Introductory Staff Nurse" as this is the only job posting for RNs with less than one year of experience.

When ranking your top 3 areas of interest, please be sure to rank your choices accurately.

Review your application for spelling and grammatical errors before submitting it.