Support Research
We know the way a disease expresses itself in a child is different from the way it expresses in an adult. The manifestation of a disease is also different between children and different at each stage of a child's development. From our smallest patients to young adults, each stage of a child's development requires its own health care expertise, equipment and understanding.
Despite this fact, children, particularly those with rare diseases, have been a neglected population in medical research. In fact, the National Institute of Health dedicates only five percent of its annual extramural research budget to pediatric research.


Children should not have to wait for life-changing treatments

As a leading pediatric teaching hospital, Children's Mercy is at a unique advantage to change the current research paradigm and improve the future for children … now!
Data from ongoing surveys by the National Science Foundation (NSF) show that federal agencies provided only 44 percent of the $86 billion spent on basic research in 2015. The federal share, which topped 70 percent throughout the 1960s and 70s, stood at 61 percent as recently as 2004 before falling below 50 percent in 2013.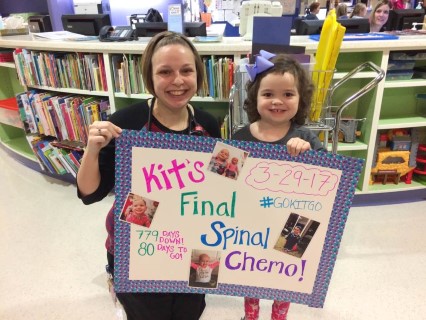 Help kids like Kit
In 2017, Kit turned 5 years old, and she celebrated her first chemo-free summer in more than two years. Since age 3, she has endured more than 20 spinal taps, multiple blood transfusions, surgeries and dozens of hospital admissions. She spent 859 days undergoing chemotherapy. Kit doesn't remember life without chemo.
Thankfully, scientific investigation and personalized medicine helped save Kit's life. But what if she and her family didn't have to lose that time while she struggled through heart-wrenching pain? What if childhood diseases like the acute lymphoblastic leukemia that invaded Kit's tiny body were eliminated and children didn't have to suffer at all? What if her family never had to say, "She's still not out of the woods" and wonder and worry every single day?
"It is essential to fund the initial research process with philanthropic dollars. I call those golden dollars because they allow us to work on the most important opportunities for our kids."
Kansas City is it is a great family and community-based environment, and there is a great tradition of philanthropic support for Children's Mercy. For research, that is critical.
When a rare pediatric disease is studied, researchers have trouble getting grants because the number of patients involved is small. When you argue the impact on patients and families is enormous, that doesn't cut it when it comes to the competitive grant process. So it's essential to fund the initial research process with philanthropic dollars.