Neonatal-Perinatal Medicine Fellowship
The Children's Mercy Kansas City Neonatal-Perinatal Medicine (NPM) Fellowship program was established in 1972. Since the inception of this program, it has produced 84 graduates, who are practicing nationally and internationally in academic and private neonatology practice. Currently there are a total of 8 fellows, who not only spend time expanding their clinical practice and knowledge but are engaged in scholarly work that includes both research and quality improvement.
Our program provides a very diverse clinical experience. This clinical practice experience includes rotations at Children's Mercy's top-ranked level IV NICU, level III NICUs at University Health, Kansas University Medical Center and Advent Health Shawnee Mission The fellowship program is supported by a group of diverse and experienced 34 member multi-generalization faculty, each possessing unique sets of talent which exposes the fellows to different ways of thinking and managing patient care. The faculty take an active role in making sure fellows get the best learning experiences.
Apart from a robust clinical experience and learning, the program aims to train future neonatal scientist. This is done through abundant exposure to clinical, basic science and translational research opportunities. The faculty mentors are committed to see these projects result in publication. Attaining neonatal-perinatal board certification is another major aim of our program. There is an intensive didactic board preparation and board review curriculum.
A fellow's professional development and wellbeing is an integral part of fellowship training. Developing leadership skills, leading and working with medical teams are undertaken through core curriculum workshops, leading QI teams, leading clinical teams in unit and formal faculty development workshops. Fellows are encouraged to take care of oneself globally through use of strategies for work/life balance, mitigating fatigue, adequate sleep, developing interest outside of work, annual retreat and "check-in."
Contact
Jotishna Sharma, MD, MEd
Fellowship Program Director



(816) 802-1177

Charisse I. Lachica, MD
Associate Program Director



(816) 802-1177

Sarah R, King, MS
Fellowship Coordinator



(816) 760-5399



Email
Academic Curriculum
Learn more about the curriculum, including didactics, courses, and workshops.
Clinical Experience
Clinical training is provided in two neonatal intensive care units at Children's Mercy and University Health as well as a high-risk follow-up clinic at Children's Mercy.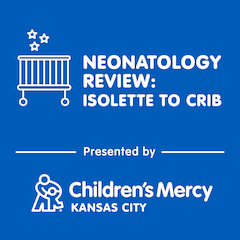 Neonatology podcast
Neonatology Review: Isolette to Crib

Children's Mercy neonatologists, Joti Sharma, MD, MEd, and Julie Weiner, DO, discuss neonatal medicine topics such as apnea of prematurity, late onset sepsis, and tips for studying for the neonatal board review.