Jordan A. Carlson, PhD, MA
Director, Community Engaged Research, Center for Children's Healthy Lifestyles & Nutrition; Associate Professor of Pediatrics, University of Missouri-Kansas City School of Medicine; Research Assistant Professor of Pediatrics, University of Kansas School of Medicine
Full Biography
Childhood obesity is all too prevalent in the United States and the coronavirus (COVID-19) pandemic has only made matters worse, eliminating many of the opportunities for physical activity children are provided when attending school in person.
A community-based project designed to keep students moving by delivering physical activity breaks to virtual classrooms, the Center for Children's Healthy Lifestyles & Nutrition Stay Active Program started pushing back against this trend when school began in August 2020.
Led by Jordan Carlson, PhD, Associate Professor of Pediatrics, Center for Children's Healthy Lifestyles & Nutrition (CHLN) and Children's Mercy, Stay Active is targeting fifth and sixth grade students in Kansas City public schools.
Dr. Carlson conducted a 2015 study that found roughly half of kids' daily physical activity comes from time spent at school.
"We have all this evidence that shows how critical schools are for kids in terms of physical activity," he said. "And when we saw that many schools were not going to be in person for an extended period, we realized that without PE, recess, and other activities at school, as well as before- and after-school activities, we knew it was going to be a huge loss in terms of physical activity. So we asked: What can we do?"
Dr. Carlson said the team knew it had a list of proven, effective tools they had used in the past that could be implemented remotely, but the delivery method was going to need to change.
"Normally we would take the approach where we help build capacity among the teachers to deliver the activity breaks," he said. "But our research has shown implementation rates are already low even without teachers dealing with the hassles created by the pandemic; so we quickly came to the conclusion that if we wanted this to really work, we were going to have to take the burden off the teachers."
"We also knew that we needed to support families in addition to teachers, because children were spending most or all of their time at home," said Dr. Carlson. That meant turning to Pediatric Psychologist and CHLN Director Ann M. Davis, MPH, PhD, Dr. Carlson said.
"Dr. Davis has been doing family-based obesity treatment and control programs for over a decade, so she was the perfect resource for what we wanted to do," Dr. Carlson said. "We took the physical activity components from her family-based interventions and tailored them to the current COVID environment—doing school and work from home."


"We're learning a lot about how to meet the needs of families and schools during times like this."
Encouraging physical activity: a comprehensive approach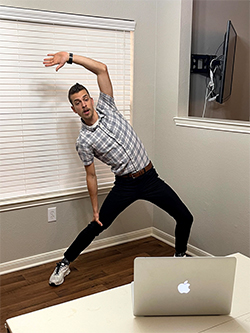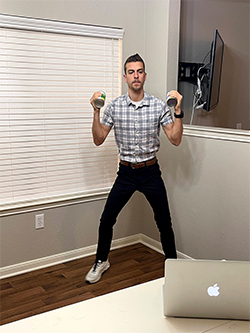 Funded by a by a grant from the Claire Gianni Fund, Stay Active provides a CHLN instructor that delivers two five to 10-minute physical activity breaks each week to the students in remote learning during their classroom time with their teacher. The families who volunteer for receiving additional supports also receive a Garmin wearable for the child, monitoring and encouragement text messages, and weekly physical activity tips via a newsletter.
"We recognize that just delivering 10 minutes of activity to kids twice a week is not enough," Dr. Carlson said. "Kids need 60 minutes of exercise a day, so that's why we added the family component.
The Centers for Disease Control and Prevention recommends children aged 6 – 17 years do at least 60 minutes of moderate to vigorous physical activity every day. But with the pandemic accelerating socioeconomic disparities, it has become harder for children from lower-resourced communities to engage in active lifestyles. Dr. Carlson said this made it even more important that Stay Active do everything it could to support every child's effort to be physically active, regardless of socioeconomic background.
Wearable trackers can help sustain motivation

With that in mind, the program supplies the kids with smartwatch fitness trackers donated by Garmin® International, Inc. The trackers log daily step counts and minutes of physical activity and facilitate behavior change.
"The text messaging and the Garmin wearables all tie together, with the automated texts being generated based on the information collected from the fitness trackers. The wearable feeds the information to the parent via a mobile app and also to us so that we can help the parent work with the child on monitoring their activity."
Starting from a strong foundation

In order to deliver an effective program, Dr. Carlson said the team came up with a plan to adapt existing materials from in-person classroom-based physical activity programs and Dr. Davis' and others' family-based interventions, as well as create the text messaging platform on which the family component would rely.
"This project was a collaborative effort across multiple center members and members of the Research Informatics group in the Children's Mercy Research Institute (CMRI)," Dr. Carlson said. "We didn't have to create everything from scratch, which helped. It was all done in a handful of weeks, including obtaining the funding and creating the text messaging platform. The CMRI Research informatics team went above and beyond in programming the automated text message platform quickly to provide some amazing capabilities around the technical aspects of message customization and decision logic. We had a lot of team members from all over Children's Mercy and CHLN come on board for this."
Fitness strategies that work

Dr. Carlson said he and his team hope to turn the data they are getting from Stay Active into a larger, National Institutes of Health-funded study.
"We're learning a lot about how to meet the needs of families and schools during times like this, but then we're also learning a lot about our original research program, which focuses more generally on how to support schools to ensure children have ample opportunities for being physically active," he said. "You know, even when times are normal, there are still implementation barriers to getting kids moving in a classroom setting. We need to determine how best to improve the uptake of classroom physical activity, which really means how do you get it delivered in more classrooms and more schools in a way that meets both teachers' and students' needs?"
Dr. Carlson said the team will focus on determining which strategies are most effective in addressing the barriers to implementing the uptake of such programs, as well as how to sustain their use.
"How do you address sustained, ongoing delivery of these kinds of things?" Dr. Carlson said. "I think another important question is: How do we make it as easy as possible on the teacher, knowing a lot is being asked of them, even without considering the pandemic?"
"Part of it is building a lot of excitement around the program and what it can do," he said. "Then we can focus on identifying champions, building networks of support, etc. The possibilities are endless and that is really exciting."