Project Data
Genomic Answers for Kids
Advances in medicine happen more quickly when researchers share their findings and data. New studies build upon the published research of others, so it is essential that researchers publish their results in peer-reviewed scientific journals. Furthermore, generating new data is expensive and time consuming, so new findings are accelerated when researchers share data with each other. When many minds are looking at data, the chances for new insights increase. To support this, Genomic Answers for Kids is using new and innovative ways to share project data. Below you can find publications resulting from the project, ways that we share project data, and how researchers can request access to the data.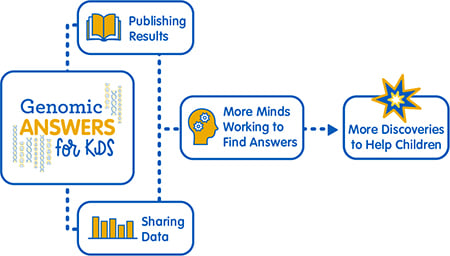 Publications

We publish our findings so they can be used to advance research and improve patient care.
Von der Lippe C, Tveten K, Prescott TE, Holla OL, Busk OL, et al. Heterozygous variants in ZBTB7A cause a neurodevelopmental disorder associated with symptomatic overgrowth of pharyngeal lymphoid tissue, macrocephaly, and elevated fetal hemoglobin. 2021. Online ahead of print.
Berrios C, Hurley EA, Willig L, Thiffault I, Saunders C, Pastinen T, Goggin K, Farrow E. (2021) Challenges in Genetic Testing – Clinician Variant Interpretation Processes and the Impact on Clinical Care. Genetics in Medicine. Online ahead of print. PMID: 34257423
Gillentine MA, Wang T, Hoekzema K, Rosenfeld J, Peng-fei L, et al. Rare deleterious mutations of HNRNP genes result in shared neurodevelopmental disorders. Genome Medicine. 2021;13(1):63. PMID:33874999
Kunova-Bosakova M, Abraham SP, Nita A, Hruba E, Buchtova M et. al. Mutations in GRK2 cause Jeune syndrome by impairing Hedgehog and canonical Wnt signaling. EMBO Molecular Medicine. 2020;12(11):e11739. PMID:33200460
Hartin S, Means JC, Alaimo JT, and Younger ST. Expediting rare disease diagnosis: a call to bridge the gap between clinical and functional genomics. Mol Med. 2020;26(1):117. PMID33238891
Jenkins J, Barnes A, Birnbaum B, Papagiannis J, Thiffault I, et. al. LZTR1-Related Hypertrophic Cardiomyopathy Without Typical Noonan Syndrome Features. Circ Genom Precis Med. 2020;13(2):e002690. PMID32004086
den Hoed J, de Boer E, Voisin N, Dingemans AJM, Guex N et. al. Mutation-specific pathophysiological mechanisms define different neurodevelopmental disorders associated with SATB1 dysfunction. Am J Hum Gen. 2021 Online ahead of print. PMID: 33513338
Connaughton DM, Dai R, Owen DJ, Marquez J, Mann N, et al. Mutations of the Transcriptional Corepressor ZMYM2 Cause Syndromic Urinary Tract Malformations. Am J Hum Genet. 2020. Epub ahead of print. PMID:32891193
Kummeling J, Stremmelaar DE, Raun N, Reijnders MRF, Willemsen MH, et al. Characterization of SETD1A haploinsufficiency in humans and Drosophila defines a novel neurodevelopmental syndrome. Mol Psychiatry. 2020. Epub ahead of print. PMID: 32346159
Mao D, Reuter CM, Ruzhnikov MRZ, Beck AE, Farrow EG, et al. De novo EIF2AK1 and EIF2AK2 Variants Are Associated with Developmental Delay, Leukoencephalopathy, and Neurologic Decompensation. Am J Hum Genet. 2020;106(4):570-583. PMID: 32197074
Chilton I, Okur V, Vitiello G, Selicorni A, Mariani M, et al. De novo heterozygous missense and loss-of-function variants in CDC42BPB are associated with a neurodevelopmental phenotype. Am J Med Genet A. 2020;182(5):962-973. PMID: 32031333
Yan K, Rousseau J, Machol K, Cross LA, Agre KE, et al. Deficient histone H3 propionylation by BRPF1-KAT6 complexes in neurodevelopmental disorders and cancer. Sci Adv. 2020; 6(4):eaax0021. PMID: 32010779
Scott TM, Guo H, Eichler EE, Rosenfeld JA, Pang K, et al. BAZ2B haploinsufficiency as a cause of developmental delay, intellectual disability, and autism spectrum disorder. Hum Mutat. 2020:41(5);921-925. PMID: 31999386
Li L, Ghorbani M, Weisz-Hubshman M, Rousseau J, Thiffault I, et al. Lysine acetyltransferase 8 is involved in cerebral development and syndromic intellectual disability. J Clin Invest. 2020; 130(3):1431-1445. PMID: 31794431
Donkervoort S, Sabouny R, Yun P, Gauquelin L, Chao KR, et al. MSTO1 mutations cause mtDNA depletion, manifesting as muscular dystrophy with cerebellar involvement. Acta Neuropathol. 2019;138(6):1013-1031. PMID: 31463572
Patak J, Gilfert J, Byler M, Neerukonda V, Thiffault I, et al. MAGEL2-related disorders: A study and case series. Clin Genet. 2019;96(6):493-505. PMID: 31397880
Cohen ASA, Farrow EG, Abdelmoity AT, Alaimo JT, Amudhavalli SM, et al. Genomic answers for children: dynamic analyses of >1000 pediatric rare disease genomes. Preprint on medRxiv.
McQuerry JA, Mclaird M, Hartin SN, Means JC, Johnston J, Pastinen T, Younger S. Massively parallel identification of functionally consequential noncoding genetic variants in undiagnosed rare disease patients. Preprint on medRxiv.

Data Sharing

We share our data with the scientific community through several mechanisms designed to advance research in pediatric disease, while protecting participants' confidentiality. Summary data on variants is publicly available, while individual level data is under controlled access and available only to other researchers studying pediatric genetic disease.
Children's Mercy Variant Warehouse Database
Our variant warehouse of non-identifiable, summary data on all variants identified in the Children's Mercy Genomic Medicine Center is publicly available in the Children's Mercy Variant Warehouse Database. The database can be searched and viewed with genomic annotations, population database cross-references such as ClinVar, gnomAD and dbSNP, ACMG curations and a local allele frequency. Variant data are available for bulk download as an annotated VCF. The database is updated quarterly.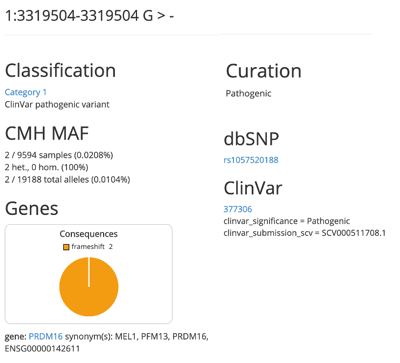 PhenoTips®
Individual level data including prioritized variants, patient symptoms and phenotype, putative diagnoses and diagnostic variants are available through a controlled access version of the PhenoTips® software. Individuals' symptoms are entered using the Human Phenotype Ontology (HPO) with diagnoses stored using Online Mendelian Inheritance in Man (OMIM) phenotype identifiers. Individuals' symptoms can be exported in a simple delimited text format for analysis and can be integrated in a number of open source tools and algorithms for automated diagnosis and candidate gene nomination. Prioritized, annotated variant lists for each individual are provided with display options to show genomic annotation and cross-referencing to external databases. The database can be searched by phenotype, diagnosis and candidate gene with case level details presented for each individual.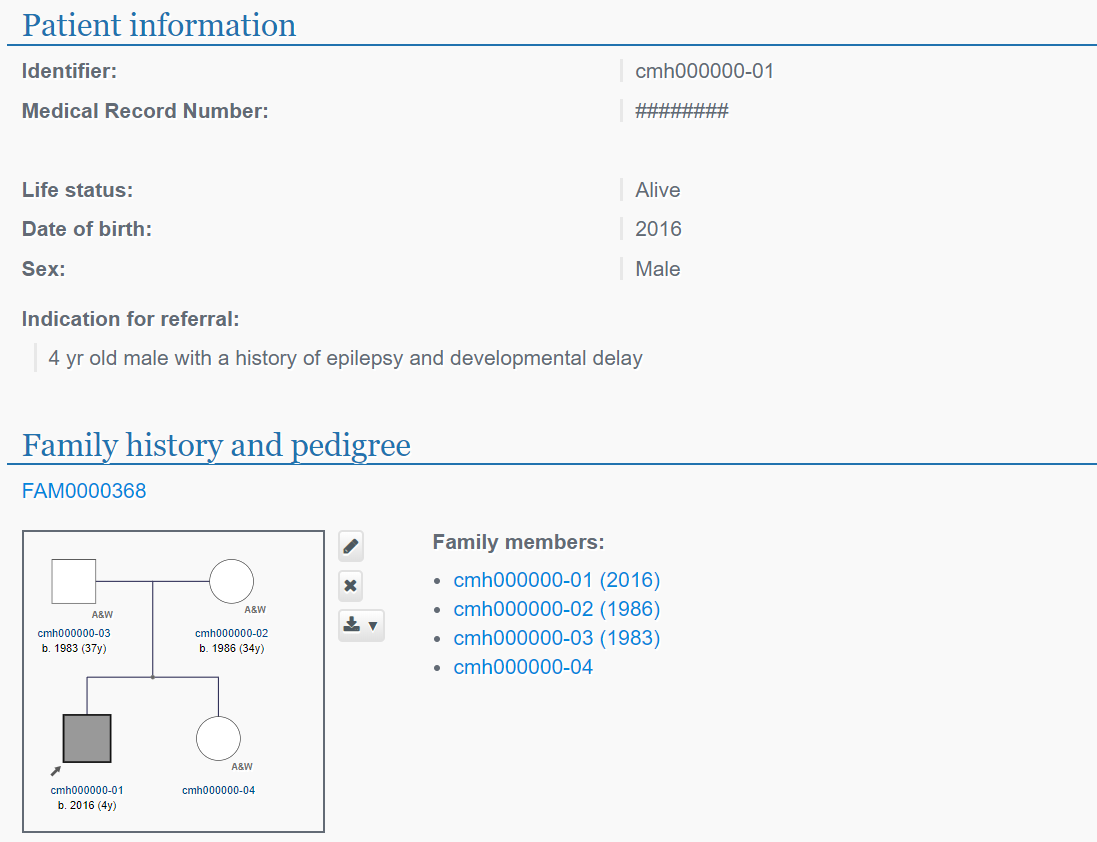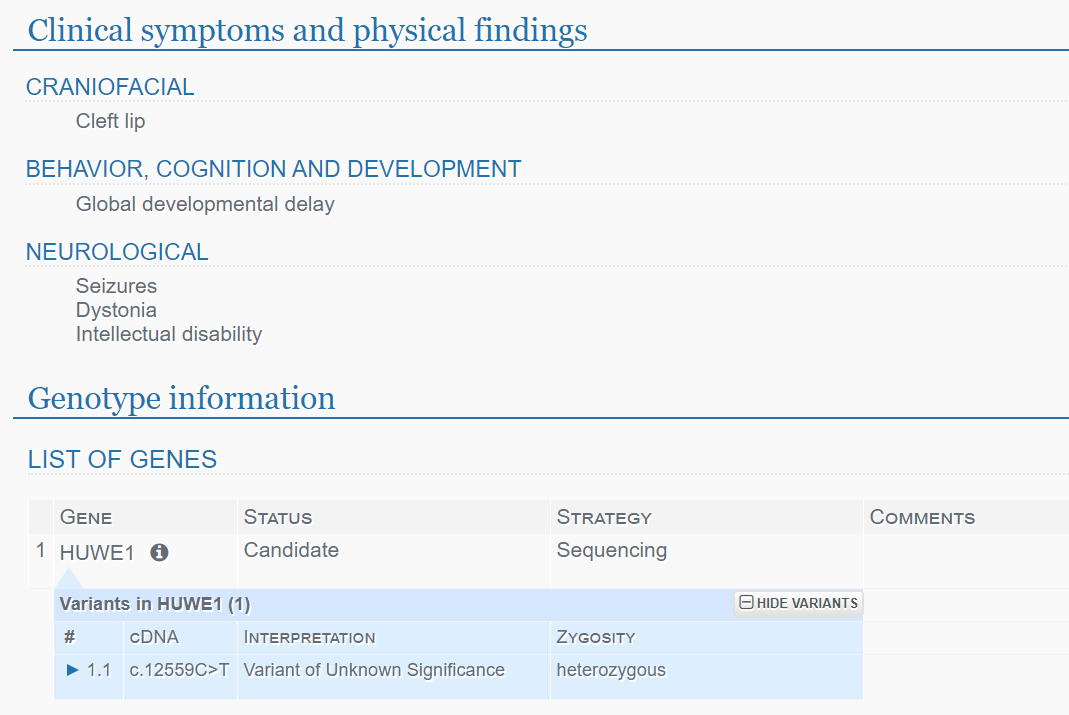 Database of Genotypes and Phenotypes (dbGaP)
Individual level genomic data including raw sequencing data, aligned reads, SNVs, small insertion/deletions and structural variant calls will be periodically deposited, along with phenotype data, into the NIH Database of Genotypes and Phenotypes (dbGaP). Access to the data is controlled by dbGaP and follows the conditions of the study's informed consent. The data in dbGaP will also be available for analysis using the NHGRI Genomic Data Science Analysis Visualization and Informatics Lab-space (AnVIL).
Information on the Genomic Answers for Kids data available in dbGaP are available at the National Center for Biotechnology Information website.
Learn more and request access
Pediatric researchers may request access to individual level data from the Genomic Answers for Kids program.