Genomic Answers for Kids - Information for Providers
The Children's Mercy Research Institute has undertaken a research initiative to build a first-of- its-kind pediatric data repository to facilitate the search for answers and novel treatments for pediatric genetic conditions. Our goal is to collect genomic health data and health information for 30,000 children and their families and create a database of nearly 100,000 genomes.
We are working with other institutions and providers to find answers and treatments for children with pediatric genetic conditions.
Partners from outside Children's Mercy and its international consortium can nominate their patients for the study and clinicians and researchers can apply to access data for study.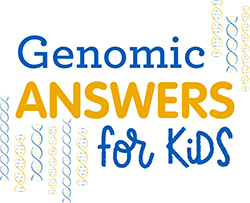 We are seeking children who are suspected to have an underlying genetic condition. Parental samples will be obtained when available. We require documentation of the patient's phenotype, copies of genetic test results and family history information.
We will return a result if we find a genetic variant we believe is causing or contributing to the symptoms that prompted enrollment into the study. We may also return a genetic finding that poses an immediate and present danger to the child. Results will be shared with the nominating provider to be discussed with the patient and their family. Genetic counseling support is available through the study.
To learn more about partnering with Genomic Answers for Kids, please contact the study team at Children's Mercy at GA4K@cmh.edu or (816) 915-4200.
The study team will be happy to talk with you about study processes and answer any questions that you may have.

Institutions that partner with Genomic Answers for Kids to nominate and enroll patients

The following institutions collaborate with Children's Mercy to enroll patients and provide samples for Genomic Answers for Kids:
University of Nebraska Medical Center
University of Arkansas School for Medical Sciences
University of Missouri Kansas City School of Dentistry
McGill University
Children's Hospital of Philadelphia
Universite de Montreal
King Saud bin Abdulaziz University for Health Sciences
University of Florida
I am already a partner in Genomic Answers for Kids
How do I nominate a patient?
If you have already communicated with the study team about partnering, you can nominate a patient by:
Discussing the study with patients and families who meet the above criteria.
Asking them to sign a medical release form if the patient and family are interested in the study. A pre-filled release form is provided below and in the nomination form.
Nominate the patient by using the form here.
What happens after nomination?
Your nomination will be reviewed by the study team.
A research coordinator will contact the family to review the study and, if they agree to participate, complete and electronic consent.
You will be notified when your family is enrolled in the study to assist with sample collection and shipping.
I am a provider at Children's Mercy and want to nominate a patient
Children's Mercy providers can nominate a patient by:
Discussing the study with patients and families.
Nominating the patient using the form here if the patient and family are interested in participating.