Mary Ann Queen, MD
Interim Chair, Department of Pediatrics
Mary Ann Queen, MD, is the Interim Chair of the Department of Pediatrics at Children's Mercy Kansas City and at the University of Kansas Medical Center. She serves as the Associate Chair for Inpatient Services and Faculty Engagement for the Department of Pediatrics, the Division Chief for Hospital Medicine and a Professor of Pediatrics at the University of Missouri – Kansas City School of Medicine.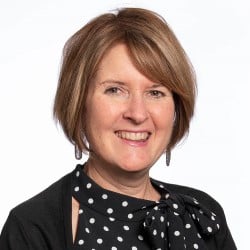 As Division Chief of Hospital Medicine, Dr. Queen oversees one of the oldest and largest hospitalist programs in the nation. The program provides direct care inpatient services at Children' Mercy Hospital as well as a 40-bed satellite. Specialists in the Division of Hospital Medicine provide care for a diverse group of illnesses, including straightforward diseases to medically complex cases that require multidisciplinary coordination. Dr. Queen guides a leadership team of Hospital Medicine clinical directors, researchers, educators and quality improvement specialists. In addition, she is a Physician Safety Officer for the hospital and serves on multidisciplinary teams to enhance patient care at Children's Mercy.
Previously, Dr. Queen served as an Associate Program Director for the Pediatric Residency Program at Children's Mercy, where she oversaw curriculum development, evaluations and mentorship. She also developed the Pediatric Hospital Medicine Fellowship program at Children's Mercy – one of only four such programs in the nation to be accredited by Academic Pediatric Association. Dr. Queen's research interests focus on the management of common inpatient pediatric diagnoses, and she has served on a national quality collaborative to improve the inpatient management of community-acquired pneumonia.