Tomi Pastinen, MD, PhD
Dee Lyons/Missouri Endowed Chair in Pediatric Genomic Medicine; Director, Genomic Medicine Center; Professor of Pediatrics, University of Missouri-Kansas City School of Medicine; Research Professor of Cancer Biology, University of Kansas School of Medicine
Full Biography
The case for studying rare diseases in children

One out of every 30 people suffers from a rare disease thought to be due to a mutation in their DNA. These mutations are present at birth or may be apparent early in life. In the past decade, genome-wide sequencing technologies have allowed an unprecedented increase in the discovery of mutations causing these diseases. However, because "blind spots" exist in current diagnostic sequencing technologies, only one-third of kids with rare diseases receive a genetic diagnosis from even the most advanced clinical molecular testing, meaning the majority of families are still waiting for a specific genetic cause of their child's illness.1
The Genomic Medicine Center at Children's Mercy Kansas City wants to change that. Established in 2011, the center was the first of its kind with a pediatric focus. Today, under the direction of Tomi Pastinen, MD, PhD, the center is utilizing advanced sequencing technologies to detect these "blind spots," contributing to better understanding of how mutated DNA in unexplored parts of the human genome, including regions regulating gene expression, can cause rare diseases. This work has helped to establish Children's Mercy as the hub for pediatric molecular diagnosis.
Children's Mercy has taken the unprecedented step of developing the world's first outward-facing, cloudbased platform, providing live, interactive access to a database focused on solving pediatric rare diseases.
Genomic Answers For Kids launches a new paradigm in rare disease research

Genomic Answers for Kids is a flagship initiative of the Children's Mercy Research Institute and the Genomic Medicine Center. This research program is building a first-of-its-kind pediatric data repository to facilitate the search for answers and novel treatments. This program will collect and store genomic information and biological samples from children and their biological family members who are searching for diagnoses and are suspected to have rare genetic conditions. The program's goal is to collect genomic data and health information of 30,000 children and their families over the next seven years, creating a database of nearly 100,000 genomes. Though conventional practice in rare disease research is to take an exclusive, proprietary approach, Genomic Answers for Kids is establishing a new paradigm in this field. How is it doing this?
First, rather than focusing on a single medical mystery, the research initiative is including all children with a rare disease, who will represent the full spectrum of rare diseases, and their families. This makes it possible to help a great many patients on a global level.
Second, Genomic Answers for Kids is systematically employing an advanced set of genomic tools to uncover a greater number of inherited mutations in these patients. These tools include novel technologies, such as thirdgeneration DNA sequencing and single-cell genomics. These technologies allow researchers to look at the "blind spots" in current diagnostic sequencing technologies by generating much longer DNA sequencing reads than conventional technologies have allowed, and to observe changes in the genome function. These techniques allow us to read the unexplored genomic space, which holds some of the answers the Children's Mercy researchers and families are looking for.
Third, the program is openly sharing data with the wider international rare disease research community. This will lead to the fast-forwarding of the discovery of unconventional genetic variants, and will engage the stakeholders in the exploration and mitigation of the real barriers for genomic data sharing to advance rare disease diagnoses.
Pioneering a new data sharing model

Genomic Answers for Kids is the only privately funded initiative at a nonprofit pediatric hospital that is genetically sequencing the DNA of patients and families with rare diseases, and sharing this de-identified genetic data with other investigators.
To further advance this discovery, Children's Mercy has taken the unprecedented step of developing the world's first outward-facing, cloud-based platform, providing live, interactive access to a database focused on solving pediatric rare diseases. Clinician-scientists across the globe can apply for access to this resource and compare the genomic makeup of their patients against individual cases that have already been sequenced, to help discover more relevant diagnoses.
Children's Mercy also is uploading and sharing this sequencing information to the National Institutes of Health's database of Genotypes and Phenotypes (NIH/dbGaP).
Genomic Answers for Kids Project Progress as of October 2020:
1,904 families enrolled
4,400 individuals enrolled
1,500+ families undergoing DNA sequencing analysis
863 families with initial results
180 new diagnoses
462,028 gigabases sequenced*
* Our genetic material, or DNA, is made up of a string of bases. When we sequence DNA, we read these bases. Each gigabase of DNA sequenced represents 1 billion bases read.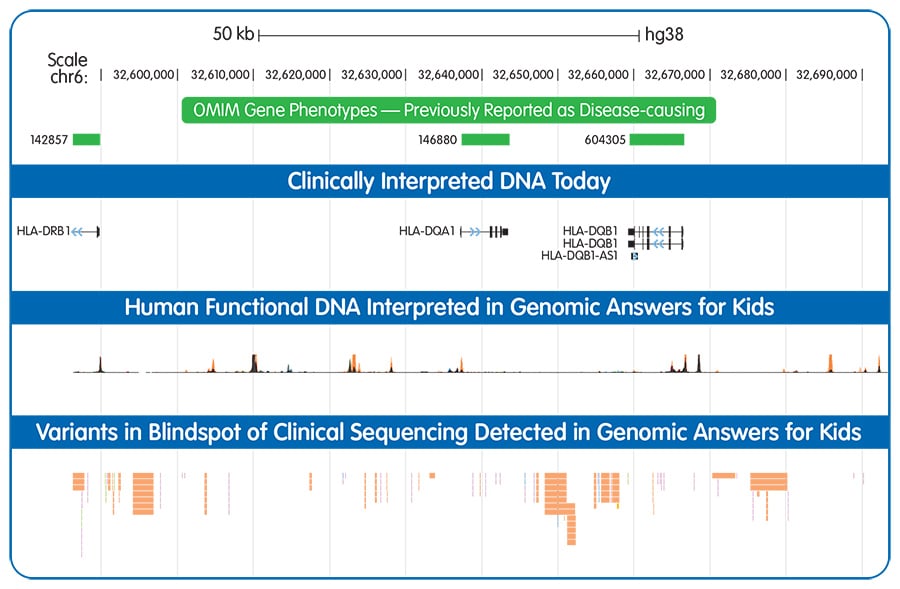 Current clinical genetic sequencing typically only sequences the small portion of our DNA located in the exons, the protein coding regions, of genes. However, diseases can be caused by genetic variants that lie outside these exons, including in functional DNA that controls when and where genes are expressed. By using third generation sequencing and methods for identifying changes in DNA function, Genomic Answers for Kids can find causes of genetic disease that exist in the 'blind spots' of conventional DNA sequencing.